By Nick Harris
9 September 2013
THE Premier League will earn $1.47 billion (£941m) from broadcasters in Asia alone for live rights to matches between now and 2016, Sportingintelligence can reveal, with the figure underlining the importance of that continent to English football's elite.
The biggest clubs are increasingly turning to the Far East markets to attract new fans and fill their coffers and Arsenal, Chelsea, Manchester United, Manchester City and Liverpool all visited Asia on pre-season tours in the summer.
Research by Sportingintelligence has established that the League will earn £2.23 billion from the sales of all their overseas rights to live games for the three-year period, 2013 to 2016, with Asia contributing the biggest single chunk.
The corresponding figures in the 2010-13 period were £1.437 bn from all overseas rights with £531m from Asia. The total pot has grown 55 per cent, driven by Asian rights values rising 77 per cent.
Other regions have seen big leaps too, but from a much lower base.
The first graphic below shows Asia as the biggest earner on £940.8m, followed by Europe (outside the UK) on £607.2m, then sub-Saharan Africa just ahead of the Middle East and North Africa (MENA), with North America and the Caribbean next followed by South America.
The only region where the rights value dipped was MENA.
Even with the vast population of Asia, broadcasters there are still paying an average 22p for every man, woman and child on the continent for Premier League rights from 2013-16. And as detailed this figure is even higher everywhere else, rising to 82p in Europe.
Article continues below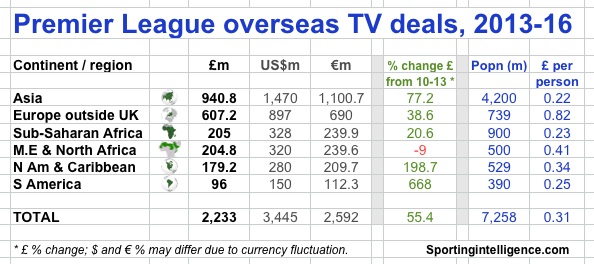 The biggest deals in Asia are in Thailand (£204.8m for three years, in a deal that also covers Laos and Cambodia), Singapore (£190.1m), Hong Kong (£128m) and Malaysia (£128m).
How are these enormous sums achieved? To put it simply, wherever there is an enthusiastic fan base twinned with rival pay-TV operators, there is potential for the rights values to soar. So Cable Thai Holdings trumped True Vision to cash in on the PL fervour in Thailand, SingTel in Singapore beat rivals StarHub (although regulatory issues mean they both get the matches for their customers), NowTV in Hong Kong (owned by PCCW) kept ahead of rivals i-Cable, and so on.
As the next graphic shows, Premier League football is seen as a 'must have' property in some markets, because it then drives sales of pay-TV. In Singapore, SingTel are paying the equivalent of £35.20 in rights fees for every man, woman and child in the country, with the corresponding figure £17.78 in Hong Kong and £2.30 in Thailand.
At the other extreme, Chinese rights holders are paying only 2p per person over three years. This is a tough market for the Premier League to crack, far from maturity. On the upside, there is staggering growth potential when China matures as a pay-TV market and if the Premier League can establish itself as the must-have property.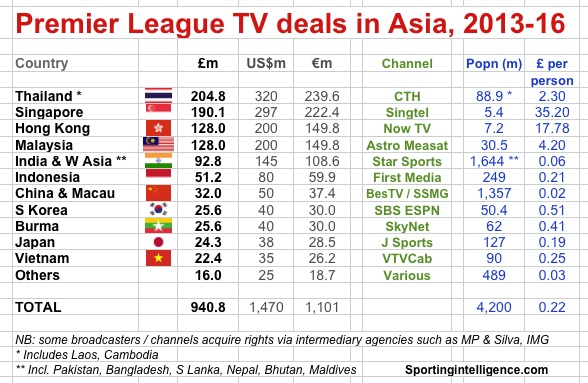 India offers an interesting case study of a maturing market. The Premier League rights there (in a deal that includes other South Asian nations) soared to $145m for 2013-16 from $45m last time. As this interesting read in the Economic Times of India explains, Star Sports are so keen to push the Premier League they hired superstar cricket icon MS Dhoni to front their advertising.
The ads show Dhoni "glued to the TV set watching Premier League matches every weekend while his family and friends look for him. The Indian captain is a known football enthusiast and a Manchester United follower who dreamed of becoming a renowned soccer goalkeeper in his schooldays."
Indian rights holders are now also offering commentary in Hindi – remarkably this is a first, and aims to widen the viewer demographic. Sportingintelligence can reveal that teams of inexperienced commentators visited the UK earlier this year to learn more about the game and have expert training, including from veteran commentator Martin Tyler.
Away from Asia, the third graphic highlights the single biggest deals in the other continents, aside from MENA (where there was only one deal, with Al Jazeera) and sub-Saharan Africa (two deals, both with SuperSport, one for Nigeria and one for the rest combined).
The biggest deals in Europe are A) in France, and B) in the Nordic region combined. The biggest single deal in North America is in the USA, and in South America in Brazil. Details:
Article continues below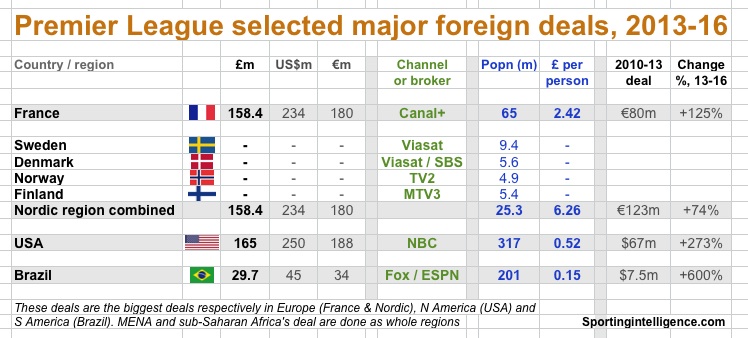 European broadcasters outside the UK have paid £607m combined for live rights for the same period, with a stunning uplift in the value paid in France in particular.
Broadcaster Canal+ paid €80 million (£67m) for the 2010-13 rights but this increased by 125 per cent to €180 million (£151m) for 2013-16 after an intense bidding war with a rival station BeIN Sport, owned by Qatar.
In the Nordic region in 2010-13, the Premier League sold the rights for Sweden, Denmark, Norway and Finland combined to an intermediary consultancy, Medge, run by the infamous former agent, Rune Hauge, for €123m. Medge then sold the rights on separately within those countries and made a big profit. This time the Premier League have sold to the constituent countries directly and separately, keeping that extra money for themselves.
France and Scandinavia together account for more than half of the non-UK European income in 2013-16.
Other territories vary hugely in value, from a few million euros to a few tens of millions, as detailed in the final graphic.
Article continues below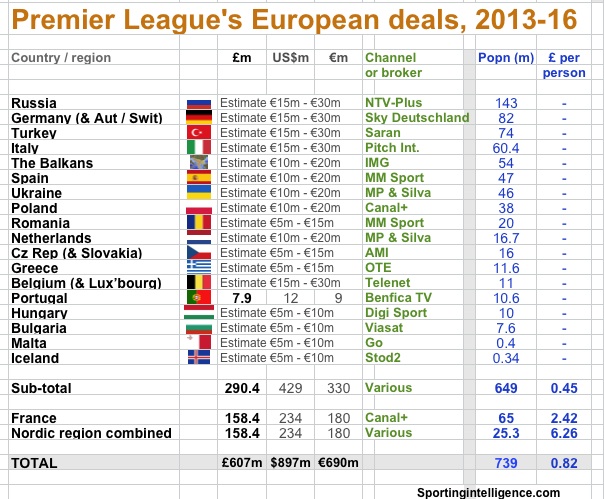 .
In Germany, it might be expected that a huge population and a football culture would mean sizeable interest in the Premier League. That may or may not be case, but in a summer of brinkmanship it is understood that Sky Deutschland initially offered only a single-digit millions bid for the 2013-16 rights for Germany, Switzerland and Austria combined.
The problem for the Premier League was a lack of competition for Sky Deutschland in those territories, hence no serious rival bidders and no real auction. The League contemplated not selling there – there is no legal imperative to sell in any particular region – but the broadcaster finally came back with an offer and the deal was done.
Only two nations in the world do not have TV rights deals to show the Premier League: North Korea and Albania. Inevitably viewers in both countries are likely to be able to pick up other feeds but North Korea have no deal of their own and there is no deal in Albania because Albanian decoders became such a problem for the Premier League in other countries.
What is in no doubt is that the Premier League is one of Britain's major export successes. As a series of fans' articles showed in this website's 'Global Game' series in 2011, there is massive interest from every area of the world. Clicking on any of these links give a flavour from the respective countries: Australia.  Azerbaijan. Brazil. Canada. China. Czech Republic.  India. (More India). Israel. Kenya. Malaysia. Malta.  Montenegro. New Zealand. Nigeria. Pakistan. Serbia.  Sweden. The United Arab Emirates (Dubai). The USA.
REVEALED: The best paid teams in global sport