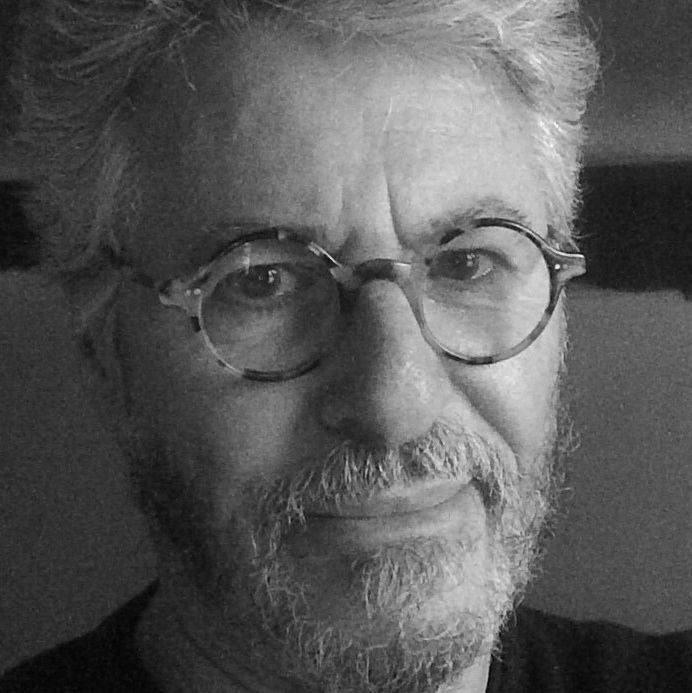 By Joel Oberstone
18 August 2016
Arsenal began the season with a home defeat. Some fans already have their annual revolt against Arsene Wenger underway. It's business as usual, this growing disquiet that club and manager will make a mess of hiring good new players.
With the next fixture on Saturday away at champions Leicester, now is perhaps a good time to examine what was botched about the attempt to sign the Foxes striker and Footballer of the Year, Jamie Vardy.
By botched, I mean why he wasn't a good target anyway. I believe the analysis below will show Arsenal already own an extremely similar – but better – player in Olivier Giroud.
I also mean botched because Vardy not signing was just the latest example of a wayward transfer policy crying out for strong advisory hand to assist / persuade / cajole Wenger into moving earlier and more decisively in the market.
Despite not winning the title in 2015-16, Arsenal still earned more money than any other club from Premier League funds, or £100,952,257 to be precise. 
In 2016-17 they will make around £150 million from this single source alone, Premier League central funds primarily amassed via the league's TV revenues. That Arsenal cash total is before a ticket, pie, pint, programme, corporate meal or replica shirt is sold, before income from the Champions League, before sponsorship revenue, merchandise sales, and on and on.
We don't need to reprise all of Arsenal's big-name attempted signing fiascos of recent times. Suffice to say Higuain, Benzema, Suarez, to name just three.
In Vardy's case, however, there are grounds to believe he would not have been an ideal 'fit' for Arsenal.
Exhibit A is that Vardy had his career-best season to date in a Claudio Ranieri team that played a long-ball, counter-attacking game rather than a team playing build-from-the-back, one-touch, possession football played by the Gunners.
Exhibit B is that Vardy is not an upgrade on a player they already have in-house, Giroud, a Frenchman who is as good as, and in many ways better, than Vardy. Here are a few reasons why, taking last season's Premier League games for both players as the data set for analysis.
Goal scoring
If you focus solely on total goals scored, you miss an important element that bloats the numbers. Vardy's 24 goals included five penalties, while Giroud's 16 goals included one. If we "clean" these totals to eliminate this "scoring gift", the non-penalty goals scored are much closer—19 to 15. And when you further take into account that Vardy played more than 700 more minutes than Giroud, the per unit time needed to score a non-penalty goal was almost identical. In fact, Giroud's performance is slightly better than Vardy's requiring 162 minutes between goals to Vardy's 165 minutes.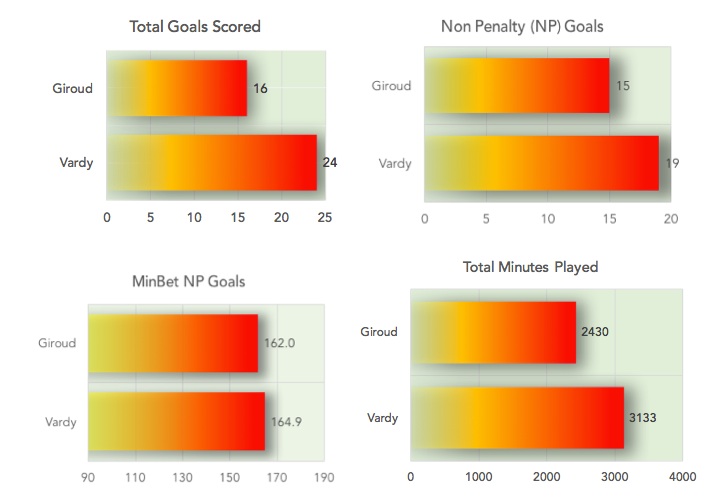 .
Chances created
When a good striker is in the area, if there is not an immediate opportunity to attempt a shot then a second quality should be to help create an opportunity for a team-mate. That generally entails being able to control or hold the ball until he can pass it to someone who can take a shot.
'Chances created' reflect not only assists but additional opportunities such as key passes that are not converted into goals due to circumstances beyond the player's control. It is a key performance measure in addition to goals scored.
Vardy did well in this area last season having generated about one-third more than Giroud or 46 to 36 respectively. But when this measure takes Vardy's considerably greater pitch time into account, the minutes between chances created of about 68 minutes for both players is almost identical and there is no statistically significant difference.

.
Passing
Centre-forwards become more dangerous when they pass effectively as well as score goals. Multiple skills in a striker lead to greater uncertainty in defenders and produce more scoring opportunities.
However, if you are a counter-attacking team like Leicester, as a striker you will have fewer passing opportunities than in an attacking team like Arsenal.
That's clearly the case comparing Vardy and Giroud last season. Although the passing accuracy between the two players is not significantly different, the rate of completed passes per 90 minutes for Giroud was dramatically better than Vardy's, and that is statistically significant.

.
Aerial duels, tackles, fouls won
(Retaining and gaining possession)
A striker who is not passive in winning possession when opportunities present themselves is of importance. Certainly it is better for a striker to have this capability than not.
Three common situations that provide opportunities to retain or gain possession are aerial duels, tackles, and encounters when a foul is awarded (in attempting to gain or retain possession).
Giroud appears to have a significant advantage in the collective measure of the three types of possession measures with 5.7 possessions won per game compared to Vardy's 4.4 per game.
Based on the actual number won during the number of minutes played, the difference is statistically significant.
The primary reason for this difference came from the superiority that Giroud displays in winning 52 per cent of his aerial duels to Vardy's 32 per cent of his. If this were repeated across a season, Giroud wins about 50 more possessions than Vardy.

.
Conclusion
There is no doubt Arsenal could use more support up front but 29.5-year-old Vardy is no huge upgrade and in many ways a lesser player than 29.8-year-old Giroud. Taking a second view – also statistically objective and neutral – also tends to show this when you look at the Football Observatory comparisons between the players.
Vardy's profile is here. Giroud's is here. Those profiles 'map' the players' qualities on 'radars' and you can see how similar they are in terms of rigour, recovery, chance creation, shooting and even value in the market place. Vardy's 'take on' score (running at defences in essence) is higher while Giroud's distribution is superior.
But you really couldn't argue that Vardy was a big miss when Arsenal already have a player doing much of the same work in the same way and most of it better.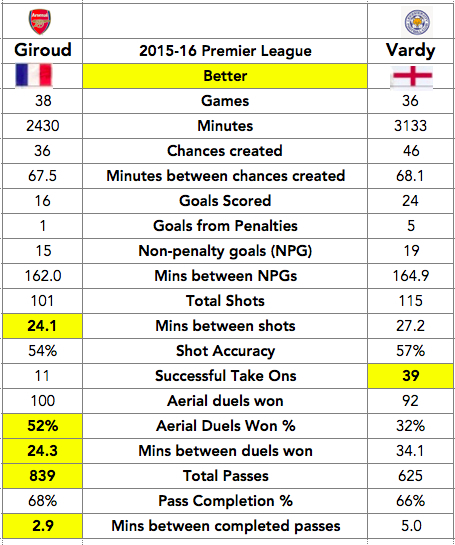 .
Epilogue
Vardy wasn't a panacea for Arsenal and the likelihood of them signing a genuinely high-class proven striker is diminished by:
1 Wenger's reluctance to spend the money necessary in the current climate, which is more expensive than he was comfortable with even before the latest TV income surge added inflationary pressures to the market.
2 Wenger continues to utilise low-ball bid tactics in situations where he appears not to appreciate the opportunity cost of not signing someone special. He's an ultra-conservative, supply-side economist: he doesn't "overspend."
3 Wenger would rather push a knitting needle through his eye than spend £60m or so on a player like Higuain. Arsenal's financially brilliant organisation (and stability) appears to be the primary concern.
4 Getting the best players is less of a priority than getting the best players at the fees needed to get them. Demonstrably. And some will argue there is nothing wrong with that. But Barcelona, Real Madrid, Manchester City, Manchester United, Bayern Munich, Atletico Madrid and Chelsea are among others operating on the policy that getting the talent matters more. And it is those clubs who are winning the bigger trophies while Arsenal aren't.
5 Sir Chips Keswick (left), an Arsenal board member, insisted last November that even though the club's latest set of financial figures revealed a cash reserve of well in excess of £100m, and that even though Wenger's only major buy last summer was Petr Cech for £10m: "The squad can win the [2015-2016] title and has enough strength in depth to deliver the trophy for the first time since 2004."
Arsenal did look like they might challenge, indeed. Until they fell away. Thus Chips' words were spoken like a successful banker, not a football visionary. In the age of hip hop, the Arsenal board continue to play polka. And the beat goes on.
.
Joel Oberstone is a professor of Business Analytics at the University of San Francisco, School of Management and is also Principal Analyst at Enlighten Sports Analytics, where he applies his skills assessing player and team performance from the top five European football leagues. He formerly wrote a weekly column for the Wall Street Journal Sports Europe. The data used in this piece was sourced from Squawka.
.
Oberstone has previously written about Why Messi's 2015 Ballon D'Or was a fait accompli
.
Oberstone is on Twitter @JoelOberstone 
Follow Sportingintelligence on Twitter @Sportingintel