By Nick Harris
16 April 2013
Manchester United are England's most popular football team across social media as well as the most successful on the pitch according to a new table that rates the Premier League's 20 clubs on followers across three of the biggest digital platforms: Facebook, Twitter and YouTube.
Even though United have no official Twitter account for supporters – they have a press office account – their combined 'following' of almost 33m people across Facebook and YouTube makes them the clear No1 club in cyberspace.
Chelsea are a distant second, albeit with a more even spread of followers across Facebook (16.5m), Twitter (2m) and YouTube (200,000) for a total following of 18.7m, or 14m fewer than United.
Arsenal and Liverpool make up the 'big four' and are the only other clubs with more than 10m followers via official club social media platforms combined.
Manchester City have fewer than half the followers overall than fourth-placed Liverpool, although this in itself could be interpreted as impressive given City's on-field Premier League success is relatively recent.
The full table, compiled by digital agency Simply Zesty using figures applicable at the start of this week, is below and has Wigan, West Brom and Reading in the 'relegation zone'.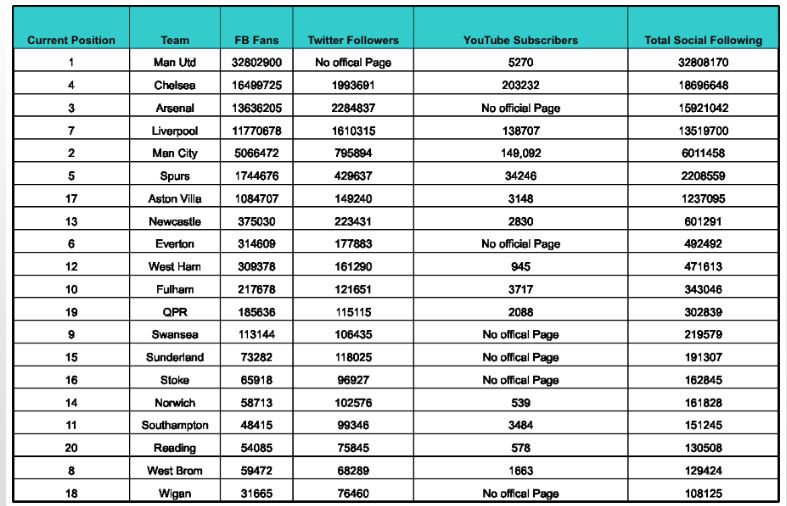 Elsewhere on Sportingintelligence today, a feature by social media expert Lauren Fisher explores how the Premier League clubs have take contrasting approaches to social media – with different levels of success. Other stories mentioning social media are here.
Follow SPORTINGINTELLIGENCE on Twitter