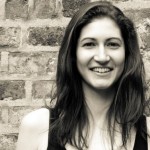 By Lauren Fisher
16 April 2013
More and more sports clubs, personalities and brands are using social media not only to communicate team news but to fundamentally shake up the relationship they have with fans; giving unique access and a new kind of transparency to the world of sport.
Follow Andy Murray on his Facebook Page and you can get a sneak peak into his private life, or become a fan of pretty much any football team and you can get a unique insight like never before.
Social technologies have fundamentally changed the world of sport. In many ways, the sporting industry is leading the charge when it comes to innovation in social media. Indeed, they are best positioned to do this because anything they feed through social media will only serve to increase our appetite for live sport. The more you can see a player or a team online, the more you want to actually see them, offline.
Nowhere has social media been embraced more passionately than in the Premier League, where every team has a presence on Facebook and you can follow nearly every team on Twitter. With this we can now get a unique insight into who are actually the most popular teams worldwide.
The Premier League table can tell you who's performing the best on the pitch but who has the most loyal fans online?
A story elsewhere on Sportingintelligence today gives you the headline overview. But in detail here, first we'll look at the amount of Facebook followers per club, as of Monday this week, with the clubs ranked from most to least, and the position in the current league table noted on the left.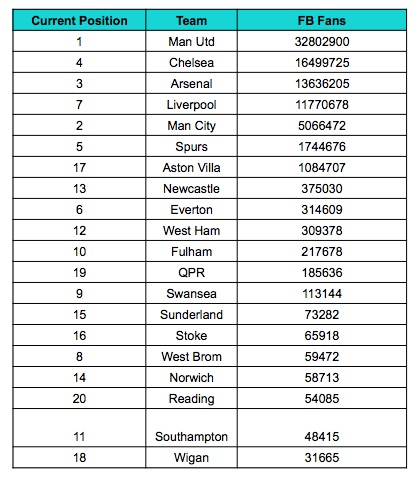 There are no big surprises in the top six, who are easily holding their own in the social media stakes, strongly lead by Manchester United who boast more than 32 million fans.
But below the big six there are some real surprises, notably Aston Villa in 7th place, down to Wigan at the bottom who have fewer than 30,000 fans. This is perhaps a reflection of the type of content on their page,  which rarely extends beyond score updates and links to team news on the website. There is little incentive to follow them and the experience is fairly flat, compared to other teams who use the opportunity to their advantage.
Manchester City regularly share videos and behind the scenes photos, giving fans a unique insight into life at the club.
Now let's take a look at how the same clubs perform on Twitter: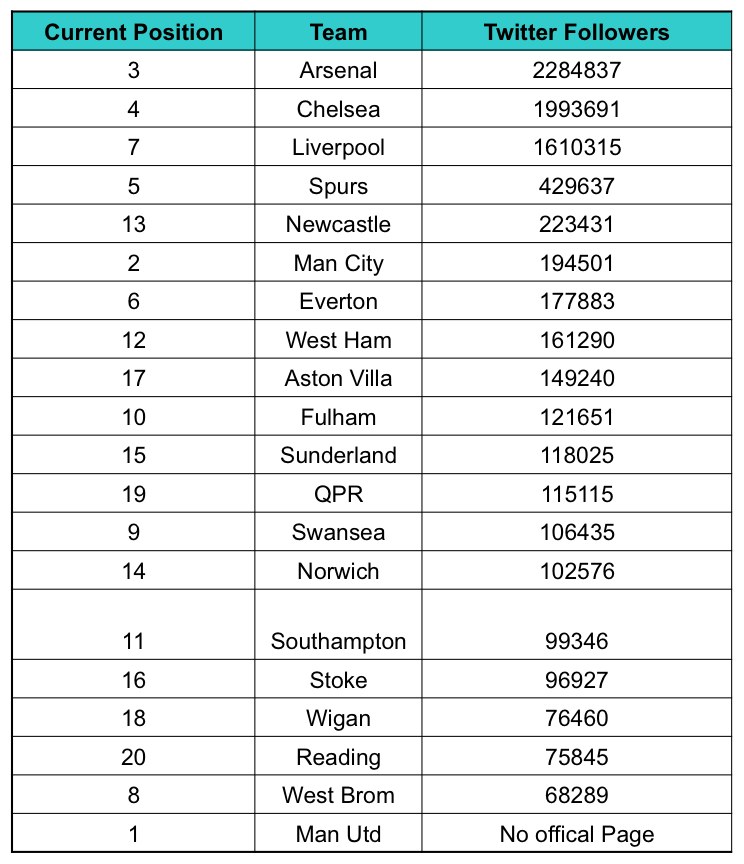 The biggest upset here is Manchester United, who have yet to open an official Twitter account, along with West Brom. Many teams seem to be benefiting from Twitter being a more accessible platform; far more easy to manage than a Facebook page.
Newcastle are competing in the top six here, with more than 200,000 fans. One look at their Twitter feed shows why they're benefiting from a healthy number of followers: they consistently share team news, photos and ticket news.
Unique Access
Premier League teams embracing social media is great for the clubs, clearly, as it gives them a new way to engage fans and ultimately sell tickets but what does it mean for fans themselves and how has social media changed the world of sport?
What we now have, uniquely, is a sharp insight into life at the club and life for players off the pitch (or at least as much as the club is willing to show you). This has a huge psychological impact on the act of watching live sport. You're no longer confined to seeing your favourite players once or twice a week on the pitch, but you are able to form a new type of relationship with them, whether it be through YouTube clips, online interviews or photo galleries.
The sporting industry is uniquely positioned here in that nothing replicates the live viewing experience. If anything, any content you're fed through social media is going to heighten your desire to watch your team play live. This is in stark contrast to entertainment industries, namely music, who are struggling to adapt to the advantages of digital technologies for fears of negatively impacting sales.
In Action
The benefits of social media can be seen in some of the best digital campaigns implemented by Premier League teams. To encourage connections between fans and promote the live sport experience, Manchester City launched FanCam, which allowed attendees of the City v Tottenham game in January 2012 to tag themselves in a huge 360 degree photo from the game.
If you've never seen how this works before, do click on the link in the previous sentence and play around. You can zoom in to every seat in the entire stadium, from the fans to the press box to the directors' box where some are gripped by the game and others are occupied by mobile devices.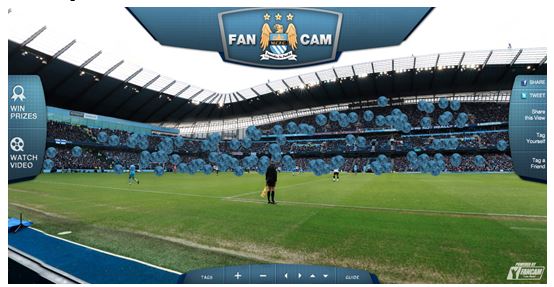 Arsenal launched a Twitter campaign to welcome new signing Olivier Giroud in June 2012, asking fans to tweet a message with the hashtag #welcomeoliver for the chance to win a signed shirt. More than 10,000 tweets were sent in the competition in just 48 hours.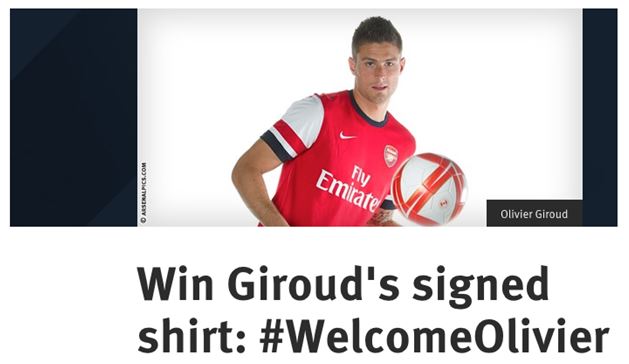 And over on Facebook Aston Villa chose to give something back to their fans when they reached the 1 million 'Likes' point at the end of February this year. To celebrate the landmark, they decided to fly one of their fans over to Villa Park for the Liverpool game. The One In A Million campaign clearly worked, as they've since gained more than 30,000 new fans on the Page.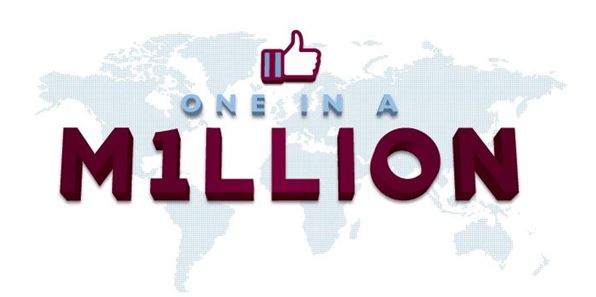 In another great example of how social media is being used to change communications from sports clubs, QPR decided to use Vine to announce the signing of Christopher Samba. Vine is a Twitter mobile app that allows you to upload six-second videos or gifs.
Here's what QPR came up with:
This shows the real opportunity in social media for sports clubs, where you can reach your fans in an entirely new way, giving equal access to information. You can check out some other Vines from the Premier League here.
Bonus
Outside the world of football, we're starting to see innovative partnerships with social platforms, who are keen to 'own' the live sport experience.
Twitter has recently launched an initiative with the Indian Premier League (IPL), which kicked off on Wednesday 3 April. The campaign will include a hashtag battle on the IPL site, where you can tweet your team's hashtag to help them win in a live popularity battle. You can also support your team through the 'Loyalty Corner' where selected tweets from fans will be displayed live on the IPL site.
The campaign will also cover live TV, where features such as the hashtag battle will be incorporated into live coverage, adding a whole new real-time dimension to social TV.
Lauren Fisher is co-founder of the digital agency Simply Zesty. Currently based in  the UK, Ireland and Northern Ireland, Simply Zesty offer creative digital campaigns to their clients. Originally specialising in social media, following a merger this year, Simply Zesty is now a full service digital agency. Find out more at www.simplyzesty.com or get in touch with Lauren at lauren@simplyzesty.com. Lauren is also on Twitter @LaurenFisher 
Follow SPORTINGINTELLIGENCE on Twitter
Sportingintelligence home page