By Brian Sears
3 October 2014
Arsenal's away record against other 'top' Premier League teams has become a source of major concern in recent seasons. For the purposes of this article, 'top' is defined as any club that has finished in the top five in any given season. And the Gunners really have been woeful in this respect in recent years.
Their fellow top-five teams last season were Manchester City, Liverpool, Chelsea and Everton, and Arsenal lost away against all of them by respective scores of 6-3, 6-0, 5-1 and 3-0.
Arsenal did not win an away game against any of the teams finishing in the top five in the 2012-13 season either, or in the season before that, which included that 8-2 drubbing at Old Trafford. It was a long ago as October 2010 that Arsenal last beat a team who went on to finish in the top five that season, when they beat City 3-0.
Here is Arsenal's full recent record away at fellow 'top' teams over the past four season, highlighting that solitary win in the past 16 such games.
Article continues below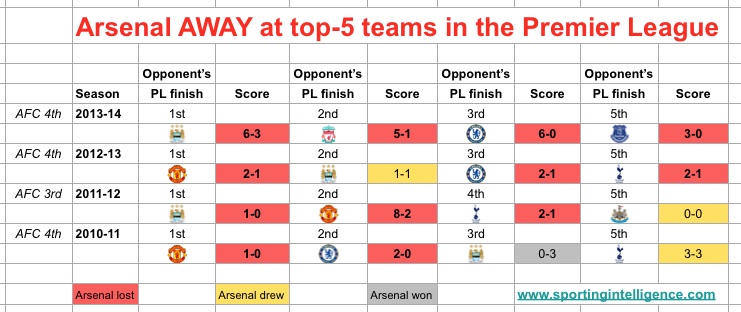 .
Arsenal's opponents this weekend are Chelsea, a team most rational fans accept as a 'top' team who will finish in the top five this season, and the match is at Stamford Bridge.
Arsenal are pretty good in London derbies, in general, comparatively. There will be 30 of those capital derbies in the Premier League this season and five have been played already. Arsenal have played in two, winning at home against Crystal Palace and drawing away at Tottenham.
Arsenal came top in the inter-London Premier League table last season, as detailed here. But there is a 'but' …
Article continues below

.
In eight of 10 London derbies last season, Arsenal won.  And the only two blemishes came against Chelsea, with Arsenal only managing a 0-0 draw against them at the Emirates in December, before getting thrashed 6-0 away at Stamford Bridge in March.
It gets worse.
Arsenal spent the first half of the Premier League era (since 1992, aka the 'monied era') very much in charge against Chelsea, clearly ahead in the head-to-head meetings against them. Arsenal won 12, drew seven and lost just three of their 22 league meetings in the first 11 years of the Premier League, winning 1.95 points per game on average against Chelsea, who won just 0.73 points per game on average.
But in the last 11 years, since Roman Abramovich arrived and his cash transformed Chelsea, Arsenal have won just six of 22 meetings, drawn six and lost 10, for an average points tally of 1.09 per game, against Chelsea's 1.64 PPG.
And in the past five seasons, Arsenal have won just two of 10 league meetings, and won none of the last five.
The good news, statistically, for Arsenal, is, erm, pretty thin on the ground. Then again, if they were able to produce a victory this weekend at the Bridge, it would be all the more significant because of what has gone before.
Article continues below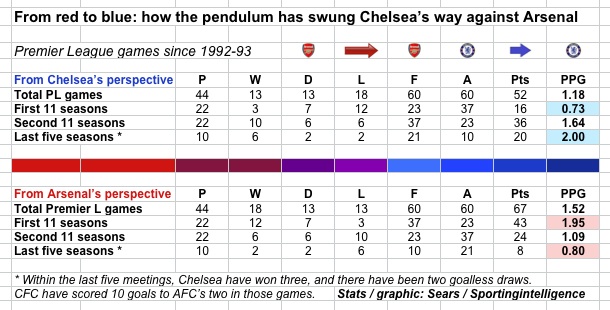 .
And another thing ….
On 15 December last year Manchester United beat Aston Villa 3-0 at Villa Park and thus became the first Premier League club to win 100 Premier League points against a single opponent. In March United went on to complete the double over Villa and have thus gained 103 points from them in total.
This weekend United are at home to Everton and a win would see United notching up the second '100 point' total. When United visit White Hart Lane at the end of December they will also have another opportunity for a century of points to come up.
The biggest tallies club v club so far are: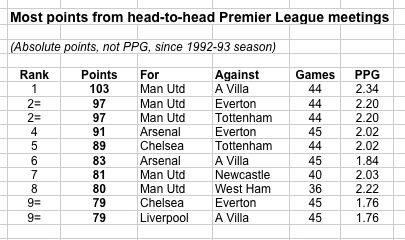 .
More on Arsenal / Chelsea (or search for anything else in box at top right)
Follow SPORTINGINTELLIGENCE on Twitter