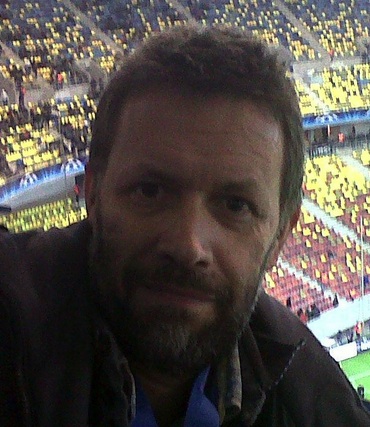 By Ian Herbert
3 October 2014
Are Manchester United fans wealthier than Manchester City fans? The question is not part of an attempt to demonstrate a new flank of red superiority but to resolve a debate which has turned into a serious preoccupation this week.
It began on Tuesday night, when City attracted a crowd nearly 10,000 below capacity for their Champions League tie with AS Roma. That prompted Rio Ferdinand to question why City are building their new 6,000-stand extension when they can't fill the current capacity. He tweeted: "Expanding the stadium for what though?? For who though??"
Paul Scholes then repeated what he had already written in his Independent column – that City need to start making some noise on European nights. But the picture seems more complicated than that.
The anecdotal evidence of my City-supporting mates here in south Manchester tells me the Premier League still means more to them than the Champions League. But there is still a need to understand why a club, now famously 'Richer than God', who attracted 47,000 paying supporters for the visit of Reading in recent memory, managed only 37,000 for Roma.
Relevant to the conversation is that City have not followed United and Arsenal down the route of making it mandatory for season-ticket holders to buy European tickets, which would have guaranteed 36,000 sales alone for Roma. Dispelling Ferdinand's casual suggestion that City can't even fill their current capacity is easy. City filled the Etihad for all but one of last season's home league matches and have a waiting list of 7,500 for the 6,000 extra seats in their new stand, which will take capacity to 55,000 (right). Everyone on the waiting list has paid a £100 deposit.
City command the fourth highest average crowds in the Premier League this season, trailing only Manchester United, Arsenal and Newcastle.
My colleague Ian Ladyman did a far better job than me in deconstructing, in the Mail, the Scholes notion that United fans always make noise. It's not always been a cauldron at old Trafford.
But it was the question of wealth which provoked United ire, the notion I posited that the poorer social demographic of City fans was relevant to them not having paid £36-£40 for tickets. "Where's the evidence?" was the broad response, though in words more colourful than that.
Some but by no means all the evidence is anecdotal. Even within Old Trafford itself, the view is that City's own claim to have less wealthy fans is accurate. United will tell you that a greater percentage of their fans organise long-distance travel, sometimes accommodation. They must be wealthier overall (is the gist). A greater percentage of them travel from Ireland and far further afield, too.
That's not akin to pedalling the myth that more people in Manchester support United than City. United/City support is broadly 50-50 in the city. But United's acceptance that their fans have more disposable income is also evidence based.
The notion was borne out by a YouGov study of 8,551 United and City fans in March this year, which found that 28 percent of United fans live in the (less affluent) north-west; 49 per cent of City's fans do. More United fans live in the (more affluent) south, and fewer City fans do.
The only way that either club has of establishing – as definitively as possible – the overall 'richness' of their fans is through the postcode data for its season ticket holders. That is not in the public domain. We know because we've asked for it this week.
But a valuable piece of work has been done on the subject: the survey by Dr Adam Brown, of the Manchester Metropolitan University's Institute of Popular Culture in 2002 entitled  'Do you come from Manchester?'
It was a postcode analysis of the location of United and City season ticket holders and though now dated as a piece of work, it is certainly still valid. It shows the biggest individual postcode location for City fans – 3.24 per cent of them – is M34, the Denton, Hyde and Audenshaw areas, where the average house price based according to Zoopla data is £133,301.
The biggest individual postcode location for United fans – 2.96 per cent of them – is M33, the Stretford and Sale areas, where the average price is £252,287. The data may be historic, but the shift in season ticket ownership is not substantial. Brown's evidence is relevant.
The Premier League does not keep detailed club-by-club data, any more. But it has done. Its 2007-08 fan survey (PDF linked with demographic tables) also provides information about the salaries of the fans who go through the turnstiles. The League asked fans of all clubs what their income was – and this shows United fans to be seventh in the table, with an average annual salary of £38,000, compared with City fans' average £35,000.
Yes, it's a marginal difference and is hardly emphatic proof that the original hypothesis was correct. Not unexpectedly, the five London clubs topped that table, ahead of Reading. In part, Liverpool's sixth placed position bears out the international dimension to their fan base.
The data that is available, allied with anecdotal evidence, does bear out the theory that City's fans are from a poorer demographic, in their totality.
The challenge for City is how to encourage more through the gates. The Champions League ticket prices, in line with other clubs, reflect a club needing to build revenues to comply with Financial Fair Play.
Supporter Owain Mumford wrote in The Independent this week that pricing was an issue: season-ticket prices have risen by as much as 10 per cent (or £80) this year. Tickets on the day for the Roma match were priced from £35 to £40. For Sheffield Wednesday in the Capital One Cup one week before, they were £15 to £20.
That counts, more for City fans than at some other clubs.
..
Ian Herbert, shortlisted as Sports Journalist of the Year in the prestigious Press Awards and highly commended in the SJA Sports News Reporter category is The Independent's Chief Sports Writer, and former Northern Football Correspondent (see archive of his work here). Follow Herbie on Twitter here.
.
Follow SPORTINGINTELLIGENCE on Twitter
Sportingintelligence home page