Sports salaries
.
Our unique database (accessible only when logged in) was open for a free initial trial period between April and July 2010; this free trial is no longer available.
.
The database is currently being updated. Access to information in the database is now available upon request on a case by case basis by emailing us at nick@sportingintelligence.com. Information from it shall also be published from time to time on this website in articles and features. The annual Global Sports Salaries Survey is usually available here. The page at that link also contains further links to articles with data from previous surveys.
.
The sportingintelligence sports salaries database compares athletes' wages on a like-for-like basis from major sports around the world. We currently cover a variety of football leagues (that's football as in soccer, from the Premier League, Serie A, MLS and SPL) and baseball leagues (MLB, NPB), plus NBA basketball, NFL football, NHL hockey, IPL cricket, the top 20 earners from each of the ATP and WTA tennis tours, and the top 30 earners from the PGA annual world money list.
When you enter the database, you are presented with a series of simple drop-down menus, like this:

.
In any one search grouping, you can compare up to six findings, for example team X in seasons A, B and C, or teams X, Y, Z in years A and B, or, as the example below shows, you could compare the NY Yankees from baseball in 2009 with Manchester United from Premier League football in 2008-09, the Dallas Mavericks of the NBA in 2008-09, the Dallas Cowboys of the NFL in the same period, cricket's RC Bangalore from 2009, plus Tiger Woods' on-course prize money for 2009. The mix is up to you – same or different sports, teams, seasons. The choice is yours. The database produces findings that tell you where each team ranks as payers within their own league in that season, and ranks the findings in order of overall value, for example like this: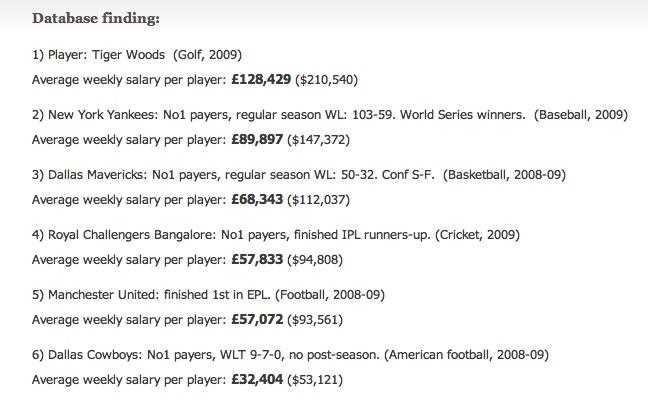 .
We also provide you with a range of detail that allows you to see the relationship between money earned and success achieved, or not. To get a fuller understanding of some of notes you'll find inside the database about sports and leagues with which you may not be familiar, have a look at the sportingintelligence sports salaries database explanatory notes.
At least one season of data is currently available for all the above, and up to four seasons for some leagues. The most recently available figures are used. More sports, leagues, teams and seasons will be added in time.
.
WHAT THE DATA TELLS YOU
The sportingintelligence sports salaries database is a unique collection of data about what leading sportsmen and sportswomen earn. It tells you the average annual salary and the average weekly pay for a "first-team player" in a given season at each club / team. In many cases, it also tells you the highest-earning player that season in that team. But where we don't know or cannot confirm that "highest earner" information, it simply isn't made available here. Guessing isn't our game.
For some sports, salary information is publicly available in some form or other, if you know where to look for it, be it via clubs, leagues or unions. We save you the bother. For other sports, the information is not freely available, and we have done the work to bring it to you.
This database focuses on what players earn for playing sport. It does not include commercial deals away from the playing field. But it does seek to provide an accurate guide to average pay for top stars for playing their sport. This is not the same as taking a club's headline wage bill and diving by X, Y or Z. Our data is produced by knowing which pots of cash pay the wages of the players we focus on.
So how do we make our calculations, in cases where the information is not laid out for public consumption by primary sources like various unions in the USA? To provide one example of how we do the maths, we can look to the English Premier League, and some data from Arsenal, where the club's headline wage bill for the 2008-09 season was £103,978,000.
Many people do not realise that headline wage figures include costs for all employees, in Arsenal's case for everyone who works for Arsenal Holdings, all 384 of them, plus another 893 temporary personnel like stewards and waiters on match days. Those same headline figures also include not just wage / salary costs for all the above (and sometimes severance costs too), but social security and pension costs, as this extract from the Arsenal annual report 2008-09 shows: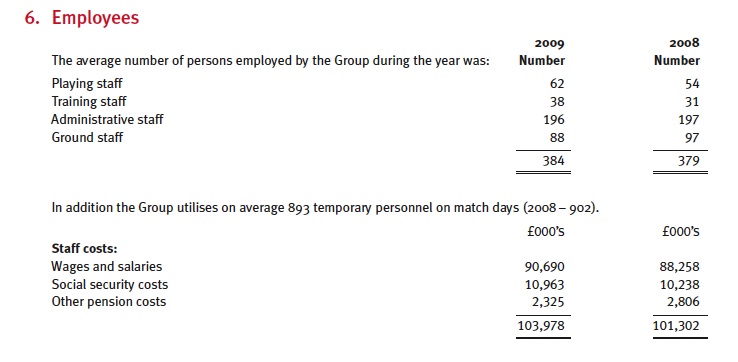 You can see in the period in question that Arsenal had 62 playing staff and 38 training staff, including their manager Arsene Wenger and his coterie of coaches, technical experts and so on, plus 284 other full-time staff and those 893 temps.
The figures in the sportingintelligence sports salaries database are calculated having stripped out the pension and social security costs (of more than £13m in Arsenal's case in 2008-09), stripped out the training staff costs (millions more), and non-football staff costs and temp costs (ditto), and the costs for players who are not in the first-team set-up (ditto). We've done these sums and others like them, where required, for each sport, league, season and team.
English Premier League football wages are probably the least well known – accurately known, that is – of any sport in the world. We hope our database helps shed some light on this subject.
Part of our expertise in this area comes from journalistic, academic and industry contributors to this site who have worked extensively in football finance for many years. Sportingintelligence's editor Nick Harris also organised the only two large-scale surveys of Premier League wages ever undertaken, by The Independent newspaper in conjunction with the players union, the PFA, in the 1999-2000 season and then in 2005-06.
The headline findings from The Independent / PFA surveys can be found reported by the BBC here (in 2000) and in The Independent here (2006). Those surveys looked at basic pay across the four professional divisions of English football, excluding bonuses, which can typically add 50-100 per cent to a player's final annual earnings.
When the former Manchester United player, Ben Collett, sought compensation for the injury that ended his top-level career before it had really begun (when aged 18 in 2003), The Independent surveys were used in the 2008 calculations that were made to assess his loss of earnings, and played a key part in his award of £4.3m.
The judge in that case was Mrs Justice Swift, aka Dame Caroline Swift, DBE, and she said in the Collett rulings of The Independent data: "The survey provides the best evidence available about average earnings in professional football and I shall therefore use it as the starting point for my calculation of the claimant's loss of earnings."
The ruling from the Collett case can by downloaded as a PDF here: Ben Collett ruling
The ruling went to appeal, and the judgment was fully upheld: Collett – Court of Appeal Judgment
The intricacies of the work on the player surveys  have helped inform the processes used to compile our database, but all the English football figures in the database are extracted from clubs' annual accounts, not from those confidential surveys.
To access the only source that allows you to compare wages from the major sports of the world on a like-for-like basis, try the sportingintelligence sports salaries database.