By Nick Harris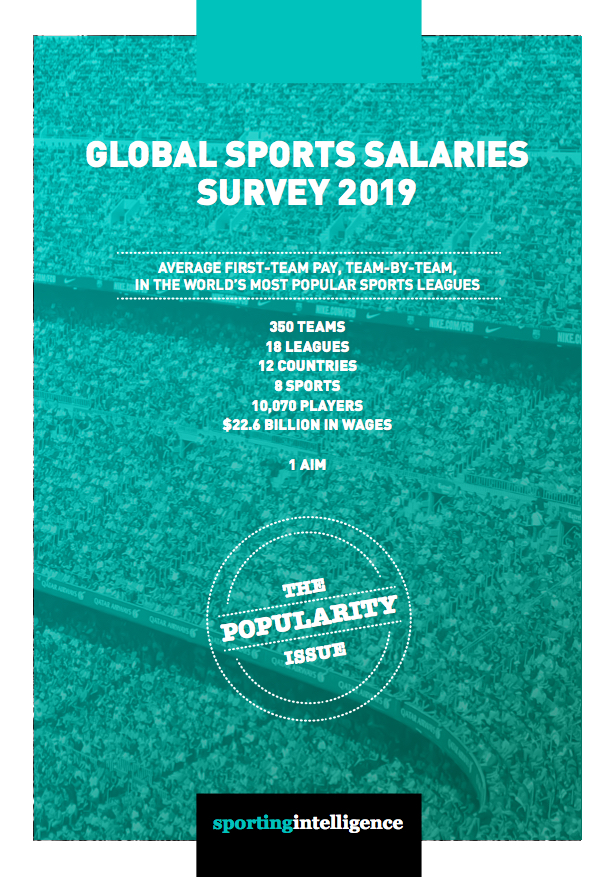 23 December 2019
Lionel Messi's  Barcelona have retained their status as the best paid team in all of global sport, measured by average basic pay in their first-team squad, according to Sportingintelligence's Global Sports Salaries Survey (GSSS) for 2019, published today. Barca's average pay is just over £9.8m, with Real Madrid in second place on £8.9m. But arguably the most significant development in the list of best remunerated teams is that Juventus – home to Messi's great generational rival and nemesis, Cristiano Ronaldo – have climbed to No3.
Last year Juve were only just inside the top 10 and as recently as 2017-18 they were No32. The reasons for this and a detailed breakdown of 'the working' are included in the full GSSS, available free now as a PDF download.
This year's GSSS is a 116-page 'Popularity' special edition with features that attempt to make an objective assessment of which league in world sport has the broadest global popularity. The report considers metrics including crowds, and fans who travel across international borders to watch sport; the value of income derived from sales of non-domestic broadcasting rights income; and social media.
It is not a coincidence that the three teams with the highest average pay in world team sport all rank among the top five most popular teams in global sport.
Additional features include a detailed breakdown of average basic pay by age bracket and position in Europe's 'Big 5' football leagues, and an analysis of which clubs are punching above or below their weight against the resources they are spending on player pay.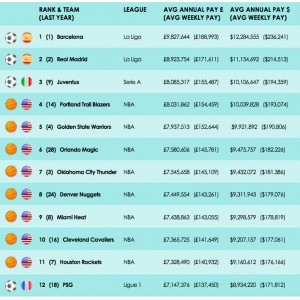 Barcelona stay to the top of the pay rankings in this 10th edition of the GSSS. The amounts paid by the top dozen teams are detailed in the graphic on the left (click to enlarge) and the full report contains numbers for all 350 teams as well as league-by-league analysis and developments. Download the GSSS 2019
The unique metric of the GSSS is 'average first-team pay' – allowing the best like-for-like comparison between vastly different sports in leagues and countries around the world. Seven of the top 10 payers in this year's GSSS are NBA teams – an ongoing consequence of a huge new TV deal in the NBA that kicked in before the 2016-17 season. As recently as the 2015 GSSS, there were eight football teams in the top 10.
The survey found the best paying English football clubs to be Manchester City and Manchester United, at No13 and No33 in the list, respectively paying almost £7m and jus over £6.1m basic per man.
Trophies or other successes will result in higher final pay via performance-related payments and bonuses. Other extras will accrue to many players (in all sports) through annualised signing-on fees and loyalty payments. These are not included in our figures as they are not always guaranteed. A player due a loyalty bonus for completion of a given season, for example, doesn't get it if he leaves. The full methodology and sourcing notes for the GSSS is detailed in the introduction.
The NBA again extends its lead as the best paying league by average salary (£6.66m) ahead of IPL cricket (£4.22m when weekly pay is annualised) and MLB baseball (£3.22m). The Premier League remains the world's best paying football league by a margin. Average pay in the 2019-20 season in England's top division is now £3,173,265 (or £61,024 per week).
.
350 teams, 18 leagues, 8 sports, $22.6bn in wages
The GSSS looks solely at earnings for playing sport, not for endorsements or other extra-curricular activities. It considers 350 teams in 18 leagues across 12 countries in eight sports: football, baseball, basketball, two types of gridiron, cricket, ice hockey and Australian Rules football.
The GSSS features salary information for the most popular professional domestic sports leagues in the world, by average attendance per game, for which we have been able to obtain reliable data, as well as various other leagues from the world's most popular sport, football. The 18 leagues are, in order of highest to lowest average salary across those leagues: the NBA, IPL, MLB, Premier League, NFL, NHL, La Liga, Serie A, Bundesliga, Ligue 1, Chinese Super League, NPB (Japanese baseball), MLS, J-League, Scottish Premiership, AFL (Aussie Rules), Canadian Football League (gridiron) and the WNBA.