*
In the first instalment of a new weekly Monday column, Tell Me Why, the Independent's brilliant man in the north-west, Ian Herbert, asks why Manchester United needed to unveil a statue of their remarkable manager, Sir Alex Ferguson, even before Fergie has left the building. What does it tell us about Sir Alex, and the club – and the timing of his eventual departure from United?
.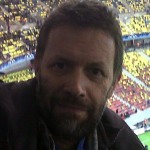 By Ian Herbert
26 November 2012
It's not the finished work that is troubling – even though it does look like a cross between Gillette Man and Taggart, as one reader of The Independent put it on Friday. It's the timing. Statues are for those whose job is done and who've left their mark – Thierry Henry at Arsenal, for example, Brian Clough at Nottingham Forest or Michael Jackson at Fulham.
Consenting to a statue while the task is still at hand is questionable. There's a sense of complacency about it. And the list of those who have built or approved one isn't terribly inspiring. Hubris can come attached.
Take Nani, for example, who has a sculpture of himself in the middle of his living room in south Manchester to hang his medals on – or Nero, the Roman emperor, whose 120ft bronze was an act of self-commemoration by a tyrant who, amongst other things, had murdered his own mother.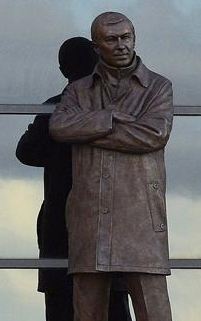 The golden statue Caligula had commissioned of himself was dressed each day in whatever he happened to be wearing. More recently, the Turkmenistan dictator Saparmurat Niyazov ordered a golden statue of himself which rotated 360 degrees every 24 hours so that the sun always shone on his face. Really. You get the picture.
It is simply not encouraging to know that Ferguson has been amenable to joining this list of self-aggrandizers. We know that he was involved in the development of the sculpture – the sculptor Philip Jackson tells us he posed for him on several occasions – and that doesn't feel terribly much like the act of one with greatest powers of self-awareness. At a stroke, Ferguson might just have inspired every side who roll up at Old Trafford to wipe the thin smile off the bronze face.
Perhaps the decision to erect the statue is telling us something. It's a valedictory act, and there has certainly been a very real suspicion for some time that Ferguson, with his fascination for the United States and his trips there in every international break, has enough diversions to be ready to call it a day and retire this coming summer. His consent to being immortalized in bronze only contributes to that impression.
No-one has confirmed the recent reports of Pep Guardiola dining with a member of the Glazer family and David Gill, the United chief executive, in New York, but if Ferguson is leaving this summer, the search for a replacement really ought to be must be at the stage of discreet face-to-face conversations. Ferguson also dined with Guardiola last month.
If he isn't going yet – and when the talk of retirement crops up he always relates the story of his father, Alexander, who retired from the shipyards and was dead within 12 months – then the statue gives Old Trafford a fin de siecle feel which Manchester United don't need.
Immortalisation in bronze won't make the 70-year-old any less hungry to succeed in football, of course. There won't be an embarrassing need to cast him off, now that they cast him. But Ferguson is in the midst of his toughest battle yet – ensuring that his club are the pre-eminent side in Manchester when he takes his leave.
They are making a serious fist of it. The strike force of Wayne Rooney, Robin van Persie, Danny Welbeck and Chicharito is arguably the finest in Premier League history and seamlessly interconnects in a way that City's Sergio Aguero, Carlos Tevez, Mario Balotelli and Edin Dzeko do not. But his players are not swash-buckling their way around Europe, or England, sweeping all before them aside.
This most famous victory doesn't belong to him just yet. Neither does the act of literally and symbolically building a man up make him any easier to challenge.  Doesn't the mighty signage of the Sir Alex Ferguson Stand, which he gazes out upon from his dug-out, provide a big enough affirmation of his worth?
All of which brings us to the question of how United mark the day when he does finally clears his office. A statue might have been the perfect gesture. His successor will not thank United for offering him some deeper gift, like the retention of the kind of role within the club which made life so impossible for Wilf McGuiness when Sir Matt Busby had left the dugout and become general manager, upstairs.
There have certainly been worse ideas in the world of the football sporting sculpture. The one capturing Zinedine Zidane's famous head-butt to Italy's Marco Materazzi in front of Paris' Centre Pompidou Modern Art Museum was "an ode to defeat" according to one of the men responsible for it.
But while listening to Ferguson speak at his press conferences each Friday provides a weekly reminder of his wisdom and deep sense of perspective on the game, he does not yet quite seem to stretched to the limits of Cato the Elder, who declared on this topic: "I would much rather have men ask why I have no statue than why I have one."
That perspective feels much the wiser.
.
Ian Herbert is a sports correspondent for The Independent (see archive of his work here). Follow Herbie on Twitter here.
.
More stories mentioning United
Follow SPORTINGINTELLIGENCE on Twitter