By Brian Sears
23 November 2012 
West Bromwich Albion's remarkable start to the season has earned them 23 points from their first 12 Premier League games – the best start they have ever had in the revamped top division by far.
In six previous seasons in the Prem, their best tally after 12 games before this season was 16 points in 2010-11, then 14 in 2011-12, then 11 in 2008-09, then 10 in 2002-03, nine in 2004-05 and eight in 2005-06.
That last season mentioned was also the only season that West Brom's big local rivals, Aston Villa, have won as few as nine Premier League points in their first dozen games – until this current awful season.
How the Baggies must be relishing doing so well as Villa languish in the relegation zone, contemplating a drop that would end their status as one of the League's 'ever present' clubs.
How long can West Brom's dream start continue? History suggests a little longer at least. As our table shows, they have won more Premier League points against their opponents this weekend (Sunderland) then they have against any other team in their time in the Premier League.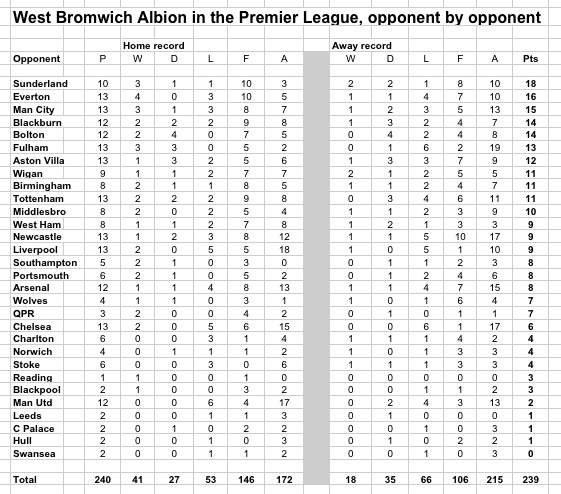 And another thing …
Manchester United have played 784 Premier League games before this weekend and lost 112 of them, or exactly one in seven.
Most of those have been away from home; and this weekend they play at home, against QPR – manager-less until the right person says 'Quick, Phone Redknapp' (QPR).
In all, United have faced 44 different opponents in the Premier League over 20 and a bit seasons.
Of those 44 opponents, 14 have never had a single win over them.
Of those 14, nine are currently outside the Prem: Charlton (no wins in 16 Prem games against United), Birmingham (14), Palace (8), Bradford (4), Hull (4), Watford (4), Swindon (2), Barnsley (2) and Blackpool (2).
Of the other five, West Brom are winless in 12 Prem meetings, Stoke are winless in nine, Reading are winless in four and Swansea are winless in two.
QPR, who are Saturday's visitors to Old Trafford, are winless in 10 Premier League meetings with United.
And by Saturday evening, they will be winless in 11.
.
More stories mentioning West Brom / Sunderland
Follow SPORTINGINTELLIGENCE on Twitter