By Brian Sears
18 April 2014
The most thrilling English title race in decades has been made all the more sumptuous by the free-scoring exploits of Liverpool and Manchester City – and both clubs still have a post-war scoring record in sight.
The record is the number of league goals per game in a post-war top-flight season in England, held by Bill Nicholson's marvelous Tottenham side of 1960-61, who scored an astonishing 115 goals in 42 games, at 2.74 goals per game (or, to be precise, 2.738 goals per game). Spurs's top league scorer that season was England's Bobby Smith, with 28, but Les Allen also got 22, Welsh wing wizard Cliff Jones netted 15 and two other players were in double figures, John White (13) and Terry Dyson (12).
The graphic below shows the top-scorer team in the top division every season, post-war, as well as every team who scored 100 or more in a league season. (Fifteen teams have scored 100 goals or more in 67 post-war seasons).
Liverpool are on track to match Tottenham's record. They have 93 goals in 34 games (2.735 per game) and need 12 more from four games to beat Tottenham's GPG record. Liverpool's four remaining games are against Norwich, Chelsea, Crystal Palace and Newcastle.
City have scored 88 goals in 33 games and need 17 from five games to beat Tottenham's mark. Their remaining games are against West Brom, Palace, Everton, Villa and West Ham.
The Premier League record for a season is Chelsea's 103 goals from four seasons ago.
Article continues below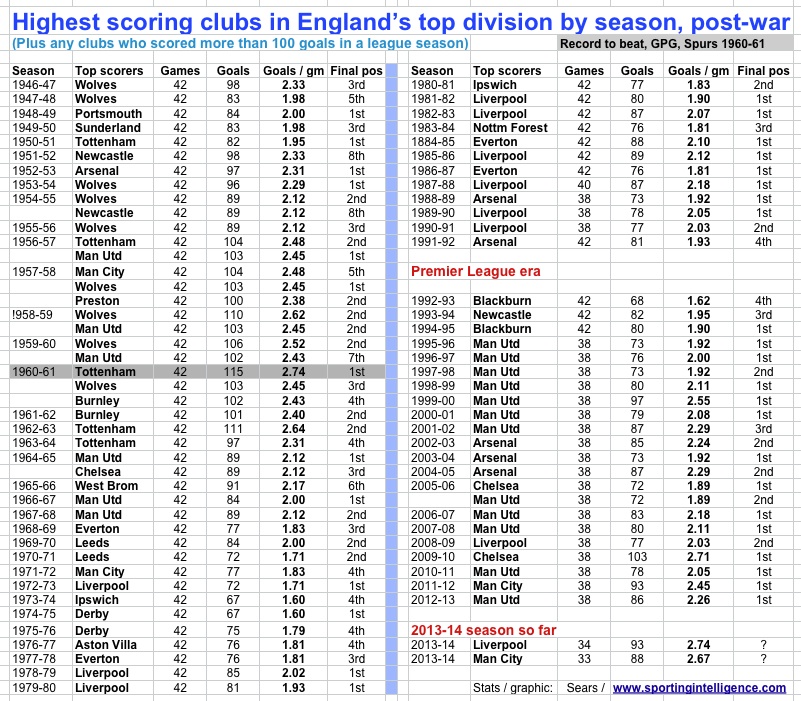 .
Across the Premier League as a whole this season, each game on average (with 2.76 goals per game) is producing only slightly more on average than Liverpool each time they play alone! But actually 2.76 goals per game is good; only in five Premier League seasons has this average been bettered.
If the rates of scoring had not started to slowly this season, the campaign would be on course for a divisional record haul. But for the whole Premier League to beat the 1,066 record goals total of two seasons ago, 136 goals would be required from the last 43 games at the improbable but not impossible rate of 3.16 goals a game.
Here are the month by month goal scoring statistics to show how this season has developed: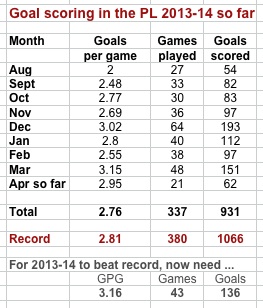 More on Man City / Liverpool  /Arsenal / Chelsea (or search for anything else in box at top right)