By Brian Sears 
Leicester's next assignment en route to a possible extraordinary coronation as champions of England is at home to Southampton on Sunday.
It often seems as if flagging up a particular stat jinxes it*, but the Foxes have played 39 different opponents during their Premier League years and they have won more points at home against Southampton  – in total, not PPG – than against any of the others.
How many? Twenty points, from nine games, at average of 2.2 per game.
They've also won more home PL games against Southampton (six) than against anyone else. That's six of nine at home, plus two draws.
Southampton's only Premier League win from nine visits to Leicester came on 8 December 2001, via a 4-0 win thanks to a brace from Svensson adding to goals from Beattie and Pahars.
Sunday will show if Leicester can combat the statistician's curse, or whether Saints will emerge from the Foxes shadow in this head-to-head to lever the title race ajar.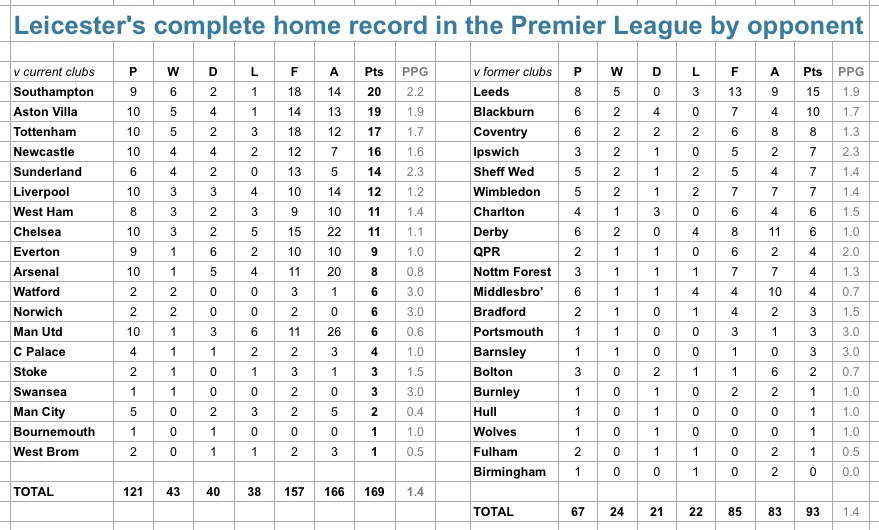 .
* On jinxes, Manchester United have scored 999 home Premier League goals, more than any other team. They're at home this weekend and need just more one for the 1,000.
.
And another thing …
The English league has waited longer for a first-time champion than any other 'big' European league.
As our graphic below shows, France's Ligue 1 had first-time champions on Montpellier as recently as 2012 and Germany had 'virgin winners' in the shape of Wolfsburg just seven years ago.
In Spain it was as recently as 2000 that Deportivo were still able to become first-time winners, before Real Madrid and Barcelona began their annexation of La Liga. And in Italy, it was 1991 that Sampdoria achieved the 'first time feat' in Serie A.
In England there hasn't been a first time winner since 1978, when Brian Clough's Nottingham Forest became champions for the first and only time in their history, just 30 miles up the M1.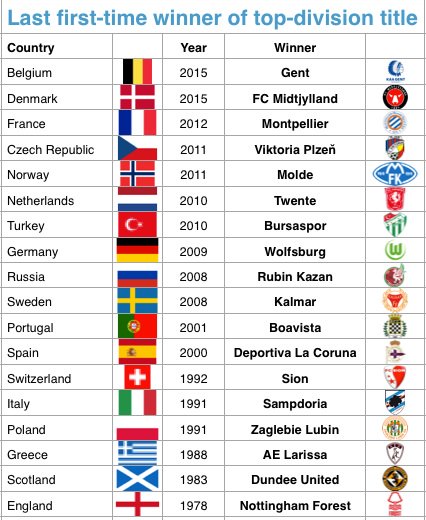 .
And a Canary thing …
Norwich welcome Newcastle to Carrow Road this weekend for what could be a pivotal relegation tussle. Norwich start the weekend with a three-point advantage their visitors but Newcastle have a game in hand. 
Norwich have played Newcastle 13 times in Premier League fixtures and overall Newcastle have twice the number of points gained by Norwich: 24 points to 12.  But 11 of those 12 Norwich points have come in the six games so far played at Carrow Road, from three wins, two draws and one defeat. 
The pattern was certainly maintained this season with Newcastle winning 6-2 at St James' Park last October. This Saturday Norwich have their opportunity to maintain the pattern at Carrow Road.
The graph below looks at relative home-way performances by Norwich against their PL opponents in the PL era.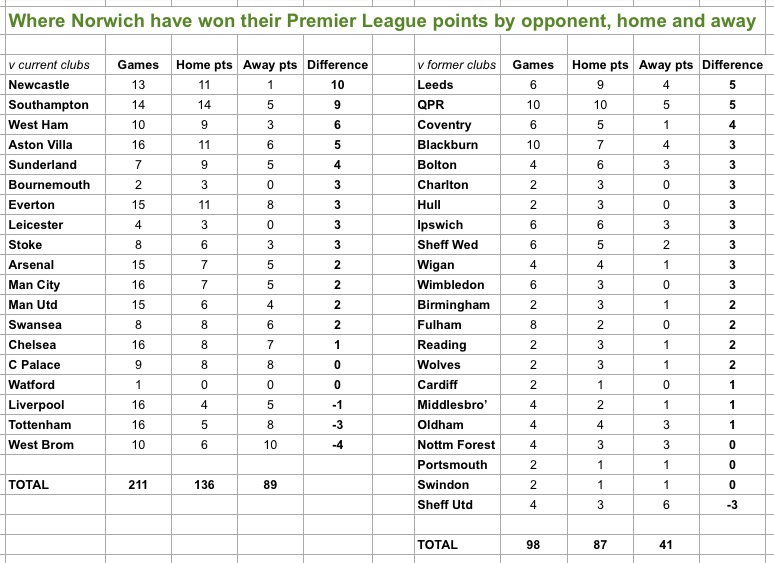 .
…. And finally
The statistics in these pages will often be in relation to the Premier League era when they deal with English football. We know the game is a bit older than that. We know Preston won as Invincibles in the league's first season in 1888-89. But the Premier League is a distinct era if only because of the money that has transformed the picture. This is the 'monied era'.
To get some idea of how the financial situations of these clubs have changed over time – and finance is a big influence in success in football – further reading and related articles spring from Sportingintelligence's annual global sports salaries reports, are linked here. The 2015 edition of the report (right) was published in May.
You can download a free 120-page PDF here.
2014 Report             2013 Report            2012 Report         2011 Report          2010 Report
.
More on Arsenal / Liverpool / Man Utd  (or search for anything else in box at top right)