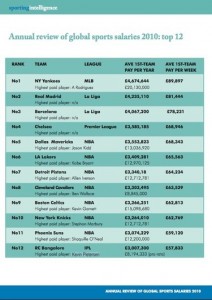 By Nick Harris
28 March 2010
The New York Yankees are the best-paid team in global sport measured by average first-team wages, ahead of Real Madrid, Barcelona, Chelsea and basketball's Dallas Mavericks, according to the inaugural Annual Review of Global Sports Salaries (ARGSS), to be published this week by sportingintelligence.
The average first-team pay at the Yankees was £89,897 per player per week in 2009, or £4.7m per player last year, when the Yankees won the World Series – the biggest prize in baseball. Real Madrid's stars earned £4.2m per year each in the period reviewed for Spanish football. The corresponding figures were £4.1m at Barca, £3.59m at Chelsea and £3.56m at the Mavericks.
Some of the key findings from our unique study are published in an exclusive extract in today's Sunday Telegraph (online here and here). These articles coincide with the opening today of sportingintelligence's global sports salaries database. That resource allows users to compare earnings in different sports, and gauge how pay affects performance. For those with a specialist interest, collated findings and analysis can be found in the report.
The ARGSS, to be published on Friday, 2 April, collates the figures from the database, ranks the 211 teams currently monitored by average first-team pay, and also gives a league-by-league overview of the impact of money on performance in different leagues.
The report compares average first-team pay on a like-for-like basis for the first time at clubs in the world's richest leagues in football (the Premier League), basketball (the NBA), baseball (MLB), cricket (the IPL), gridiron (the NFL) and ice-hockey (the NHL). It also includes Japan's NPB baseball league as the highest paying sports league in Asia (the newcomer IPL aside), as well as Serie A, the world's second-highest paying football league.
Real Madrid and Barcelona are included from Spain – as the only football clubs outside of English football that do or would make the top 30 payers list – while football leagues from the USA (MLS) and Scotland (SPL) are included as representatives of "small" leagues from the world's most popular game.
The Premier League is the richest football league in the world but only two of its clubs, Chelsea and Manchester United, are among the top 30 high-paying teams. NBA and MLB teams dominate that elite, while even cricket's IPL, the upstart league in world sport, has three teams in that bracket when we consider weekly pay.
All data is taken from seasons played or ending in 2009 except for European football clubs: "accounting lag" means there isn't a full set of data for 2008-09 yet, so figures from summer 2008 are used for those clubs.
The figures for 2008-09 exist for most Premier League clubs and those are available in our database. The difference between the figures used in the ARGSS and the data for 2008-09 is moderate in most cases and wouldn't alter most of the clubs' rankings significantly if'd we had the full 2008-09 data set available now, and included it.
One exception is Manchester City's wages, fueled by Abu Dhabi cash, which we calculate jumped from £1.4m per player per year in 2008 to £1.9m a year in 2008-09. However even this latest figure wouldn't lift City any higher than sixth-highest payers in the Premier League for 2008-09 (from 10th in 2008), and wouldn't put them inside the world's top 50 teams (from No86), let alone inside the top 30.
As for the future; that's a different matter. We can speculate that City's wage bill will go through the roof in 2009-10 but as Manchester City themselves don't even know that yet, nobody else can. Their bill could still alter significantly this season, for example, depending on performance bonuses (or not). As is explained in our methodology, guessing isn't our game.
In America more than most places, there is a good degree of transparency about sportsmen's earnings. Where we can identify with some certainty who a team's top player was, and what he earned, we say so. Where we can't, we don't. Some official sources – the MLS players' union and other unions, for example – tell us the exact figures for individuals down to the last cent, and we just "do the math".
Equally, things do change, players do move, and therefore some of the named highest earners for the teams under review already play their sport elsewhere, a few months later. Teams' pay goes up, and less often, down. The ARGSS by nature will reflect the past, albeit the recent past.
But we still believe it provides the best snapshot of the global sports salaries landscape, and our database, regularly updated, will provide fresh information as we process it.
.
NFL has 'fairest' pay distribution
Sportingintelligence's front page today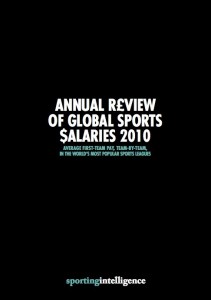 .
.
.
.
.
.
.
.
.
.
.
.
.
.
.
.
.
.
.
.