*

By Jonnie Baker
6 December 2013
Anticipation is obviously reaching fever pitch over the unspeakably complicated group-stage draw for the 2014 Fifa World Cup (TM), which hasn't been obsessing too many people at all.
Certainly not to the extent that anyone would come up with a draw simulator, like the one linked here, that essentially obliges you to spend the best part of whole days pressing a button to see where the flags fly.
Now I'm not saying that the draw will end up like this (although I very much expect it):
Article continues below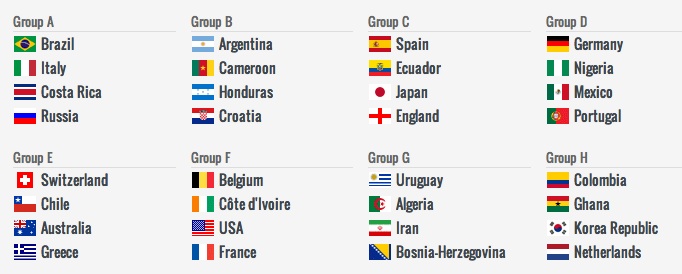 .
But I do believe it gives us a solid basis on which we can assess each nations chances. So without further ado….
Group A
Brazil: There doesn't really seem like much point in the other teams turning up for this one. They're going to win the whole thing and Fred will score the winner in the final. Because he's called Fred. Young midfielder Nigel will come to the fore while defensive powerhouse Stewart will disappoint. Neymar's hair will finally migrate in the semi-finals to join the remainder of its flock up a tree near West Bromwich.
Italy: Will someone how limp through the group stages despite playing like strangers and being rubbish. Will make it to the semis despite being rubbish. Will play one blinding half and look set for the final before reverting to type and being rubbish. Pretty much like always really.
Costa Rica: Paulo Wanchope, your nation needs you. I've just noticed he's younger than me. Well that's a sobering thought. First-round exit assured.
Russia: You can never tell with the Russians can you? Will they wilt in the South American heat or will they prosper? No, they'll wilt in the South American heat – like a Flake 99 in a Dyson Airblade. Carnage.
Group B
Argentina: Messi and Aguero. Good lord alive that's a worry. Fortunately they don't also have Pastore, Ever Banega, di Maria, Higuain, Lavezzi, Garay and Mascherano as well. They do you say? Oh. Bugger. They could win the thing too then. With Erik Lamela to bang in a brace in the final. And be sold to PSG.
Cameroon: Football strip innovators Cameroon will surely be trying out some manner of bikini or spacesuit-based uniform for this tournament. Samuel Eto'o seems to be coming into some sort of form, or at the very least is lurking behind goalkeepers and nicking the ball out of their hands, so you can't write them off. Unless you're me, because I'm writing them off.
Honduras: The Honduran team in the Panini Espana '82 sticker album were all pictured performing a sort of sideways karate chop to their own chests. If this is not repeated they shouldn't even be allowed to kick-off. Get on this Michel Platini and save the tournament.
Croatia: As a Tottenham fan, one can only hope Luka Modric makes an arse of himself. The orcish Judas. They used to be such a lovely side, ruined now forever because of the actions of one tiny ingrate. They'll probably do alright though. But by heavens I shall swear at them.
Group C
Spain: I really, really want to see Spain get smashed into the middle of next week. Anyone who claims this tiki-taka nonsense is a basis for a proper game of football is a liar or a communist. Or both. Pass, pass, pass, pass, pass, pass…….sent home for boring the trousers off everyone.
Ecuador: Your guess is as good as mine. Anything could happen really. Though it probably won't. In summary: drizzle, brightening later with a well-directed header at the back stick.
Japan: Drew with Holland recently playing a delicious brand of football. And Keisuke Honda has one of the best names in world soccer. Complex anime-inspired dance routines on the terraces will drive them onto the quarter finals where they'll be robbed, ROBBED, by someone far less deserving. Let's hope it's England.
England: Finally, the jewel in the crown of the tournament. The side everyone wants to test themselves against. The inventors of the game that spans the world. The Three Lions. The national embarrassment we all hope pulls off a miracle and don't start the group stage like an arthritic antelope and depart with their tails surgically removed and inserted up their fundaments. I don't know about you, but I'll be watching from behind the sofa. Where I've hidden the gin.
Group D
Germany: The poor man's Austria. Out before the tournament even begins. Or potential finalists. You never know with Germany, do you? Well you do, they'll be really good.
Nigeria: Has Kanu jacked it in yet? He must be pushing 70 by now, so there's no reason to believe he won't appear. And Victor Moses has played at least once for Liverpool. Peter Odemwingie will turn up at the doors of the Chicago Cubs and demand a transfer to the World Series.
Mexico: Somehow qualified for the tournament despite winning only 0.25 of a game in qualifying and shipping somewhere in the region of 481 goals a game. Commentators will insist on referring to Hernandez as the Little Pea, presumably in relief at no longer having to repress their hilarity when Alan Hansen tries to say Cuauhtemoc Blanco for the 19th time.
Portugal: The one man team of the tournament. If you count Cristiano Ronaldo as a man, to me he's always resembled an android made of gravy. This is unlikely to stop him carrying all before him though.
Group E
Switzerland: They're seeded aren't they? Which seems odd. Especially when Philippe Senderos still gets a game. They're the side everyone wants to draw in the group stages, except for England who have presumably given up all hope already.
Chile: Made England look foolish at Wembley by patently knowing how to play football. Unfortunately, they will soon discover that many other nations also have a passing familiarity with the game. Lovely kit though and that's the main thing.
Australia: Despite triumphing in the Ashes, Australia will disappoint when it comes to the World Cup. I say 'disappoint', they'll disappoint Australians, everyone else will be delighted. Stuart Broad will somehow conspire to bundle them out in the first round. Cue LOLs.
Greece: Admit it, we all wanted Romania to make it through from the play-offs. Our hearts broken by Iceland's capitulation to Croatia, the Greeks stepped up to boot us in the knackers once more. That chap Karagounis is still turning out for them at the tender age of 53 so I'd expect a high energy tilt at a first-round exit. Possibly involving a goal. But just one. By accident.
Group F
Belgium: Very much the dark horse choice of simpletons who know nothing of the World Cup. So, brace yourselves, very much my dark horse for the World Cup. Vertonghen, Kompany, Lukaku, Hazard, Chadli, Dembele – plainly very many Belgians have sold their souls and their waffles to the forces of darkness to bring through that kind of generation. But then Colombia were the idiots' dark horse for USA 94 and look what happened there. Ugly scenes.
Ivory Coast: I'm not sure what to make of Ivory Coast. A brace of Toures and a Bony. Anything could happen really couldn't it. Expect that then.
United States: Same as always. A brief surge of interest as they start well, national outrage for a nano-second when they crash out and back to Kim Kardashian's many thrilling adventures. Brad Friedel will become the oldest Doctor Who monster to appear in an international match and Tim Howard's beard will finally consume his head.
France: They look quite good the old French. Pacey, free-scoring and seemingly quite happy. It's going to be a hell of a job for them to instigate their traditional in-fighting and utter collapse. Imagine a Bugatti Veyron transforming into a clown car and imploding in the Maracana. With a shrug.
Group G
Uruguay: Luis Suarez, what can we say about that mercurial talent? Only this, it is impossible to look at his little face and not think: twat. Out in the first round if there's any justice in the world.
Algeria: For some reason I'm always keen to see a North African country do well. Morocco, Egypt, Libya any of them would do. So it's Algeria all the way for me.
Iran: I've never seen a wild card, neither in the wild nor in captivity. But, if you were to be lucky enough to encounter such a rare beast, it may look a little like Iran. Ashkan Dejagah should be turning out for them and, as we all know, he scored his first Premier League goal for Fulham in their foolish attempt to best Tottenham last night. For that delicious impertinence alone, I shall be wagering £1 on an Iranian victory in Brazil.
Bosnia-Hercegovina: The choice of the soccer romantic, very like Slovenia in 2002. Who were rubbish. Kevin Kampl plays in their midfield. You find a lot of Kevins in and around that area – I'm told it's because Home Alone was enormously popular in central Europe. This is the kind of analysis that can save a career.
Group H
Colombia: Much will be made of Colombia playing an expansive, fast-breaking game of incisive passing and outrageous skill. Their opening game will be a welter of snapped legs, lateral passes and screaming mayhem. Hopefully no fatalities.
Ghana: When Ghana lost to Uruguay last time round, Marcel Desailly declared: 'We are all Ghana now'. That's Marcel Desailly who played for France. For that reason alone, I hope they go out.
South Korea: The neutral's choice. The BBC will flood the airwaves with Gangnam Style and fat men everywhere will pretend to lasso women. One fat man will get carried away and actually lasso a woman before being sent home in disgrace. Poor Adrian Chiles.
Netherlands: The reliable comedy team of many a tournament. Total football descending into total acrimony in the blink of an eye. Like the French but with a greater emphasis on mayonnaise. And Wesley Sneijder is a lot smaller than you would at first imagine.
So, you can pretty much take those predictions to the bank right now.
.
'He copyrighted making a little heart with his hands. That's all you need to know.'
More stories mentioning Tottenham