*
"I may have to take a few more blows, definitely. Maybe even more than that.
Maybe all season I have to take a few blows but I knew this was going to be the case…" 
David Moyes, September 22, 2013

.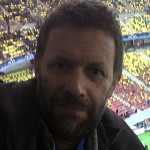 By Ian Herbert
5 December 2013
Press conferences can be so self-serving that they become a part of football's background noise and no one believes them but David Moyes has told much of the Manchester United story straight in the 158 days since his appointment. His remarks about the bumpy road ahead came after the Manchester derby defeat. He was right.
The narrative of last night's defeat to Everton has been framed, as it always is, around the deficit between United and the league leaders (12 points), though that is the wrong focus. It is all about fourth place now and the retention of Champions League status which, far more significantly than the revenues it will preserve, will allow the club to attract the desired targets when it spends very, very serious money next summer.
Expect United to double their previous record transfer outlay on a single player, which at £30.5m for Dimitar Berbatov looks incredibly anachronistic for a club with aspirations like theirs.
Other aspects of the club are anachronistic, too.
Ferguson's extraordinary way of delivering success meant that the club could, in many ways, become insular and inward looking. It had no desire to interact, for example, with those who challenged the way that the Glazer family were bleeding Manchester United of what will ultimately be the £1bn costs of servicing the debt required to buy the club.
It is hard to overstate the levels of change the club is undergoing as it emerges from what, in a sense, has been a state of civil war. There has been as much positive reaction as negative to my suggestion that, as Woodward begins re-engaging with supporters, there is potential to put the war with the Glazers in the past.
But the nature and venom of the opposition shows that the club is dead for many supporters, even though the team they support is not. Woodward won't mend that relationship in a hurry, just as Moyes won't fix this squad, whose deficiencies are self-evident, now that the extra to 10 to 20 per cent value that Ferguson added has been taken away.
The prime criticism of the new manager is his hesitancy and conservatism – and yes he certainly does illuminate, through contrast, what a force of nature Ferguson really was. You would have imagined Ferguson jumping into a car, plane or boat, to put himself at any location in the world of Gareth Bale's choosing this summer when United entered the race to sign the Welsh player at the eleventh hour.
No matter that Bale's heart was set upon Real Madrid. Where there was hope, there was a point in travelling, as his gazumping of Blackburn Rovers for the signature of Roy Keane in 1993 only went to show. There was an enthusiasm this summer from Moyes, of course, but it was not the same raging will that we knew in his predecessor.
Moyes is not entirely the yin to Ferguson's yang. Those who point to United's failure, in the post-Ferguson era, to win out in breath-taking finales and who speak of how heads fall after Bryan Oviedo scored last night's winner for Everton, might recall the 4-4 draw at Old Trafford in April 2012 – coming back from 3-1 and 4-2 down. But this task does require a psychological shift – for example, paying what the market demands next month to strengthen midfield, for example, rather than sticking to that philosophy, shared by Ferguson, of paying a United valuation for a United player. The £4.5m disagreement over Athletic Bilbao's Ander Herrera seems small fry now.
The terrain ahead this month (Aston Villa, Stoke, West Ham, Hull, Norwich) looks relatively flat for United, even though that is what the chroniclers of the club were saying before their choppy, apparently easy, October. For all their deficiencies, they can be tucked into the top four come the turn of the year.
The really unanswerable questions start if they fall below that target. Will the Glazers reject a summer splurge on a side outside of Europe's elite? Or will it intensify their desire to buy a £60m player and make it a one-season blip. We don't know them. We have never spoken to them. We just cannot tell. The chase for fourth might be a lowering of sights but it will be make the next five months no less intense.
.. 
Ian Herbert, who was shortlisted as Sports Journalist of the Year in the prestigious Press Awards, and highly commended in the SJA Sports News Reporter of 2012 category,  is The Independent's Northern Football Correspondent (see archive of his work here). Follow Herbie on Twitter here.
.
Follow SPORTINGINTELLIGENCE on Twitter