By Brian Sears
5 February 2010
.
It's getting harder and harder for teams at the bottom end of the Premier League table to win points away from home. Our first table today illustrates that clearly. In the first season of the Premier League, 484 points were won away from home by all the clubs combined. Those clubs who ended up being relegated won 55 of those points, or just 11.4 per cent, and won 12 matches on the road altogether.
Yet things since then have got worse, much worse. Those were, in retrospect, Halycon days, days of plenty and days of joy, relatively speaking. In 2007-08, the relegated clubs won just 22 of 412 points won away from home in the Premier League, or 5.3 per cent. Combined, they won four matches on their travels.
Yet things since have got worse. Yes, worse. If we accept that the current clubs in the bottom three – Hull, Burnley and Portsmouth – are the worst in the league, for now at least, then they have won just 10 away points combined this season (of 224 in the Premier League), or 4.5 per cent. And between them they have won just once; Portsmouth's win at Wolverhampton in October.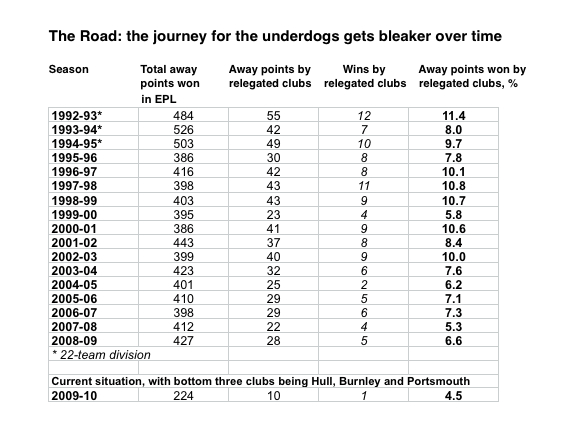 .
As if things could get any worse for Portsmouth – whose season has been as full as laughs as a Cormac McCarthy novel or movie adaptation – they travel to Manchester United today. As our second table shows, the one thing that most Premier League clubs share is a lack of success against United. While Portsmouth have one of the better records, overall (0.77 points per game from United in 13 Premier League meetings), their record at Old Trafford is woeful: six defeats in six Premier League visits, one goal scored, 15 conceded.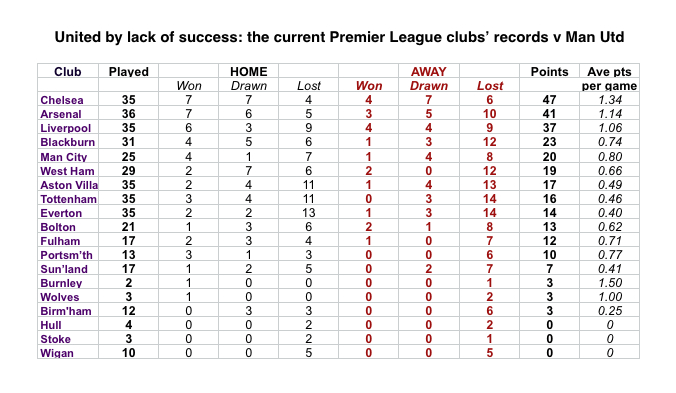 .
If there is a glimmer of hope for teams who are just plain bad once they leave their own grounds (take note Burnley, with one away point so far), it is this: some teams with truly stinking away form have still somehow managed to avoid relegation. To date in Premier League history, eight teams have endured seasons that ended with seven or fewer away points in the entire campaigns. And four of them escaped the drop!
.
Worst ever away records in the Premier League:
Derby 2007-08, no wins, three draws, three points, relegated
Watford 1999-00, one win, two draws, five points, relegated
Norwich 2004-05, no wins, seven draws, seven points, relegated
Bradford 1999-00, one win, four draws, seven points, SAFE, 17th of 20
Fulham 2005-06, one win, four draws, seven points, SAFE 12th of 20
Leeds 1992-93, no wins, seven draws, seven points, SAFE, 17th of 22
Coventry 1999-00, no wins, seven draws, seven points, SAFE 14th of 20
Wolves 2003-04, no wins, seven draws, seven points, relegated