By Brian Sears
24 October 2014
The two Premier League clubs with the most draws so far this season meet this weekend when Sunderland (five draws in eight league matches) host Arsenal (ditto).
Ten places separate those two clubs, with Arsenal in seventh and Sunderland in 17th before the weekend's action starts. And three points separate them. So tight is the table at this stage, in fact, that two wins could theoretically move Newcastle from the relegation zone to the Champions League spots.
Before we consider the importance of draws (and they are especially important to get or avoid depending on which end of the table you operate), here are the amount of draws secured so far by the 20 Premier League this campaign.
Article continues below.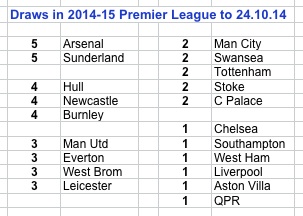 Arsenal have converted two of their undrawn games into wins but Sunderland only one of theirs, and the eight goals Sunderland conceded at Southampton last week has damaged their goal difference severely. Sunderland will need at least a five-goal win against the Gunners to move above them in the table this weekend.
The bigger picture on the relevance of draws is that Sunderland are just managing to keep themselves out of the drop zone by drawing all those games instead of losing; and Arsenal are not nearly as high up the table as they would like because they are drawing too many games instead of winning them.
As the second graphic goes some way to illustrating, teams that draw the most matches tend not to pull up too many trees. (Let's not be coy; they're a bit dull). And those that draw the fewest games are a polarised bunch of excellent teams (who draw few because they're winning many) and poor teams (who are too poor to draw too many and just keep losing).
On that basis, we might crudely say the bore-draw specialists in the Premier League include Aston Villa, Stoke and Leicester, while the best teams (Man Utd, Liverpool, Man City, Chelsea) are drawing similarly low proportions of games to the poor teams (like Burnley and QPR, and in years gone by, Barnsley, Reading and others).
Article continues below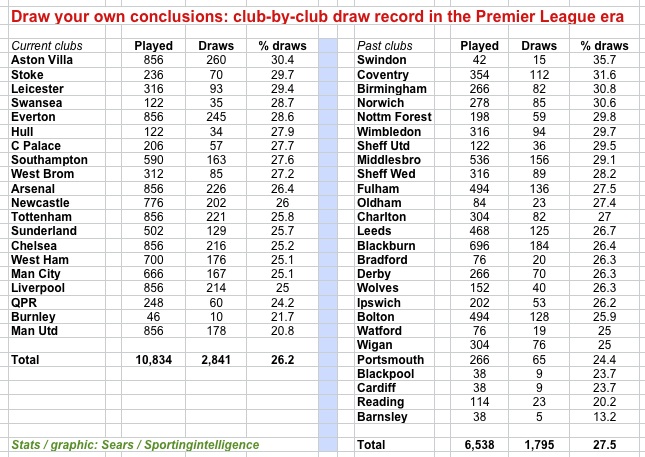 .
The phenomenon of too many drawn games has bedevilled much of Arsenal's Premier League history, not least in the days when they were trying to compete with United. That seems a long while ago now, doesn't it, for more than one reason?
Long-term, United have set the example of turning draws into wins to put them 216 points ahead of Arsenal over the 23 seasons of the PL era – the 'monied era' that makes it appropriate separating from the 'pre-Sky' years before 1992-93.
Aspirations to top the Premier League seem to involve avoiding too many draws. While the avoidance of relegation often involves gaining more draws by changing odd goal defeats into draws. As the long-term table above shows, Arsenal have a higher share of draws in their Premier League history than Liverpool, Man City, Chelsea and even Tottenham as well as United.
But this season even Man Utd are slipping from their winning ways having already chalked up three draws from four away games played. That level of stalemate achievement should at least help keep them up ….
.
More on City / Spurs / Arsenal / Chelsea (or search for anything else in box at top right)