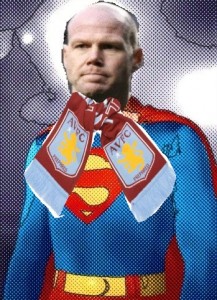 By Brian Sears
31 March 2010
Many things in life are uncertain, from the changing of the seasons (these days) to whether the world will explode when the Large Hadron Collider really gets a move on, although reports of the initial collision of protons at record energy levels in a tube beneath Switzerland are encouraging.
Other things are more reassuringly definite, like if you turn up to watch a club that employs the American goalkeeper, Bradley Howard Friedel, he'll be in the team. Oh yes, siree, he'll be playing come Hell, high water or even colliding protons at record energy levels.
Now sometimes we're all dealt the odd rum card or two, and Brad was dealt seven of the blighters last weekend when his Aston Villa team lost 7-1 at Chelsea. That was, for the record, the most goals he has ever conceded in his 354 Premier League matches up to this point.
Yet when it comes to consistency, the gentle giant from Ohio cannot be beaten. Oh no. He has played in a record 221 consecutive Premier League games with no break, a jaw-dropping and quite astonishing feat, almost on a level with particle physics (and better than that if you're a football statto).
His record stretches back this season and the five preceding seasons in their entirety; the last two were with Villa, and he was with Blackburn before that. The previous record was held by Frank Lampard (164 straight League games with Chelsea) but Brad smashed that to a pulp a long time ago.
Below are two lists, one of the current "long streak" goalkeepers, the other of the current "long streak" outfielders.
You can bet on one thing: when Villa play Bolton this weekend, the only reason Brad won't be between the posts is if things have gone a little bit la-la in Switzerland.
.
Keepers without a break (current consecutive Premier League games)
1 Brad Friedel 221
2 Robert Green 120
3 Pepe Reina 108
4 Tim Howard 101
5 Brian Jensen 77
NB: two Americans, an Englishman, a Spaniard and a Dane.
.
Outfielders without a break (current consecutive Premier League games)
1 Peter Crouch 69
2 Wade Elliott 50
3 John Terry 48
4 Hugo Rodallega 41
5 Roger Johnson 36
NB: Modern players are relative pussycats. In the mists of ancient history (before 1992 and the Premier League, that is) Liverpool's Phil Neal made 366 consecutive Football League appearances between 1974 and 1983. And before that, Harold Bell at Tranmere played 401 league games without a break between 1946 and 1955 in a run of 459 consecutive matches in all competitions without a day off.
.
More articles mentioning Villa
More articles mentioning Americans