By Nick Harris
SJA Internet Sports Writer of the Year
21 May 2012
With the start of Euro 2012 less than three weeks away, with a big-match penalty shootout fresh in the memory from the 2012 Champions League final, and with the virtual certainty that one or more matches in Poland and Ukraine will go to spot-kicks, an extensive piece of new analysis by Sportingintelligence shows there should be more to shootout strategy that hit it and hope.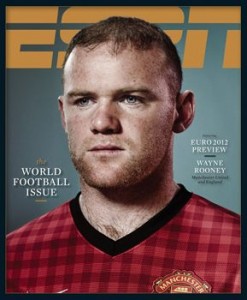 The age, playing position, footedness and shot placement of kickers in a shootout can all make a significant difference to overall success rates, at least according to the research we've undertaken for the current 'World football' special issue of ESPN The Magazine (cover right). The issue includes a graphic feature based upon this research, which considers every single shootout in European Championship and World Cup finals tournaments between 1976 and 2010.
In all, we sourced footage of each and every penalty (343 of them, in 35 shootouts) and considered the status of every taker (age and playing position), the foot used (right or left), the placement (right, middle or left and high, middle or low as the player faced goal) and the outcome (goal, save, woodwork, miss).
The headline conclusions are:
An overall success rate of 75.22 per cent, or 258 goals scored from 343 kicks.
Not much all-time difference between feet (73.13 per cent success for left-footers, and 75.72 per cent for right) but a big deterioration in left-foot success over time.
Strikers have the best conversion rate (85.52 per cent) with defenders (70.79 per cent) and midfielders (70.67 per cent) virtually the same.
A significantly higher success rate for younger players age 18-24 (79 per cent) and older players aged 31-plus (82 per cent) than 'peak year' players aged 25-30 (71.5 per cent).
A significant drop-off in success as pressure grows, with success rates dropping from 80 per cent for the first kicks per team to a low of 63 per cent for the fourth kicks.
A huge difference in success rate in different placements, with 91 per cent of kicks aimed high and right being scored, but as few as 55 cent when hit high and middle.
One theoretical recipe for a great set of kicks, therefore, would be to use largely younger and older (but not peak years) players, hitting right-footed to the top right corner. Given the limited number of strikers available and their better records overall, perhaps they should be deployed at the times when general performance is dropping off, namely not until the third and fourth kicks.
The graphic at the bottom of this article details the shot placement, foot usage and outcomes of all 343 penalties, grouped by aim.
The most common direction of shot is low to the left as the kicker faces the goal but has only a 70 per cent success rate.
The statistics in that graphic speak for themselves but also note that among the nine directions that kicks are aimed, left-footers fare better in the four corners than right footers (to top and bottom left, and to top and bottom right).
There are some intriguing shifts in patterns when we consider different eras, which we split into pre-1998 (including 19 shootouts) and 1998 onwards (16 shootouts).
Left-footed players since 1998 have been successful only 58 per cent of the time whereas in pre-1998 shootouts left-footed players were successful 83 per cent of the time. Clearly something is going on here. Success rates overall are going down over time, from 80 per cent pre-98 to 69 per cent since 1998, and 75 per cent all-time.
Yet something else going on: since 1998, only 17.6 per cent of kicks have been taken left-footed, whereas pre-98 it was 21 per cent. Are there fewer left-footed players these days? Is left-footedness being coached out of players' games? Left-footed players used to be better than right-footed players at penalties; now there are fewer left-footers taking them, and also with lower success rates.
The declining success rates of 'peak age' players is also notable in the two different eras. In the pre-98 shootouts there was hardly any difference in success depending on age cohort, with players aged 18-24 scoring 79 per cent of kicks, and players aged 25-30 and 31-plus scoring 80 per cent. But in the post-98 period, the success rate of players aged 25-30 has plummeted to 58 per cent.
Among the major nations of Europe – and we focus on Europe with Euro 2012 ahead – the Czech Republic (including when Czechoslovakia) have three wins from three in Euros and World Cup final tournaments, as well as 20 penalties scored from 20 taken.
Portugal have two wins from two shootouts (nine of 12 kicks scored). Of nations with more than one shootout, Germany have won five of six, France and Spain three of six each, Italy just two of seven, and England one of six.
.
Follow SPORTINGINTELLIGENCE on Twitter
Sportingintelligence home page
.