By Brian Sears 
31 December 2015
Of all the teams who spent any time in the four main divisions of English football in 2015, Burton, Arsenal and Middlesbrough were the standout performers in the calendar year. Those three clubs were the only three who amassed more than two points per game in the year, with Burton top of the pile.
The League Two winners, now riding high in League One, won 99 points in 46 league games at 2.15 PPG. Arsenal, top of the Premier League as 2016 dawns, won 2.13 PPG and Middlesbrough won 2.07.
Calendar year: bah humbug! That is a familiar refrain in some quarters when annual rather than seasonal figures are produced but they serve a purpose beyond wrapping up a year and being a half-way marker in a season. When you look at the worst performing teams in particular, the calendar year data tends to highlight long-term problems that are not always immediate when looking at seasonal data. Certainly long-term issues are thrown into starker contrast.
In all, 94 different teams spent all or part of 2015 in those the four divisions. The star performers outside the top three were Manchester City, Bristol Rovers (as they came back into the league and are doing well in League Two), Watford (thriving in the Premier League), Northampton and Tottenham.
Article continues below
.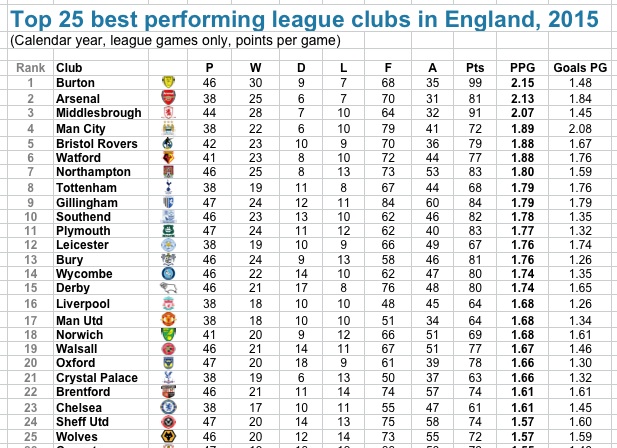 .
Next: the 20 worst performing clubs of 2015. Confirmation that Aston Villa fans have good reason to be miserable. Not just the worst in the Premier League by a mile but the worst in the whole country. Yeovil have been rubbish too, and Newcastle and Sunderland's position in the top four bad teams really does highlight their long-term troubles.
But Villa have been epically bad: they have won fewer Premier League points in 2015 (a total of 25 at 0.66 per game) than Watford, with 29. And Watford only joined the Premier League in August, having already won 48 Championship points in 2015.
Article continues below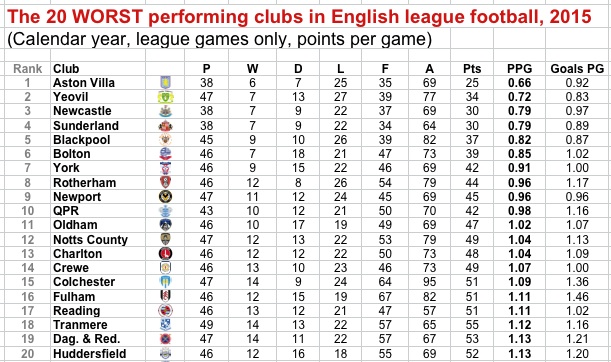 .
Before we move on to the divisional tables, here are some of the 'most and least' highlights among the 94 clubs in 2015:
Most wins: Burton (30), Middlesbrough (28), Northampton and Arsenal (25).
Fewest wins: Aston Villa (6), Yeovil, Newcastle, Sunderland, Bolton (all 7).
Most defeats: Yeovil 27, Blackpool, Rotherham (26 each).
Most goals scored: Gillingham 84, Man City 79. Most per game: Man City 2.08.      (The only team with more than 2 GPG)
Fewest goals scored: Sunderland 34, Aston Villa 35, Newcastle 37.
Fewest goals conceded: Arsenal 31, Middlesbrough 32. Fewest per game: Middlesbrough 0.73, Burton 0.76.
Most average team in England: The average points per game of all clubs is 1.38, so Accrington Stanley, with 1.38 are the most average.
SPOOKY STATS NERD FACT (Please don your anorak before reading on): Last year, 2014, Accrington Stanley were also the most average team, and also averaged 1.38 points per game.
.
And here are the tables by division: PREMIER LEAGUE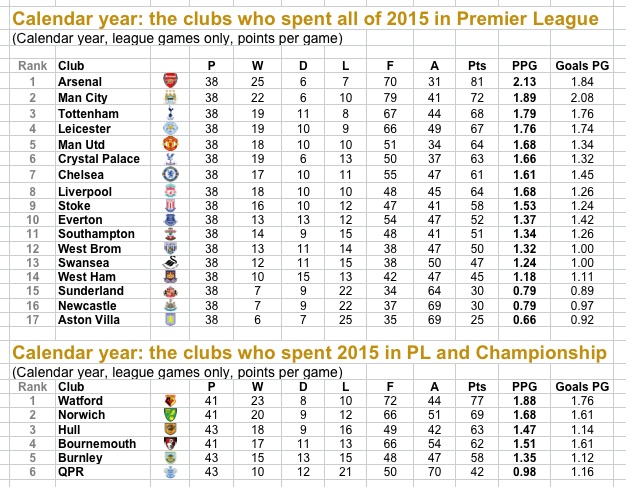 .
And here are the tables by division: FOOTBALL LEAGUE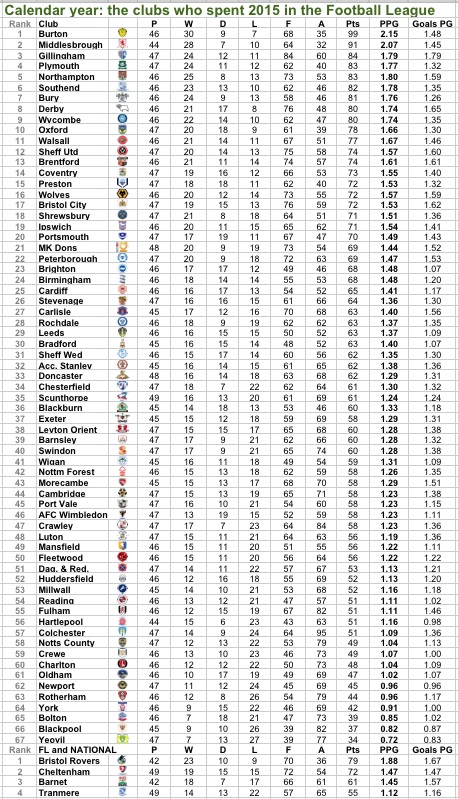 ..
More on Man Utd / Arsenal (or search for anything else in box at top right)