By Brian Sears
2 December 2011
Steve Bruce's sacking by Sunderland leaves six managers in the Premier League with worse records than Bruce had when he got the boot – in points per Premier League game during their reigns at their current clubs.
Our table below shows all the details but Bruce had won 1.15 points per game on average, from 89 Premier League games in charge.
Still in their jobs despite having worse records are Steve Kean (poorest record in the division with 0.85 points per game), Martin Jol, Roberto Martinez, Mick McCarthy, Owen Coyle and Brendan Rodgers, although Rodgers and Jol have had only limited spells with their current clubs in the Premier League.
The best two managers are Alex Ferguson and Roberto Mancini, with Arsene Wenger in third place.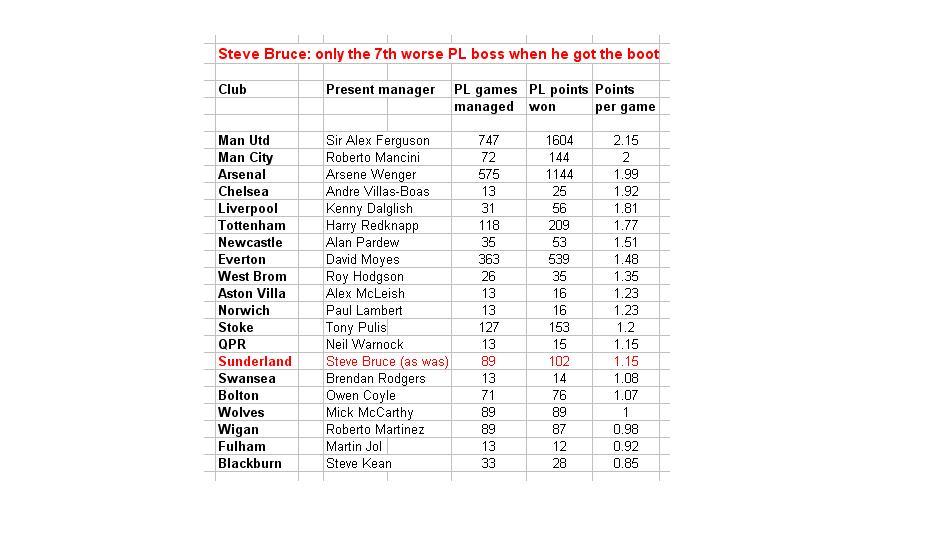 Did nail-biters do for Bruce?
No team in the Premier League has been involved in as many games as Sunderland this season where the last kick of the match could have changed the result.
We'll call these 'nail biters' because a single goal could have turned a draw into a win, or a defeat into a draw, or in other words they ended with only one goal in it.
Sunderland have had 11 nail biters from 13 matches, and sadly for Bruce, Sunderland didn't win any of them, drew five, and lost six. In tight games he just wasn't able to inspire or orchestrate the vital victories he needed.
Over at Newcastle, however, Alan Pardew's side have been involved in the next most nail biters: 10 of them. And his team have won five of those and drawn five.
.
Newcastle most often out of blocks first in sack race
Our second table today (below) details the first Premier League manager to lose his job in each of the 20 season so far, this one included, as well as when that happened, and the fate of the club in question afterwards.
Most commonly (four times), Newcastle have made the first sacking or otherwise lost their boss 'by mutual consent'. This happened with Dalglish in 1998, Gullit in 1999, Keegan in 2008 and Hughton last year.
Chelsea have been the first sackers three times, Tottenham twice, Portsmouth twice, Sunderland twice (now) and the following clubs once each: Manchester City, Bolton, Leeds, Sheff Wed, Leicester, Southampton and Charlton.
Seven of the 'first sack' clubs (in the 19 completed seasons), or 38 per cent, were relegated despite the change, which means of course that 62 per cent survived.
.
More on Sunderland / Man Utd / Man City /Arsenal  / Liverpool (or search for anything else in box at top right)
Sportingintelligence home page 
.