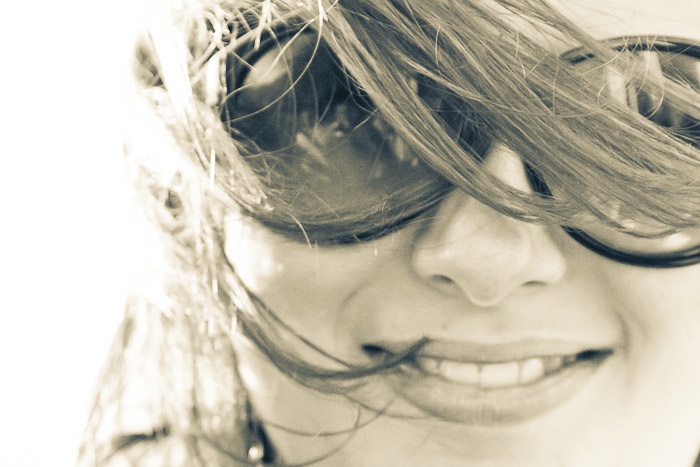 SARAH HAMES is a lawyer by education but swapped the bar for the piste, then PR. She knows her sport from the inside, the offside and blind side, with a portfolio stretching from the hallowed corridors of the All England Club to the expanses of the Southern Ocean…
.
.
.
.
.
By Sarah Hames
13 December 2010
So it's start day of the second leg of the VELUX 5 OCEANS.  I've been in Cape Town for about five weeks, and today the boats should head off towards Wellington.  I say 'should' because this is sailing, and the Southern Ocean where the skippers are heading next is one of the most inhospitable places imaginable, and the wind is blowing a hoolie off the Cape of Good Hope so it's too dangerous for the boats to start. But more of that later….
The first leg of the race was won by American skipper, Brad Van Liew. A big, brash and bold Yank with a heart the size of South Carolina, Brad has won this race before and both he and his boat are in great shape this time around.  However he didn't have it all his own way, as the relatively unknown 'Gutek' (Zbigniew Gutkowski) from Poland took him by surprise and pushed extremely hard all the way.
In the end Brad got the better weather and arrived after just 28 days, some three days before Gutek.  (Perhaps I shouldn't be so surprised that weather plays such a large part in this sailing lark but it really does affect everything and makes things pretty hard to plan).
Derek Hatfield of Canada was in next, another three days later and then the Brit, Chris Stanmore-Major just behind him.  And all this was about three weeks ago, and all this was great. Oh except of the small matter of the one skipper still at sea….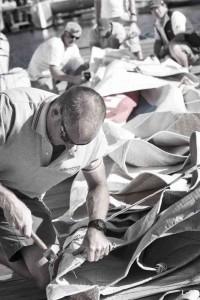 Christophe Bullens, a Belgian skipper who was, in my opinion, one of the most well-prepared for this race.  He completed his qualification sail first, he went furthest, and when I met him for the first time many months ago on the Isle of Wight he was all smiles, and wearing his shiny branded clothing. He was ready. No doubt about it.
And then, just over a week before the start in La Rochelle back in October, while he was sailing round the north of France to the start – in relatively calm seas and with a couple of crew on board – the unthinkable happened.  His mast snapped in three, a large section of it went through the hull creating an irreparable hole.  His boat, and dreams were in tatters.
At this point I think most people would have given up.  But somehow he managed to persuade his sponsors to help him buy a new boat (and by 'new' I mean a second hand, quite old boat) and to find one. He then had a few days to get it ready but rather than starting the race with the other skippers, had to set-off on another mini qualification run to prove to the race management he could sail the boat, and of course to learn the boat himself, come back into port, make changes and eventually set off around a week behind the rest of the fleet.
But this is sailing, and meant he was in totally different weather to the other guys.  To put it bluntly he has had a bit of a nightmare. Boat broke. Had to pull into the Canary islands. Got sick. Had to get treatment in Cape Verde. And all the while watching the rest of the fleet sail happily towards the Cape Town sunset.
By the time Christophe arrived, only last Tuesday, he was exhausted and his boat battered and bruised.  He saw 45knots through the night before arriving, and knew that he would have only five days to get everything fixed and together before setting off again, into even worse conditions. To put it in context, when Christophe arrived Brad had already been in port three weeks. He had had time to sleep normally, eat properly, prepare his boat to the nth degree, check and recheck everything onboard ready to start again. Hell! He had had time to go on a safari with his family. And although this race is like a Grand Prix, you can't afford to start the leg later than the others, because otherwise the rich get rich and the poor just keep getting poorer.
I had heard myths about this race, how all the skippers, their families and crew come to the dock, night or day, to welcome each new skipper in. How in times of difficulty and hardship, they lend a hand.  But what I saw last Tuesday was truly amazing.
Christophe was close to finishing, just a few miles of Cape Town and he had the beautiful Table Mountain in sight, but the wind was so strong, and he was so tired, he couldn't seem to make progress.  Meetings took place at race HQ and the other skippers turned up. What could they do to help?  They would help, I realized.
Derek Hatfield went out in a rib to meet Christophe with other race officials, and they communicated to him that all he needed to do was reach that finish line (which is some way off the coast). After that they would, and did, board his boat and bring it all the way in for him.  It's worth noting that for a skipper who has been offshore for some weeks, guiding a 60ft yacht safely onto a small pontoon is no easy task.
So as we waited on the dock, we caught the first glimpse of Christophe's boat, with Derek at the helm and people all over the deck.  It's weird how it looks entirely natural to see these big boats with eight or so people on board, and then to realize that they're sailed by just one guy around the whole planet.
Whilst Christophe was trying to recover his sea legs on dry land, and being handed cold beers and fresh food, an incredible thing was occurring on his boat.  Every skipper, all their crews, family members, race organizers even local spectators were starting work on Christophe's boat.  Masses of kit was being pulled onto the docks, assessments of damage and work needed to be done were being made, everyone was seeing what they could do to help.
The work continued until there was no more light, and it was breath taking.  The Harbour Master (of the whole of Cape Town, a pretty serious job) lay prone on his belly for over two hours trying to remove the broken rudders; Sir Robin Knox-Johnston the race president (71) was on deck with a plethora of tools unbolting some part or other, and the other skippers hauled metres and metres of sails from the belly of the boat until the pontoon resembled the entrails of a large whale. Locals with an interest in sailing were gathering up broken bits to take home and weld, things to wash, stuff to recycle.
One of the skippers wives said to me: "You see, although these guys might be racing each other, their main competitor is the conditions; the sea and the wind. They're all in it together, with one common enemy."
Once they're in the Southern Ocean the only people who will come to their aid if they have a problem are their fellow skippers. It's in all their best interests for the other competitors to be strong, in sound boats, and most of all to all head there together.
So now they wait for the weather to be safe so that they can set sail.  Best of luck guys and see you in Wellington.
.