By Brian Sears
29 November 2013
West Ham's indifferent start to the season sees them poised just above the relegation zone but they face their 'favourite' Premier League opponents, Fulham, this weekend.
As the graphic below shows, West Ham have met Fulham 18 times in the Premier League era and won more points per game from Fulham (1.94) than from any other current Premier League team who they have played more than once. (They've played Cardiff once in the PL and beaten them).
Article continues below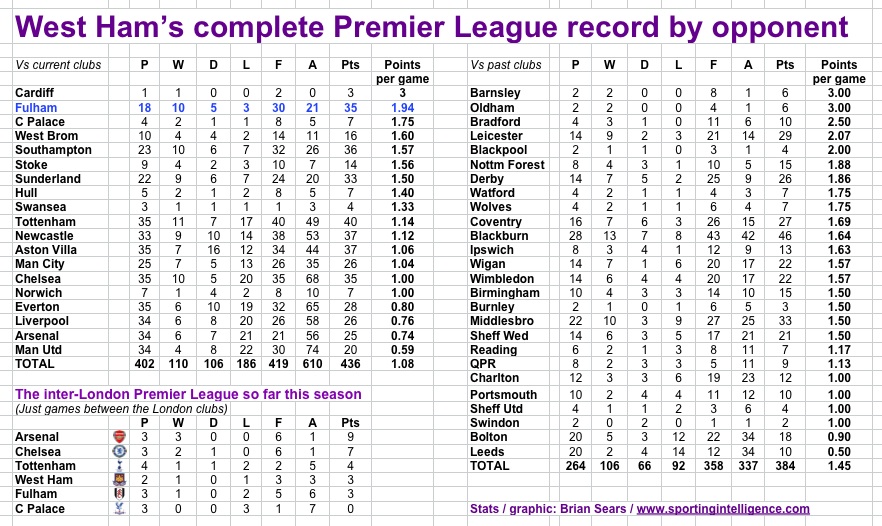 .
The tables throw out some fascinating side issues. How many Hammers fans now recall what a difficult side Leeds United used to be? In 20 Premier League meetings, West Ham beat Leeds just twice and lost 14 times for a measly 0.5 points per game average for West Ham. That is an even worse record than West Ham have against Manchester United!
The special element to this weekend's game is the clubs are straddling the third relegation place. West Ham are 17th on goal difference, five goals ahead of Fulham in the drop zone.
Ahead of this London derby, both sides have made some convincing – if sporadic – capital gains this season: West Ham beat 3-0 at Tottenham early in October and Fulham won 4-1 at Palace later the same month.
Fulham are notching up their 13th consecutive season of Premier League football and the three wins that they have achieved over West Ham  in their 18 games are as follows:
3 Nov 2001 West Ham 0 Fulham  2
2 May 2009 Fulham  3 West Ham  2
30 Jan 2013 Fulham  3  West Ham  1
.
More on West Ham / Fulham (or search for anything else in box at top right)