By Nick Harris
SJA Internet Sports Writer of the Year
20 March 2012
The global head of sports content at YouTube has ruled out any bid for live rights to show Premier League football matches now or in the foreseeable future despite describing English top-flight football as "a wonderfully powerful attractor of viewers".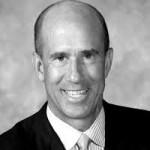 In an exclusive interview with Sportingintelligence, Claude Ruibal (left) – in charge of YouTube's global sports content policy since January 2011 – says the Google-owned platform wants to increase the amount of long-form live sports events it screens – but that paying for rights isn't in the business model.
So while YouTube wants to expand coverage of events where it pays little or nothing up front for the rights – like IPL cricket and Copa America football, and 'niche' sports like fencing – YouTube's efforts around the most popular sports will aim to 'augment' the existing live coverage by the traditional broadcast media.
The debate about the role of web-based firms and sports rights intensified this month with reports that Yahoo is considering a bid for the Canadian rights to the 2014 Winter Olympics and 2016 Summer Games – a move that could signal a sea-change in broadcasting if it happened.
But Ruibal has told Sportingintelligence: "We're not a content creator, we're not a broadcaster, we're not going to be a high-stakes rights bidder. But we can be a platform for more long-form sports rights, and want to be.
"We're just not going to have a business model to spend £2bn on long-form live rights for Premier League football. It would be a wonderfully powerful attractor of viewers to our platform but we need to live within the reality of the world.
"How do we [instead] augment what's there already? By potentially having a nice offering around catch-up. And another big piece of what we're doing is everything surrounding sport, the lead-up to the event, and after the event."
To that end, YouTube already hosts numerous official football club YouTube channels, including those for Barcelona, Manchester City and Liverpool, as well as channels for brands such as Nike Football.
"Look at what we're doing in Spain," Ruibal says. "FC Barcelona have one our best channels on YouTube. What they have on there is player features, press interviews, behind the scenes, training. And if I'm a fan of a club I know that's all there. We have close to 30 official club channels now."
YouTube has grown rapidly to be the world's third most popular destination on the internet globally – behind only Google.com and Facebook.
YouTube attracts 4 billion views per day, of which 600m are now via mobile devices. The site has an astonishing 800m unique viewers per month, with an average visit of between seven and 15 minutes.
Sixty hours of new content is uploaded to YouTube every minute – and Ruibal would like more of it to be live sport which can also be archived on the site.
Copa America games were shown live last year on YouTube in dozens of nations where there was no existing broadcast deal, and geo-blocked in those where there was. This allowed potential viewers with no access to mainstream coverage to see games while not conflicting with pre-existing contracts.
In 2010 and 2011, YouTube broadcast live IPL games in many territories where there was no live TV coverage, and 'delayed live' feeds elsewhere.
IPL sources say the IPL received some (modest) rights fees but Ruibal suggests it wasn't YouTube who paid those, but a third party.
"When we did the IPL, we partnered on that, in that case with the India Times," he said. "They're the ones who were the bidders. We said 'We think we're good at the back end and at having a good user interface. We've got the scale. We can provide the platform'.
"That's how that deal happened.
"Today that's our value proposition. You want a great platform, great scale, great reach – come to us. But you need to manage it. We don't do that.
"You need to edit it, create the content. We'll tell you if you're not doing a good job because we know who is, and who isn't, and we can help you get better at this."
Ruibal sees YouTube as an agent for promotion of 'niche' sports in particular, with fencing a case in point. The world governing body of that sport now has its own channel and events are shown in full, live, to global audiences. A range of other sports have followed suit.
YouTube don't pay for rights, but do share ad revenues that can become substantial when millions of people watch.
One area where Ruibal doesn't rule out involvement in the Premier League is clip screening; but again it seems unlikely YouTube will pay.
At the moment, Yahoo in the UK and a tiny number of separate overseas platform deals allow specific web platforms to show Premier League goals and other clips after matches have been screened live.
Any Premier League content currently that gets onto YouTube is rapidly taken down by 'digital fingerprinting' software.
"It's entirely appropriate that the Premier League should be able to have content removed from YouTube because they own the rights," Ruibal says.
Could YouTube bid for Premier League clips? "If we could partner on something on that, on catch-up content soon after the event then that's something we could be good at."
Providing a platform for a third-party funder rather than spending any YouTube cash for fees is most likely, however.
.
Follow SPORTINGINTELLIGENCE on Twitter