By Brian Sears
30 November 2012
Last weekend, we predicted in these pages why West Brom might enjoy their match at 'soft touch' Sunderland, and they duly won 4-2 to continue their Champions League qualification form.
A week on and with a midweek hiccup against Swansea behind them, the Baggies face a barometer of their European credentials at home … against Stoke.
This is a test because it is precisely the kind of match West Brom will expect to win against a 'lesser' side if they are to retain their top-four spot all season.
And yet Stoke are a side they have only ever beaten once in the Premier League in six meetings, but never on their own ground.
And not only have they never won at home against Stoke in the Prem, but they have never even scored against them.
Only against Manchester United do West Brom have a worst home record than against Stoke. And even then West Brom have scored four times against United.
As our graphic shows, West Brom have played at home against 30 different teams during different tenures in England's revamped top division. They have taken as many as 12 points from seven games with Everton and 12 from six against Fulham, and double figures from Sunderland, Bolton and Manchester City.
But there are six teams against who they have not won a point at home, all in red below.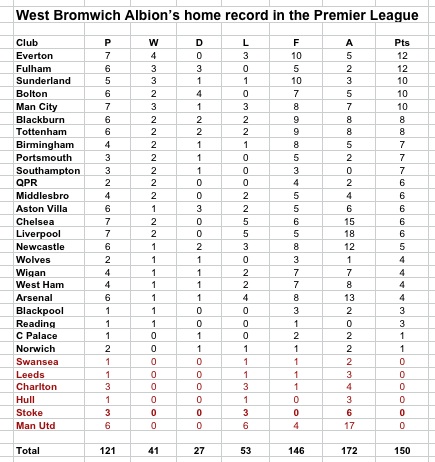 .
And another thing …
This is West Ham's third spell in the Premier League.  They were promoted to it after the first season of the new era and they stayed 10 seasons.
The Hammers were relegated for two seasons before bouncing back for six seasons 2005-2011, and it's that most recent spell that is of particular interest today as West Ham face Chelsea's visit to Upton Park on Saturday in the early kick-off.
Here is West Ham's opponent by opponent record for that period: note Chelsea handed the Hammers few points per game than anyone.
Article continues below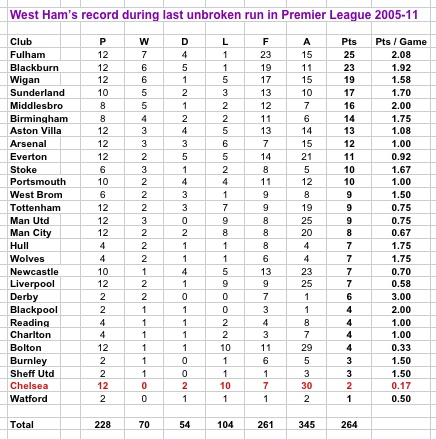 In those six seasons and therefore 12 matches West Ham managed to collect only two points against Chelsea, from a 1-1 draw at Stamford Bridge in December 2008 and from a 1-1 draw at Upton Park in December 2009.
Only against Watford were West Ham less successful in that time and those two clubs only locked horns for one of those six seasons.
In that same period West Ham were picking up as many as 25 points from games with Fulham and even nine points from Manchester United.
A note of optimism for Hammers: Ten seasons ago when West Ham were being relegated from the Premier League for the first time, West Ham did salvage a famous double over Chelsea winning 3-2 at Stamford Bridge and then 1-0 at Upton Park, Di Canio scoring three of West Ham's goals.
.
More stories mentioning West Brom (or search for any club or subject in top-right box)
Follow SPORTINGINTELLIGENCE on Twitter