By Brian Sears 
12 August 2016
So the 25th Premier League season is about to start and we reckon that Hull and Watford have the trickiest starts. West Brom have it easiest, followed by Jose Mourinho's Manchester United.
By the end of August each club will have played three league games before the international break. One 'objective' way of judging the difficulty of start is to consider where each team's three opponents finished last season. 
The 17 clubs remaining from last season are ranked from Leicester at No1 Sunderland at No17. The Championship champions Burnley are ranked No18,  runners-up Middlesbrough No19 and play-off winners Hull are No20.
So, for example, Hull start against Leicester – last season's No1 team – and then play Swansea (12th last season) then Mourinho's United (fifth). Hence the average opponent they face finished sixth last season. Why? (Maths: 1+12+5=18; divided by three; equals six).
Applying the same method to all 20 teams, Hull and Watford face the sternest tests in their opening three games. (Hull with no manager, a thin squad and no significant signings to date this summer doesn't inspire confidence either). That duo are followed by Arsenal, Liverpool, Everton and Bournemouth. West Brom, on this paper exercise, have the easiest ride and they're the only club not facing any of the top 10 clubs from last May in their first three games.
No allowance is made for games at home or away in this analysis but our table below records that detail. Hull and Watford do at least have two out of their first three games at home.
If they are ailing at the end of the month, perhaps then is not the time to worry. On the flip side, if Mourinho's United are not already jostling in the leading pack, fans might be asking why.
Article continues below
.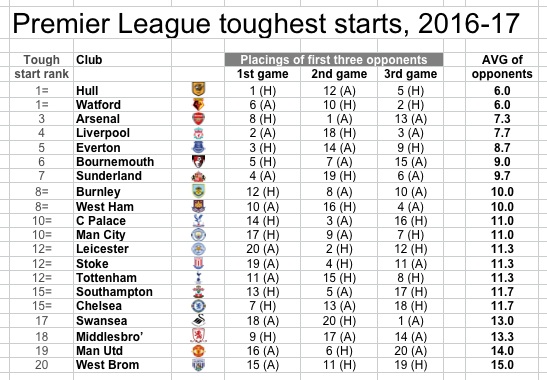 .
And another thing …
Leicester's 5000-1 title win last season will go down in football lore not just as an antidote to the 'big club' domination of recent times but as the longest-odds event to happen – in any genre – ever.
And not only did Leicester win, but in the second half of a season when they were surprising early pace-setters, they won more points (42 in 19 games) than any other club. Southampton finished next best with 39 points from their second 19 games, followed by Manchester United. Crystal Palace (11 points in 19 games) finished worst followed by Watford and West Brom.
Details for all 17 clubs involved last season and this season are below; and we also compare the points gained by each club from their first 19 games with the points gained from the second 19 games.
We then consider which teams had 'steady' seasons, with each half of the season earning within five points of the other half, which were 'wobbly', with a difference of six to 10 points between halves, and which were 'erratic' (for better or worse), when the two halves led to points totals differing by more than 10 points.
Southampton and Sunderland accelerated the most after the end of January, and both fall into the 'positive erratic' category. Chelsea, meanwhile, were wobbly. Most people would surely agree. Crystal Palace were erratic in a bad way, gathering 31 points from the opening 19 games and then just 11 from half way.
Watford's form and points nosedived, too. Much has changed at many clubs since May, of course, including in several cases managers, or even owners. Big players have departed, and arrived. But if you were looking for clubs with momentum at the end of last term then Leicester, Saints and Manchester United had it in their pre-transfer window guises while Palace, Watford and West Brom didn't.
Article continues below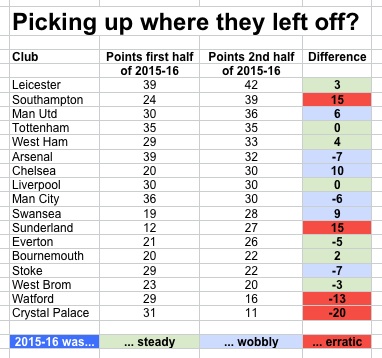 .
And while we're still at it …
Who starts well and who generally flops in the opening Premier League matches? In short, Chelsea and Southampton respectively. Our table below shows the records for the current 20 Premier League clubs in their season-opening games in the last 24 years – the PL era – in whatever league they happened to be playing. We have also separated out what happened to them in their PL seasons.
Chelsea have played 24 opening games in the PL and won 15, drawn six and lost just three for a total of 51 points or an average of 2.13 PPG in those games. Manchester United are the only other club with more than two points per game on average in those games while Liverpool and Arsenal are next best. Of the teams who have played a majority of PL seasons, Saints have the worst record, or just 13 points from 17 opening games in the PL.
In the past 24 seasons, across all the divisions they have played in, Southampton have won their opening game only three times in 24 years (!) and only one in 13 home games. They start at home against Watford.
Article continues below
.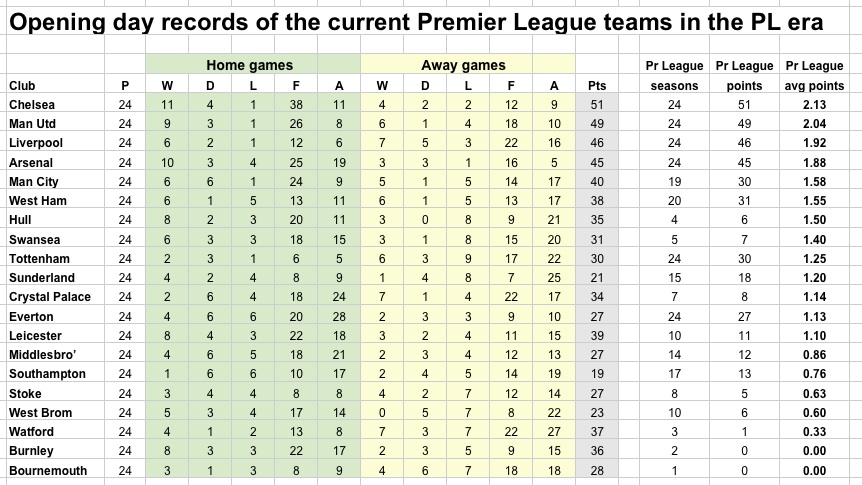 .
And one more thing …
Sunderland have a historically daunting task on this opening weekend, visiting Manchester City where they have never won away in 12 Premier League visits. They have 10 defeats and two draws from those dozen matches.
This set me wondering about other waits for first away wins in head-to-head contests in the era. I set a cut-off of at least 10 visits to qualify for contention. That disqualified 28 Premier League clubs who have not yet managed to play Premier League football for as many as 10 seasons, leaving 19 clubs who have reached that standard.
The longest wait for an away win turns out to be ever-present Tottenham who have yet to win at ever-present Chelsea in 24 seasons. Next Southampton have made 17 Premier League visits to Arsenal without registering a PL win there.  Then in third place Sunderland have made 15 winless trips to both Arsenal and  Liverpool.
Perhaps some of the "ducks" will be broken this season. Our final graphic today is self-explanatory. 
Article continues below
.
.
…. And finally
The statistics in these pages will often be in relation to the Premier League era when they deal with English football. We know the game is a bit older than that. We know Preston won as Invincibles in the league's first season in 1888-89. But the Premier League is a distinct era if only because of the money that has transformed the picture. This is the 'monied era'.
To get some idea of how the financial situations of these clubs have changed over time – and finance is a big influence in success in football – further reading and related articles spring from Sportingintelligence's annual global sports salaries reports, are linked here. The 2015 edition of the report (right) was published in May last year.
You can download a free 120-page PDF here.
2014 Report             2013 Report            2012 Report         2011 Report          2010 Report
.
More on Arsenal / Liverpool / Man Utd  (or search for anything else in box at top right)