.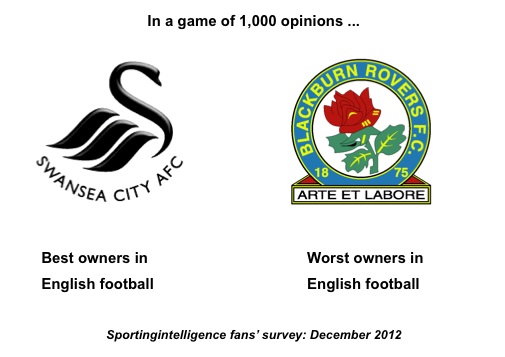 31 DECEMBER 2012 A Sportingintelligence survey of almost 1,000 fans from more than 60 different clubs has been published on this website today (link here), with those taking part voting SWANSEA CITY as the club in English football with the best owners, and BLACKBURN ROVERS as the club with the worst owners. These are merely the headline names, however: fans nominated 44 different clubs as having the best owners, and 28 different clubs as having the worst owners. In a game based on opinions, such a poll is always going to stir the debate. In this live blog, Sportingintelligence's editor, Nick Harris, will be publishing more detailed extracts of who voted for who, but more importantly, why, and answering any questions you have on other findings not shown in the main piece (link here). Ask a question or post a view on Twitter to @sportingintel or post a comment on the Facebook page debate or email any comments or questions using this link. From 3pm.
————————————————–
5.14pm And finally …. about 20 minutes before I started this live blog, my mobile phone rang.
The caller asked to speak to me, and then introduced himself as Judan Ali, a man who has been touted as the next manager of Blackburn.
I have never met Mr Ali, and before that phone call I had never spoken to him.
He wanted to ask my view of what was going on at Blackburn Rovers.
You couldn't make this up, and reader, I am not making this up.
Mr Ali explained that he had been invited to watch training at the club in recent weeks as part of his coaching development; he is partaking in an FA scheme to boost the number of black, Asian and ethnic minority coaches.
I don't believe, from our conversation, that he is seeking or feels able to take a managerial role at Blackburn. You wouldn't, would you, when you have no managerial experience in English football?
Anyway, whatever happens, I wish Blackburn the best, and Mr Ali the best.
And whoever you support – have a healthy and prosperous new year.
5.07pm Penultimate post of this live blog. It took a month to gather all the votes and hundreds of thousands of words of views from 1,000 fans of more than 60 clubs. Thanks again for everyone who took part. And if anyone has further questions or would like to know specific answers to questions about specific clubs, responses, queries on the database of findings, then please feel free to email me at Nick@sportingintelligence.com.
I'll try to answer whatever I can, as quickly as possible. When I can find the time I will write a column on the myriad complexities of football club ownership – as shared by you, and by more than one owner in private.
5.01pm I'm going to bring this to a close shortly, but first a tiny sample of what fans of other clubs said about Chelsea when voting Roman Abramovich the second worst owner in English football.
This from one Arsenal fan: "Reckless spending. Artificially pushing player marker prices up. Short sightedness."
This from a Southend fan: "From the very top down there is nothing to like there. The treatment of their managers is laughable, and the conduct of the players shows what an absence of firm leadership can do."
This from a Sheffield Wednesday fan: "Ridiculous managerial decisions, constantly wasting money."
And this from another Arsenal fan: "No class, operating outside their means."
Chelsea: very few like them. They don't care. And as Eddie Newton told me in detail after Chelsea won the European Cup, they had a blast in 2012.
4.50pm When it comes to Arsenal, I'm firmly in the 'be careful what you wish for' camp.
Of course it must be frustrating to spend £100 a ticket or whatever it costs these days and not win a trophy for so long. I get that. Really.
But 14 consecutive years of Champions League football? Top four finishes and higher every season under Wenger? Exciting football built on a landscape-changing ethos? Are Arsenal fans not THE most ungrateful in all of world sport?
More than 50 of them took part in this survey and yet only 18 per cent of them said their owners were 'good'; with 34 per cent of fans neutral and almost half saying they are doing a bad job. Beggars belief …. or so I thought.
But apparently there are enough people out there who do feel sympathy for Arsenal in the new stadium with their profitable books and squad of players that most fans would love to have. (Not least Saints fans, who DID used to have them ….)
Anyway, so much for my view of ungrateful Arsenal fans. Here is a selection of views of fans of other clubs on why Arsenal's owners are poor:
Peterborough fan: "Arsenal , clearly retain profits for shareholders benefit and barely invest in first XI."
Liverpool fan: "Far to slow too spend while the teams that were around them have moved on."
Everton fan: "They sell their best players every year without effectively replacing them."
Liverpool fan: "Far too concerned with profit. Never cared about their fans. Biggest example of the sky sports generation."
Man Utd fan: "They think short-term in my opinion. They've eroded the value of the club's brand and damaged it forever due to their stupid wage policy. It's so funny when you realise Wenger earns as much or more than Fergie."
Leicester fan: "Wenger has consistently overachieved in relation to the finances he's been given. The problem seems to be that their board members are all too old and set in the ways, or outside investors who aren't passionate about the football and only care about the balance sheet."
So that's me told, then. All those moaning Gooners have allies who feel sorry for them all over the place …
4.37pm Here's one from left field, a Manchester United supporter who doesn't think the Glazers are doing a bad job. Lewis Taylor's view is not from the LUHG school and no doubt he'd be figuratively garroted by many United fans, but he writes:  'Given the state of the debt that my club's owners possess, they're not doing an all that bad job. I understand hardly anybody likes them but when asked, they've given funds to Sir Alex to go and get the players he wants … Robin Van Persie to take some goal scoring pressure off Rooney, Shinji Kagawa and some competition for Evra in Alexander Buttner."
The problem with a fan like Lewis voicing his view is that he'll be shouted down and told he's wrong. Fact is, he's entitled to that view. He also nominates Bill Kenwright as the best owner. "He doesn't have millions like Abramovich and the owners of Manchester City but he's given David Moyes every penny he could possibly afford to. With which, David Moyes has done REALLY well investing in players like Fellaini, Jagielka, Mirallas and Jelavic which is a pretty top spine."
And Lewis is also one of the people who cast their vote for worst owners for … Arsenal. He writes: "Not only have they made balancing the books the main priority, they've taken Arsenal out of the title race this season and future seasons single-handedly."
Next up …. some of the reasons Arsenal and Chelsea were both voted into the top 10 worst owners ….
4.22pm I'm guessing it was no surprise that Blackburn topped the worst owners list: but equally there are plenty of clubs (notably Pompey, but also Leeds in the dark days of League One and multiple points deductions) where the fans can feel massively aggrieved too. It's notable they EVERY fan of Birmingham who voted in the poll rated their owners as 'Bad', as did every Coventry fan and every Plymouth fan.
A note of balance comes from Rovers fan Paul Simms, who rated Venky's 'Bad' (of course) and said: "Where to start? Mind-boggling decisions, total lack of communication, suspicious dealings with agents…"
But then asked to nominate the worst owners of all, he said: "I want to say Venkys, but until we know if they're destroying the club financially, they can't be put on the same level of what Portsmouth's past owners have done there. Criminal."
And that, I have to say, is perspective. I wouldn't blame every Rovers fan for lambasting the chaos under Venky's but other clubs have had a bad time too. No?
Even as a Southampton supporter (and my colours of nailed to the mast hard and often), I can say that what has happened at Pompey has been a woeful shambles. And many of my fellow Saints fans agree. In fact, in the survey, Southampton fans collectively voted that the Pompey owners who put them in this current mess are the worst in English football …
4.06pm Another note on the responses of Liverpool fans to the survey. The No1 choice of Liverpool fans for best owners was Swansea's, followed by West Brom, and a variety of other clubs also got votes from LFC fans, from Man City to Arsenal to Tottenham. Just a single Liverpool fan nominated Roman Abramovich – and only then because he'd had the sense to sign Rafa Benitez.
I would suggest that Liverpool fans' collective votes for Swansea and West Brom are indicative they want a fan-centered club that plays good football and doesn't live beyond its means. Dare I suggest they might want that even more than a sugar daddy who would spend billions?
3.57pm  Some observations and questions on Liverpool via Twitter from Probal Shome. (@probals). First he asks whether fans would rather have suggar daddy owners than their current ones? He says he would rather have who Liverpool have got.
Probal then writes: "FSG are generally regarded as among the best owners in MLB. How or why are they different in Liverpool?". And: "How can FSG do better? More funds, better mgmt team, more aggro regd stadium, sell the Sox, better PR? For me, it's 2&3."
The answer to the first question is they understand MLB baseball and understand American fan culture and understand sports marketing in the USA, which incidentally operates within a system where owners routinely make profit from the system in place.
In terms of what they can do better; they've been hugely naive in some of their decisions, from that original outlay on Andy Carroll, which never looked like sensible business value to any neutral observer, to the messing around with DoF and manager roles, to the interminable dallying over what to do with Anfield and / or a new stadium. I still don't understand why it's taken so long to pick one or other option and get on with it – although the planning issue over redevelopment was holding things up.
Brendan Rodgers is a decent man and a good young manager and there are signs things are slowly getting better on the playing side. But the reality in the Premier League these days is that you need to spend large-ish sums of money to crack the top four and stay there (see this / and also this). And Liverpool are not going to get back into the top four and stay there without investment. Not with (richer) Manchester United plus Chelsea and Man City still spending much more, while Arsenal and Tottenham are also ahead of them in some spending. 
3.43pm One of the interesting findings of the survey was that Liverpool did not make it into the top 20 best owners OR the worst 10 owners.
The jury remains firmly out among Liverpool fans and fans of other clubs over whether Fenway have done well or not.
In fact Liverpool supporters responded to the survey in relatively large numbers. And the most interesting statistic from their responses is that 31 per cent of their own fans thought Fenway are doing a 'good' job at Anfield, a whopping 53 per cent of Liverpool fans were 'neutral' on Fenway so far, and 19 per cent said thought they are doing a bad job.
3.34pm It's safe to say that Chelsea fans appear to be the most disgruntled of all that their owner is so high in the worst owners list.
The gist of the argument is that the rest of football is jealous. The counterpoint is that the rest of football is not jealous – and that buying success is obscene; and that Abramovich is less than classy.
Both sides hold their views sincerely, and this Twitter exchange a little earlier reflects the opposing views: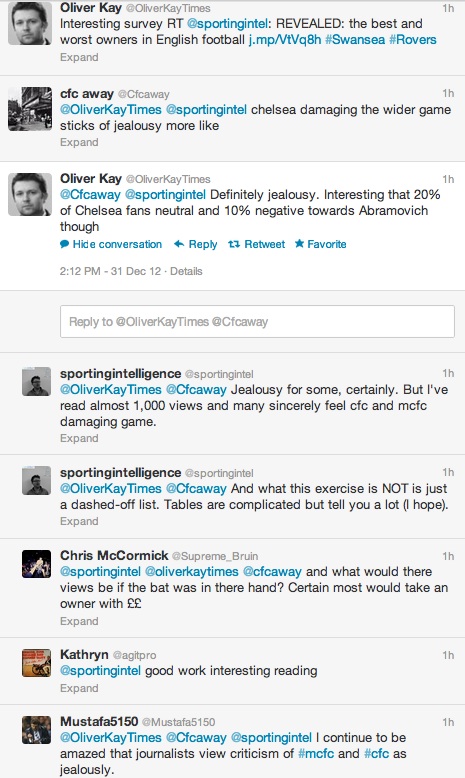 3.24pm So to the club whose owners have been voted the best: Swansea. Here's a flavour of what voters said about them.
One Chelsea supporter who nominated Swansea's owners as the best wrote: "Very good chairman, Supporters' Trust own a significant proportion of the club. Live within their means, play good football, connected to the community."
A Nottingham Forest fan wrote: "Swansea City have created an ethos of how to play, and hire managers which fit their current players, [which] means they can continuously build, rather than rip up and start again with every managerial change."
A Wrexham fan wrote: "Swansea's owners are very good, they have a lot of faith in their manager, give money when it is needed. Never overspend."
A Blackburn fan wrote: "Swansea are a club with fan involvement who've had promotion from Division 2 to the Premier league, play an attractive style of football and are not mortgaging the club to provide short term success."
And a Crystal Palace fan wrote: "Joint effort with supporters and individuals working together."
Swansea's own fans contributed less than a fifth of the total votes that Swansea's owners received. Here are comments from three of them about why their owners are the best.
1: "All real fans, no money taken out of club. and still maintain community links."
2: "Huw Jenkins is the reason we're in the Premier League. Sensible business acumen & a love for the club."
3: "21% fan owned, decisions always taken for clubs longevity rather than outright profit."
It's notable that fans from 21 different clubs voted for Swansea's owners. Supporters Direct hold them up as model of what can be achieved with meaningful fan ownership.
Gripe as many might (primarily Chelsea fans so far, bewildered that the rest of football do not love Roman Abramovich as much as they do). But who can seriously argue that Swansea's owners are anything but decent – now at least?
3.11pm: So Blackburn's Venky's have been voted as the worst owners in English football.
It's not hard to see why. They were a stable Premier League club when Venky's took over, but quickly the club was in a mess as the Rao family tried to run it from India and the well-respected board did not have a clue who was pulling the strings, as this extraordinary letter from January 2011 showed. (Link here). Under an experienced manager Steve Kean, Rovers eventually went down to the Championship in May, and amid farce and fan unrest, the club has become a laughing stock. (Archive of stories).
Having been to India and met the owners, having spent time with them (through 2011 at least) and having sources at Rovers and in Pune from the bottom to the top, the most frustrating thing about this situation as an observer it is really has never seemed necessary. One day the full story will be told, and it won't be pretty. For now, as Shebby Singh seeks another manager after sacking Henning Berg (who took five weeks to employ), the shambles goes on.
3pm:  Good afternoon and thanks for joining us. Nothing like a New Year's Eve to publish a survey that will guarantee you seven shades of vitriol. Hopefully this blog can go some way to explaining why Sportingintelligence did the survey in the first place, how and why people responded to it – and what it might say about the state of English football on the eve of 2013.
First of all, thank you to all those who took the trouble to share you views, either via the Survey Monkey form, directly via email, via our Facebook page and on Twitter.  Almost 1,000 supporters from more than 60 different clubs took part, and many of you took a lot of time and trouble to share detailed thoughts on club ownership and the state of the game. So thanks for that.
Hopefully the findings (link here) and this blog will go some way to demonstrating this is not just a slap-dash list but a genuine insight into the thoughts at one point in time of a very diverse group of supporters, each with their own strong affiliations and views.
The lists of best and worst owners will not suit everyone – or possibly anyone: how could they?
And of course it should be acknowledged that any such survey can only reflect its own time. As Byron Tomkiss tweeted a short while ago: "If you did the survey 2 maybe 3 years ago no doubt rovers would be top of the best owners poll."
Maybe that is true. But two years is a long time in football and Blackburn have become a joke club since, sadly. This poll reflects now, not two or three years ago.
Similarly, fans of all clubs with good owners – and there are lots – will feel they should be higher. Already supporters of Middlesbrough are asking why Steve Gibson isn't in the top five. The answer: because he's at No7, and almost 1,000 fans collectively picked six other owners more often than they picked him.
That doesn't mean he's not a good owner: he is, of course. And with that, let's move on …
.
Follow SPORTINGINTELLIGENCE on Twitter
Sportingintelligence home page
Tags:
AFC Wimbledon
,
Arsenal
,
Blackburn
,
Chelsea
,
Crystal Palace
,
Everton
,
Fulham
,
Leeds
,
Liverpool
,
Manchester City
,
Manchester United
,
Middlesbrough
,
Stoke
,
Swansea
,
Tottenham
,
West Brom
,
Wigan