By Nick Harris
SJA Internet Sports Writer of the Year
11 April 2011
So Stan Kroenke has done the deals that will give him almost 63 per cent ownership of Arsenal and triggers a mandatory bid for the rest of the shares that may or may not see him take a full holding.
As we know, Kroenke is a cross-sports tycoon with oodles of ownership experience in a number of major sports, including, let's not forget, football (real football). He's owned the Colorado Rapids in the MLS since late 2004, showing nous in a sports market that was only ever heading upwards at that point.
Here are five reasons why Kroenke's Rapids suggest Kroenke's Arsenal (or to be more precise, Arsenal owned a bit more by Kroenke than before) have nothing to fear.
.
**ONE The Rapids, unlike Arsenal in recent times, know how to win the big trophy. They are the reigning champions in the MLS after beating FC Dallas in last season's showpiece finale in November. And they started the 2011 campaign with three wins from three, and at the time of writing have won three games from four. Latest standings here.
.

**TWO The Rapids are sensible with the money they spend on players (wages), eschewing the big splurges seen at the likes of the New York Red Bulls and LA Galaxy to keep their finances in check. Here below, shaded in grey, is their player-by-player salary costs for the 2010 season, when they won the MLS title. Note the highest paid player was Conor Casey on $350,000 for the year, which equates to about £200,000 a year, or £4,000 per week, or just about what Scunthorpe players earn. This is not to belittle the Rapids spending, rather highlight that Kroenke does things sensibly within relative limits. At a time of great debt and losses in English (and wider football), that is laudable. Player salary information in the MLS is publicly disclosed by the union (link here).
.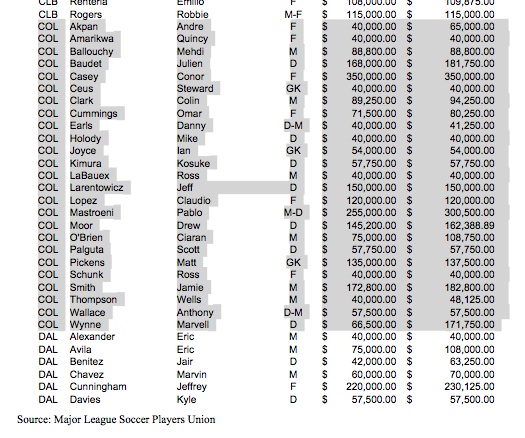 .

**THREE We all know Arsenal's team and squad has been full of foreign players ever since Arsene Wenger arrived in 1996 with his Continental ways, his love of Va Va Voom and his desire that players look after themselves and the ball rather than binge-drink and hoof it. But don't think Stan Kroenke isn't a fan of the English bulldog mentality, or the hard-man gaffer. His manager at the Rapids is the former Fulham, Colchester, Wycombe and Barnet midfield tough nut, Gary Smith, and as Smith explained in this interview with Arsenal's website, he got the job after going to Denver in the first place in 2008 as part of the Arsenal-Rapids academy link-up. In other words, Kroenke is willing to learn, always.
.

**FOUR Kroenke listens, or rather listened, and acted, when Rapids fans wanted a standing terrace. Kroenke delivered one – the first in any major US sports league. He knows the customer is generally right, and while he'll certainly to continue to maximise match-day income at the Emirates with high prices, he'll only charge what the market dictates he can while keeping attendances high. Incidentally, the rules and regulations for using the terrace are linked here. (No vuvuzelas, which also shows Kroenke's common sense).
.

**FIVE Kroenke backs winners. That's not to say that all his sports franchises are spectacularly successful, because they're not. (See the NFL's Rams in recent seasons, although their dire 1-15 Win-Loss record in 2009 did improve to 7-9 in 2010). But he's a long-term serious investor. His sports businesses are stable. He's never sold a single share in any sports club he's bought. He spotted the long-term trend that the US was really starting to take to football a good few years ago, hence his purchase of the Rapids and his investment in facilities. If he thought for a second that the bubble for England's elite clubs was about to burst, he wouldn't be involved at Arsenal.
.
More stories mentioning Kroenke