By Brian Sears
8 December 2010
Of the 436 Premier League goals scored this season, 181 have come before half-time (or 42 per cent), leaving a sizeable chunk of 255 goals (58 per cent) in the second half.
Most clubs – 15 from 20 – scored most of their goals (a majority) in the second half of games, and among those, Stoke have scored the highest percentage of their total goals to date in the second half of games: 17 of 21, or 81 per cent.
Bolton have scored the greatest absolute number of second-half goals (20, from 28 in total), for a ratio of 71.4 per cent.
So while the likes of Arsenal, Manchester United and Tottenham have also scored a majority of their goals in the second half of games, they haven't scored as many, either absolutely or as a percentage of their totals, as the thrillers from Stoke and Bolton.
Only three clubs get most of their goals early, before half time: Chelsea, Aston Villa and Blackpool, and even then it's marginal. Two clubs so far have scored equal numbers of goals in each half: Newcastle and Liverpool. See the graphic below for full details.
Given all the above, the most remarkable scoring pattern in the Premier League last weekend was at the DW Stadium. Up until that game, Wigan and Stoke had each scored only two goals in the first halves of games, after 15 matches each. They both then scored two each before half-time to double their respective seasonal half-time tallies, and then neither scored again as the game ended Desmond (2-2).
. .
Sportingintelligence home page
.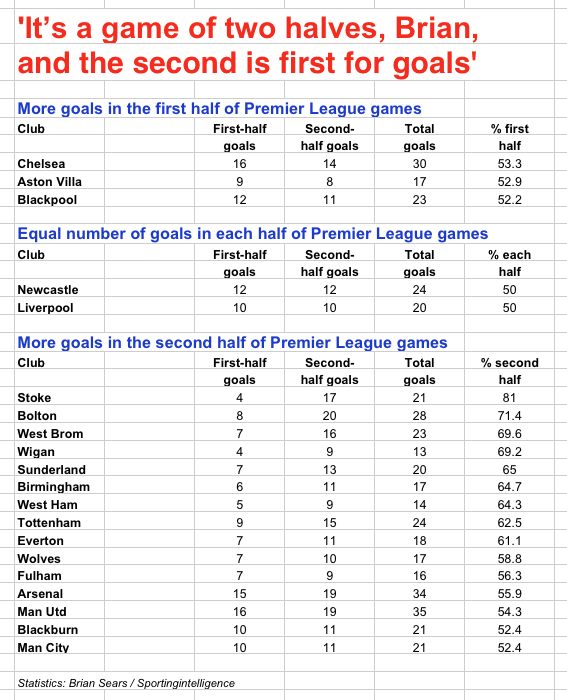 .
* * * * * * * * * * * * * * * * * * * * * * * * * * * * * * * * * * * * * * * * * * * * * * * * * * * * * * * * * * * *
Do you watch Premier League football anywhere outside England? Join our unique research project
* * * * * * * * * * * * * * * * * * * * * * * * * * * * * * * * * * * * * * * * * * * * * * * * * * * * * * * * * * *