*
By Nick Harris
SJA Internet Sports Writer of the Year
1 February 2012
The documents scanned below are part of a huge secret dossier of evidence amassed by UK Anti-Doping (UKAD) during an investigation into the biggest drugs cover-up in British sporting history.
UKAD is the agency that polices anti-doping in the UK.
The investigation related to drug use by players at Hull FC rugby league club last year, and the subsequent cover-up.
Martin Gleeson is the only player who faced charges, after failing a test for a drug him and multiple team-mates were using.
AND READ MORE REVELATIONS HERE (More material to come as well).
The top scan below is part of a written submission by former Australian international – and highly respected Hull FC 2011 captain – Craig Fitzgibbon, explaining how he came to take OxyElite Pro, a supplement containing a 'controlled' stimulant, MHA, which is banned in competition and which has often led to lengthy bans. He took it after checking with club conditioner Ben Cooper, believing it was safe. It wasn't. Cooper 'cleared' it erroneously.
The second scan (below the first) is part of the oral testimony of Fitzgibbon, given to an investigator working for UKAD on the case, Jonathan Taylor, in an interview that took place on Thursday 31 August 2011, beginning at 2.40pm. The scan shows Fitzgibbon admitting he took the banned drug on a game day.
And it also shows Mr Taylor, working on behalf of UKAD, telling Fitzgibbon, in relation to his admitted drug use on a match, 'for the record, it's not something that UK Anti-Doping is worried [about], the fact of you taking them on game day.'
This astonishing sentence was in effect a declaration of an amnesty against admitted drug use – albeit accidental – in this case.
Several players in the case admitted drug use to UKAD, and faced no action, which might prompt serious questions from other athletes about why.
The full cover-up, and suppression of what really happened, went much wider than Long, Gleeson and Hull … there is much more to follow.
.
Craig Fitzgibbon's statement about his drug use to UKAD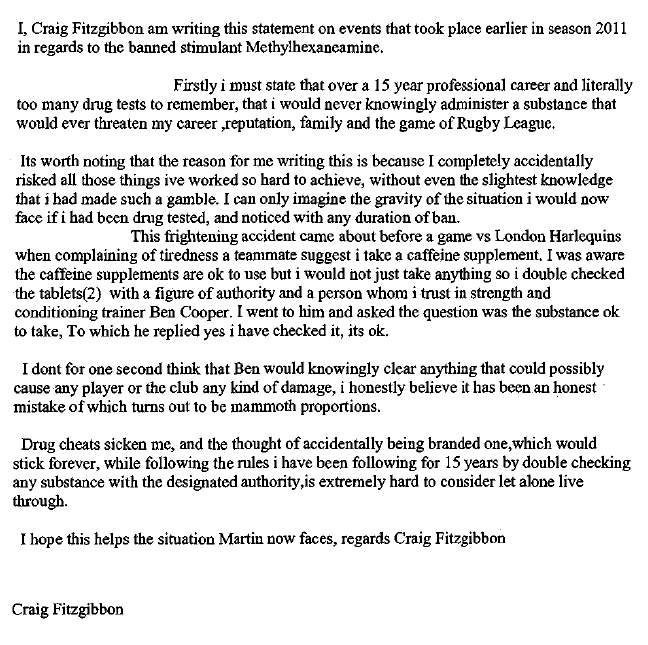 .
Extract from oral testimony to UKAD cover-up investigation where Fitzgibbon is told UKAD not worried about his drug use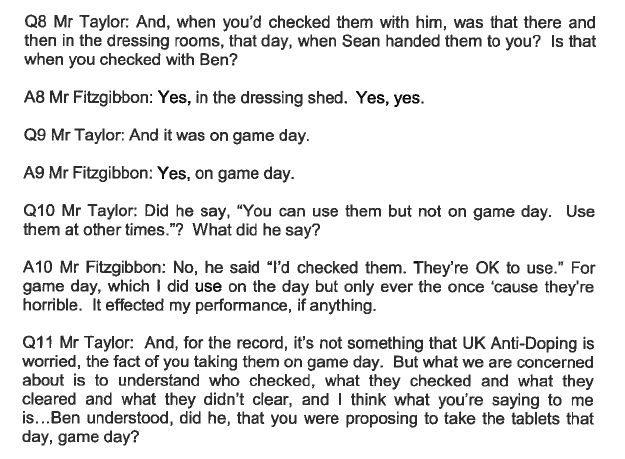 .
More on the rugby drugs cover-up 
Follow SPORTINGINTELLIGENCE on Twitter