By Nick Harris
SJA Internet Sports Writer of the Year
13 March 2011
.
At least two Scottish women's international footballers are taking legal advice on the possible repercussions of playing for Great Britain at the 2012 Olympics, sources north of the border say.
They cannot legally be prevented from playing, if selected, but are taking advice on employment law if the SFA threatened sanctions, overtly or otherwise.
If they succeed in putting themselves up for selection – in defiance of fierce SFA opposition – they could bring about historic, if not wholly popular, change.
They could also set a precedent for Gareth Bale of Tottenham and Wales to play for the GB men's team in 2012, perhaps to be joined by one of Scotland's first-choice goalkeepers, either Craig Gordon of Sunderland or Allan McGregor of Rangers.
The Under-23 tournament allows three overage players per squad. England almost certainly won't be contributing any top-class senior goalkeepers because any England players on duty at Euro 2012 won't then play at the Olympics as well.
As things stand, the Scottish, Welsh and Northern Irish FAs vehemently insist they want no part in the British teams.
They fear a precedent could cost them their individual berths in tournaments thereafter (unlikely) or lose them their automatic seats on the eight-man International Football Association Board (possible).
No Scotland player is comfortable speaking publicly on this, hence continued secrecy over the players' identities. But the Arsenal Ladies trio of striker Julie Fleeting (age 30, 115 goals in 117 Scotland games), midfielder Kim Little, 20, and Jennifer Beattie, 19, would have excellent cases for inclusion in a GB team.
To speak on this subject, the women need prior permission from the SFA, where a spokesman said any Scot wanting to play for Team GB would be 'educated on the stance we've taken, and made aware that in eyes of the fans it would be an act of treachery, for personal gain over the collective interest. They would need to know they'd face a backlash.'
The BOA wants a team selected on merit, not nationality, and is prepared to join legal battle to make that happen.
A BOA spokesperson has told this website: 'We remain committed to entering a team in both the women's and men's football events at the London 2012 Olympic Games.  As in every other sport, athletes will be selected on merit and in that respect the British football selection criteria for 2012 would need to ensure that any British player was eligible to be selected for Team GB as the Olympic Charter forbids any form of discrimination.'
The former BOA chief executive, Simon Clegg, now running Ipswich Town, tells me he wrote to Fleeting a few years ago, offering any support she may require having heard she was interested in Team GB.
.
————
.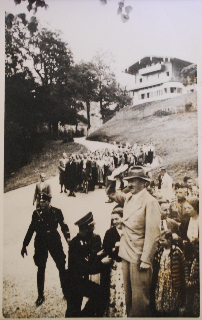 British Olympic football and controversy have long been bedfellows and a photograph published here on sportingintelligence today for the first time ever depicts a scene that caused ripples long after it happened during the 1936 Berlin Olympics.
The GB men's team were cajoled into making an 800-mile round-trip journey to meet Adolf Hitler at The Berghof, his country residence near Berchtesgaden.
All the players had to shake the dictator's hand, and the incident is recalled in the recently-published book, 'GB United?: British Olympic Football and the End of the Amateur Dream' by Steve Menary.
There is no photo in the book, but the one published here (left), owned by goalkeeper Terry Huddle's step-daughter, Roisin, was taken by a GB photographer. It depicts Hitler waving as the players approach.
'The players believed even then there'd be a war and that Hitler would be central,' Roisin tells me.
One of Huddle's team-mates, Daniel Pettit, who died aged 95 last year, confided to Menary before passing away: 'I've been washing my hand ever since [meeting Hitler].'
Roisin, who has a wealth of her late father's career memorabilia, including from 1936, also has an original photo of Hitler, Goebbels, Goring and Hess giving the Nazi salute in the Berlin Games stadium.
.
.
.
.
.
Versions of these stories also appear in today's Mail on Sunday
.