*
Matthew Barrett studied history at Oxford University, concentrating on the relationship between sport, politics and war in the twentieth century. He currently works in sports sponsorship and you can follow him on Twitter here. In his latest piece for Sportingintelligence, on the eve of Euro 2012, which starts with a game between co-hosts Poland and 2004 champions Greece in Warsaw, he examines how football has not proved immune to the political and economic crisis engulfing Greece. Its problems have largely reflected those of Greek society, yet the beautiful game, he argues, does retain the potential to provide inspiration to a suffering nation.
.

By Matthew Barrett
6 June 2012
Greece has been the epicentre of the European economic crisis. No country has suffered as much from the downturn across the continent, with unprecedented bailouts, severe austerity measures and resulting social unrest and protests.
The country is increasingly ungovernable with political extremism on the rise, while the Greek parliamentary elections were brought forward to May 2012 in the hope of solving the economic and social problems engulfing the nation.
Instead, Golden Dawn, a neo-Nazi group with links to football violence, won seven per cent of the vote and entered parliament for the first time. The moderate parties seen as complicit in accepting the bailout and imposing austerity were hammered, and a second election on 17 June looms.
Social violence is also on the rise, with the fascists feeling legitimised by their election to Parliament and newly emboldened. Attacks on immigrants are becoming more common and sure to rise in the run-up to the new election. The country is tense, divided, angry and ready to boil over. The scale of the protests in February 2012 prompted one Greek filmmaker, Nikos Kavoukidis, to ask, "What do we have left? Television and football."
But amidst the chaos, the impact on Greek football has been equally disastrous. Greek football is marred by violence, financial collapse and corruption, a reflection of the current state of the nation experiencing political and economic catastrophe.
.
Football falls foul
Issues first began to surface early in 2011, when a match-fixing investigation widened to include 54 matches, including a season decider between Olympiakos and Panathinaikos, the two biggest clubs in Greece, and eventually implicated two Super League club presidents, club owners, players, referees and a chief of police.
The most high profile suspect was shipping magnate Vangelis Marinakis, the President of Olympiakos and the Greek 'Super League'. While Deputy Culture Minister Giorgos Nikitiadis described this as "the darkest day in the history of Greek football", it marked only the beginning of a series of problems.
Historically Greek football has had strong links to the shipping industry, with teams such as Panathinaikos and AEK Athens associated with shipping moguls such as Andreas Vgenopoulos, Nikos Pateras and Nikos Notias. When Marinakis bought Olympiakos in 2010 it was billed as in keeping with the notion that tanker owners financed local clubs as a social contribution. Shipping was, however, one of the principal industries affected by the economic slump, and the big football clubs were therefore quick to follow.
Owing to this perilous state of the economy, giant clubs including AEK Athens and Panathinaikos are now on the verge of collapse and have been handed suspended one-year bans from European competition by UEFA for falling foul of financial regulations.
The financial crisis is crippling the Greek football league – Iraklis were previously relegated from the Greek top flight for various alleged financial misdemeanours. The most worrying development is the fact that eight teams are facing transfer bans and other sanctions due to their not being able to pay their players.

Leading players such as Fabian Vargas and Jose Carlos are threatening strike action, with Carlos, a forward for AEK Athens, recently stating: "I don't care if the team gets cleared to play next season. I want all my money; otherwise I'm not signing any papers. I'm not going to give you any more time and I don't care if other players are signing settlements. I'm looking out for what's mine".
Politics has never been far away from Greek football, with Greek businessmen viewing ownership of Greek football clubs as a means to political influence, and it was of no surprise when the Greek football league was suspended for one week in February due to protest at a new law giving expanded powers to a state-controlled sports committee.
Alongside the economic and political impact, Greece has witnessed a corresponding rise in stadium violence. There has always been a level of violence and hooliganism synonymous with Greek football, with fan groups such as Original (AEK), Thyra 13 (Panathinaikos), Gate 4 (PAOK) or Porto Leone (Olympiakos) keeping a large swathe of the Greek population away from football stadia.
Panathinaikos in particular has traditionally had far-right supporter groups, although were largely dismantled by their President Yanis Vekris a few years ago. Yet recent disorder has been on a distinctly greater scale, with the Athens derby between Panathinaikos and Olympiakos abandoned in March after serious rioting, with arrests, injuries and fires in the stadium.
It is set against this backdrop that on Friday 8 June the Greek national football team will take on hosts Poland in the opening match of Euro 2012.
 .
A beacon of hope?
The Greek national side has historically been untouched by the violence that blights the domestic game and the economic problems of Greek football, funded as it is by an extensive sponsorship programme. Indeed the federation was recently criticised for giving the national coach Fernando Santos a 45 per cent payrise, while the team jetted off to a Euro 2012 training camp at an exclusive resort in Kitbuehel, Austria.
Yet there is a sense that the Greek national team feels a sense of duty and represents a potential force for good at a time of anger and disillusionment in Greek society, with the ability to transcend conflict, bring Greeks together and restore national pride at a time of conflict, chaos and humiliation. Plagued by problems in football and society, does Euro 2012 offer a beacon of hope?
Greece and Celtic striker Georgios Samaras said in March: "Sometimes sport and football make people forget their problems. So what we can do in the national team is play at the Euros and give happiness to our people in Greece".
Greek football federation president Sophocles Pilavios stated: "I don't know if the success in a football match has the power to take one out of his problems. I wholeheartedly hope so, I'm sure that the players can bring uplifting moments to the Greeks."
While only a maximum of 5,000 Greek football fans are expected to follow the team in Poland and Ukraine, there is no doubt that providing a boost to the embattled country and its football-mad public is motivating the Greek footballers.
A good performance from the Greek national side in Euro 2012 could lift the national pride of the Greek nation and bring a measure of joy and respite to the country watching the tournament at home. It could well be the only positive during a difficult summer of elections, political strife and economic chaos.
There is a recent precedent.
.
The legacy of 2004
In 2004 the country was also in crisis – the government faced criticism on all sides over its preparation for the forthcoming Athens Olympics, with the whole competition poised to relocate to Sydney amid fears that the country was dangerously behind schedule.
But it was at this point that the Greek football team came from nowhere to win the 2004 European Championships (pictured, celebrating).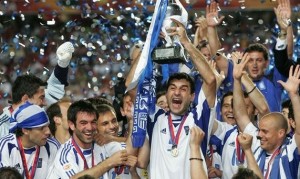 The squad contained few exceptional players, but seemingly achieved the impossible through hard work, determination and a single vision, united behind manager Otto Rehhagel. The country went wild, and the returning champions were greeted as heroes by the ecstatic country.
The Prime Minister, Kostas Karamanlis proclaimed: "Greece is on the lips of everyone in the world who follows this mass and magical sport called football".
Taking inspiration from their success and the collective work ethic, Karamanlis further implored the nation to unite and complete the Olympic preparations, saying: "These boys taught us a lesson as to what Greeks can do when we really believe in something".
Construction was ultimately completed, and the 2004 Olympics were generally perceived as a successful event, despite the problems of how to use the stadiums following the Olympics.
.
Euro 2012
Today, Greece finds itself in mired in catastrophe that dwarfs anything in its history. But as in 2004, a European Championships looms large on the horizon. Can football unite Greeks behind their country and restore national pride at a time of conflict, chaos and humiliation? Can a good performance from Greece at Euro 2012 really make a difference?
While players, football figures and politicians may say and hope that it can make this difference, a poor performance could merely add to the collective gloom and disorder.
The Greek national football side has proved that it has the ability to rise above politics and social division, but the future is above all, uncertain. The country is tense and riven by conflict, and there are no guarantees that a good performance would have a long-term impact, but there is no doubt that it would be a welcome distraction to a suffering nation.
National skipper Giorgos Karagounis summed up the entire situation and possible impact of the Euros best when he asserted: "There are many problems in football and in the country and we all live these problems. But when it comes to fight for the national team, there is no room for these thoughts … during the tournament, [the aim] is to help [Greece's people] forget for a short time at least the problems of everyday life. Surely the Greeks are waiting for this joy and we hope to give it to them."
And as Makis Papasimakopoulos, correspondent with Athens News, told me: "Anything to do with European competition is important to Greeks. We even flooded the streets when we won the Eurovision song contest! It's always been like that and right now it will be even more so. Greece needs the team to do well at the Euros. There are no two ways about it."
.
Follow SPORTINGINTELLIGENCE on Twitter