By Brian Sears
20 September 2013
Arsenal have played 135 Premier League games at The Emirates since leaving Highbury in 2006, winning 87 times (a win rate of 64.5 per cent), drawing 31 and losing 17, including this season's opening match against Aston Villa.
Arsenal have won 292 Premier League points at the Emirates from 32 different opponents, as detailed below, with Stoke being the most profitable opponents – in terms of points per game – of any current Premier League side. Stoke are this weekend's visitors, on Sunday.
Arsenal's 100 per cent Emirates record over Stoke stretches back five seasons:
24 May 2009 Arsenal  4 Stoke  1
5 Dec 2009 Arsenal 2 Stoke  0
23 Feb 2011 Arsenal  1 Stoke  0
23 Oct 2011 Arsenal 3 Stoke  1
2 Feb 2012 2013 Arsenal 1 Stoke  0
Chelsea and Aston Villa have won most often at the Emirates in the PL: three times each. At the other extreme, Arsenal have six Emirates win over Spurs.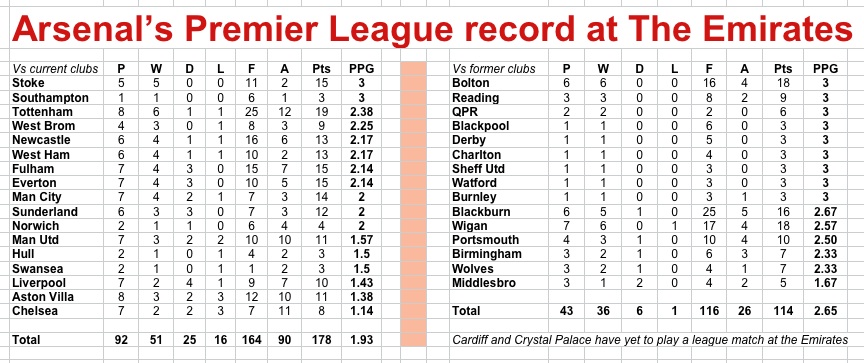 And another thing ….
This is the eighth season, although not consecutive, that West Brom have enjoyed Premier League status.
That time with the elite has been spread across four different spells and our second graphic today shows that the Baggies' opponents this week – Sunderland – are head and shoulders above the other 29 clubs they've played when it comes to points. Winning West Brom points, that is.
Seven wins and three draws have harvested 24 West Brom points from the 12 games played.
Of the other current Premier League clubs only against Southampton have West Brom won more than they've lost. West Brom's two defeats to Sunderland came in their first five Premier League meetings (0-1 at home in January 2006 and 0-4 at the Stadium of Light in December 2008); in the seven games since West Brom have won six and drawn one.
As both clubs search for their first win of the season West Brom must be banking on their historical advantage.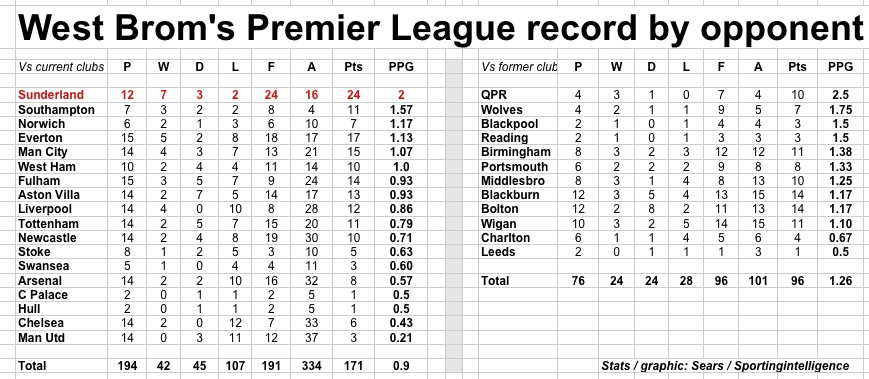 More on Arsenal (or search for anything else in box at top right)
Follow SPORTINGINTELLIGENCE on Twitter