By Nick Harris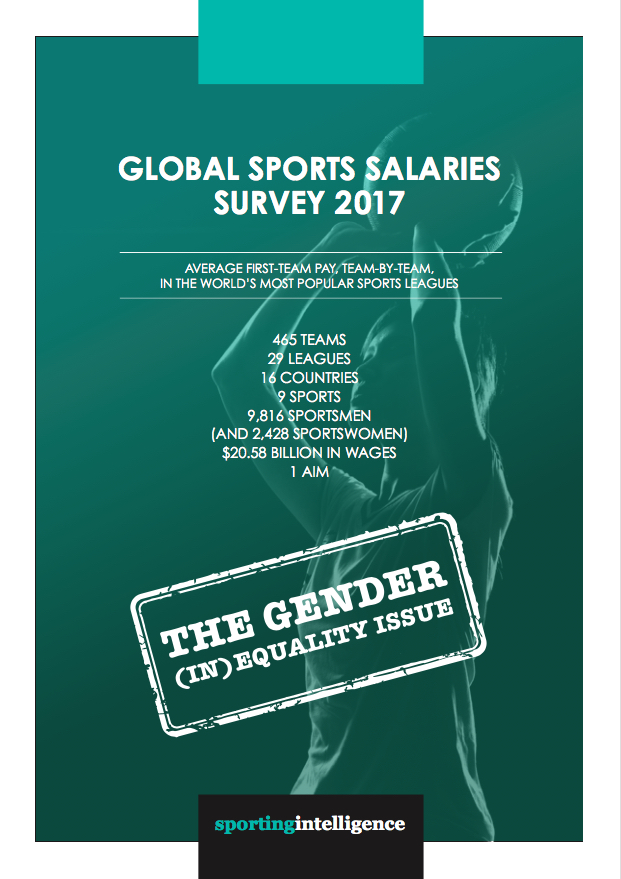 26 November 2017
Oklahoma City Thunder of the NBA are now the best paid team in global sport according to Sportingintelligence's Global Sports Salaries Survey (GSSS) for 2017, published today.
This year's GSSS is a 140-page special edition, which, for the first time, includes an 'audit' that quantifies the gulf between men's and women's professional team sport – both in terms of opportunity and pay.
This eighth edition of the GSSS ranks the best-paying sports teams in the world, as usual, from the wealthiest and most popular leagues. The 2017 GSSS also includes a women's league in the main list for the first time – the WNBA – and analyses the finances there and in 11 of the world's other leading women's leagues, from football leagues across Europe, America and Australia to the leading leagues in netball, handball, cricket and Aussie Rules. More details follow below, and much more still can be found in the full GSSS 2017 report, a copy of which you can get here.
The average first-team pay at the Thunder, home to NBA stars Russell Westbrook, Carmelo Anthony, Paul George and Steven Adams, is £7.15m per year ($9.3m), or £137,507 per week in the 2017-18 season that commenced on 17 October.
The unique metric of the GSSS is 'average first-team pay' – allowing the best like-for-like comparison between vastly different sports in leagues and countries around the world. Seven of the top 10 payers in this year's GSSS are NBA teams – an ongoing consequence of a huge new TV deal in the NBA that kicked in before the 2016-17 season.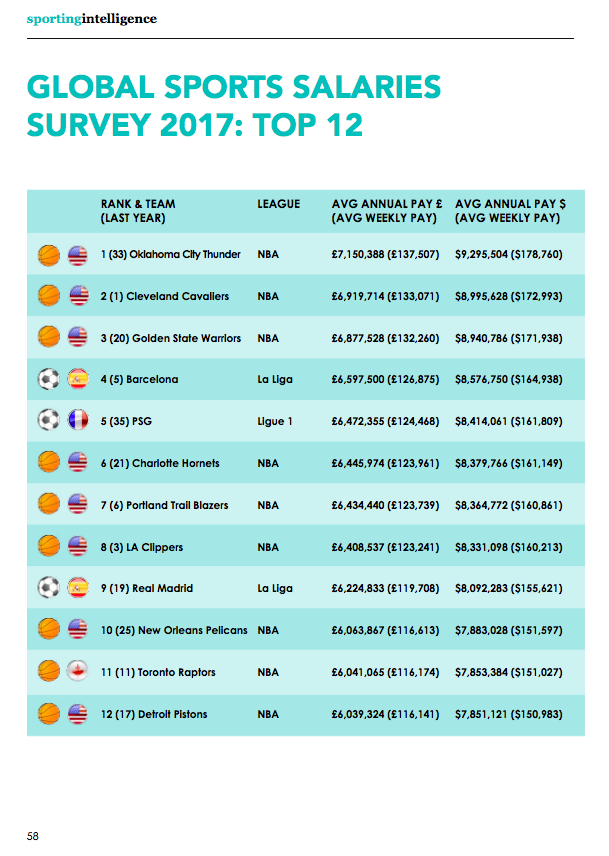 As recently as 2015, there were eight football teams in the GSSS top 10. This year there are just three: Barcelona at No4 are the highest, followed by PSG at No5 and Real Madrid at No7.
Barcelona of Spain's La Liga have average first-team pay of almost £6.6m a year.
The Barcelona figures don't include Lionel Messi's hugely lucrative contract extension to 2021. That was finally formally signed yesterday but was agreed in July. Club sources had no doubt as this survey was compiled that it would go through – and Barca had the deal accounted for in this season's budget.
Paris Saint-Germain, who sensationally signed Neymar from Barca last summer, are breathing down the Spanish giant's necks in pay terms on almost £6.5m a year, and rising fast. If PSG have a successful campaign on the field and splash big bonuses, they would likely overtake. Real Madrid are third on £6.2m.
The survey found the best paying English football clubs to be Manchester United and Manchester City (at No23 and No24 in the list), in that order, but only just. They both pay around £5.2m per player per year, or £100,000 per week basic average, across their squads.
As with Barca and PSG, the on-field fortunes of the Manchester pair will likely dictate which of them have the biggest total club wage bill for 2017-18. Success and trophies for one club while the other won nothing, for example, would result in a higher bill through extra performance-related payments and bonuses.
United were as high No4 on last year's overall list but have fallen for three principle reasons. First, some of their biggest contract costs from a year ago have either been downsized (Zlatan Ibrahimovic) or no longer exist (Wayne Rooney, Bastian Schweinsteiger). Currency fluctuations mean that clubs who pay in euros have outlays now worth more in pounds than 12 months ago. And the relentless march of the NBA has kept pushing more and more of their teams upwards. 
The NBA extends its lead as the best paying league by average salary (£5.5m) ahead of MLB (baseball, £3.4m). The Premier League remains the world's best paying football league by a margin. Average pay in the 2017-18 season in England's top division is now £2,642,508 (or £50,817 per week). This marks Premier League pay rising above £50,000 per week for the first time – also a global first for any football league.
The Premier League remains clearly the richest and best paid football league in the world, the £2.64m annual pay still well ahead of levels in Spain's La Liga (£1.68m), Italy's Serie A (£1.33m) Germany's Bundesliga (£1.26m, up due to a new TV deal there), and France's Ligue 1 (£944,405, and only so high because of PSG's huge outlay). Much more detail, and analysis by league, and numbers for every team in these leagues and others are in the full GSSS 2017, available free here as a PDF.
.
Mind the gap …
The world's best paid women's sports league as a whole, by average pay, is the WNBA, where salaries average £57,490. Sportingintelligence has obtained the official figures for the 2017 season and they are included, team by team, in the full report. That also includes a league-by-league analysis of the state of play in 12 major women's leagues, as summarised here.
Story continues below
.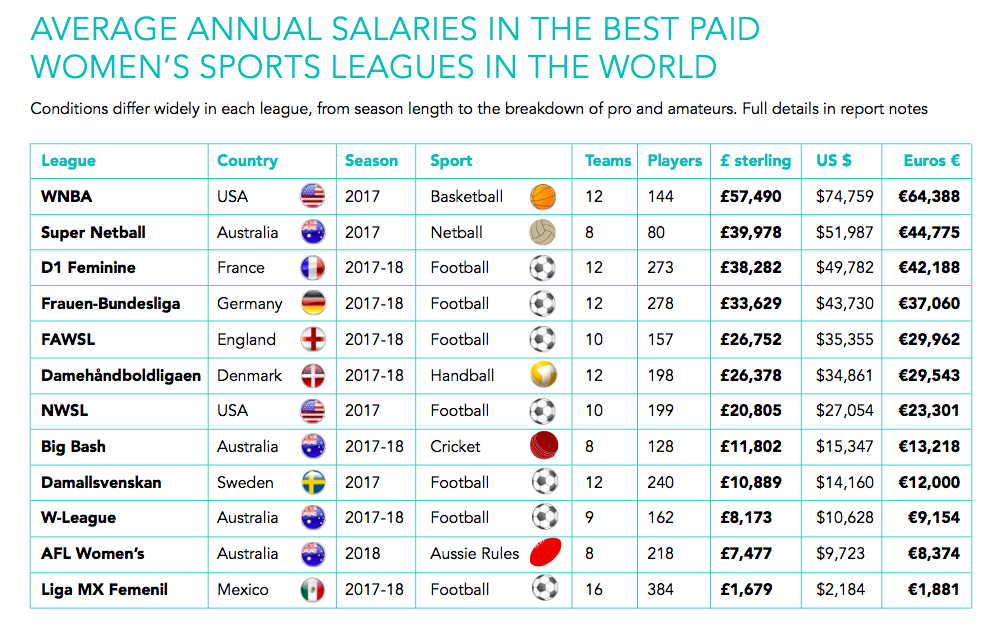 A key finding of our 'audit' is that for every professional female footballer in the world, there are 106 men making a full-time living from the game, at least. Not only that, but the women who do make it earn as little as one hundredth the sums of their male counterparts – even if they are among the elite.
That kind of abyss is seen even in nations where women's football is seen as relatively advanced – like England. Average first-team pay in the (men's) Premier League has risen to £2.64m this season, as detailed above. Official figures obtained for the 2017 GSSS show the average pay in the equivalent women's division, the FA Women's Super League (FAWSL), is £26,752 this season, or about one per cent of that.
It will be little surprise to many that men earn more in sport; men's sport typically attracts bigger crowds, more sponsors and, crucially, much bigger TV deals to pay the bills. But the scale of the disparities are laid out in detail for the first time in the GSSS, and they are enormous.
The best paid 12 men's sports leagues in the GSSS comprise 7,265 players at 257 clubs in six sports across 10 countries on three continents. These include athletes from the 'big four' leagues of North America in basketball, baseball, ice hockey and American football; from the 'big five' divisions of European football in England, Spain, Italy, Germany and France; from cricket in the IPL in India, from football in the CSL in China and from baseball in the NPB in Japan. Collectively they earn £15.7 billion at an average of £2.16m each, per year.
The report analyses conditions and salaries across a dozen of the closest equivalent women's leagues comprising 2,461 players at 129 clubs in six sports across eight countries on three continents. Collectively they earn £52.7m at an average of £21,427 each. In diverse sports across different nations and cultures, that group of men in elite team sports are earning 101 times the amount of the elite women.
The best paid women's sports league in the world, by average salary, is the WNBA followed by Super Netball in Australia and then the women's top-flight football leagues in France, Germany and England.
The FA are in the process of restructuring the FAWSL into a fully professional division of up to 14 teams from 2018-19. Of 367 current players at the 10 clubs, including 'development' players, only 157 have contracts, and even some of those are paid low single-digit thousands per year. The 2017 full report includes a guest essay by Katie Brazier, head of women's competitions at the FA, explaining the rationale for changes that aim to make the FAWSL top division fully professional by the 2018-19 season.
.
465 teams, 29 leagues, 9 sports, $20.58bn in wages
The GSSS looks solely at earnings for playing sport, not for endorsements or other extra-curricular activities. It considers 465 teams in 29 leagues across 16 countries in nine sports: football, baseball, basketball, gridiron, cricket, ice hockey, Australian Rules football, netball and handball.
The salaries report features salary information for the most popular professional domestic sports leagues in the world, by average attendance per game, for which we have been able to obtain reliable data, as well as various other leagues from the worlds most popular sport, football. The 17 men's leagues (in addition to the 12 women's leagues in the graphic above) are, in order of highest to lowest average salary across those leagues: the NBA, MLB, IPL, Premier League, NHL, NFL, La Liga, Serie A, Bundesliga, Ligue 1, NPB (Japanese baseball), Chinese Super League, MLS, AFL (Aussie Rules), J.League, Scottish Premiership and Canadian Football League (gridiron).
.
Who are The Thunder?
Oklahoma City Thunder began life as Seattle SuperSonics in 1969, won the NBA finals once under that incarnation (in 1979), and have been playing in Oklahoma under their current identity since 2008. Their rise to the best paid team in the world includes the story of a giant contract, two giant summer signings, and two giant pay rises, one to a man from a family of giants with British heritage and an amazing backstory.
Steven Adams is a laid-back guitar-playing Kiwi whose late mum, Lilika Ngauamo, was from Tonga, and whose father, Sid, was an English sailor who settled in New Zealand after a career in the Royal Navy.
Sid had 18 children with five different women and 7ft Adams is the youngest of them. His brothers average 6ft 9in, and two have played pro basketball in New Zealand. His sisters average 6ft, and one is Valerie Adams, twice an Olympic gold medallist in the shot putt, at Beijing 2008 and London 2012. Valerie was made a Dame in the 2017 New Year's Honours.
Adams is one of the biggest earners at Oklahoma, after a new contract boosted his pay from £2.3m last season to £17.3m for 2017-18.
But his wage is just part of their story. Last year the average 'Thunder' salary was "only" £4.5m per man across 15 players. But point guard Russell Westbrook then signed the biggest guaranteed deal in NBA history. That £158m package over five years begins next season but his pay rose anyway this year to £22m. The team also signed two new stars in three-time Olympic gold medal winner Carmelo Anthony (earning £20.2m this season) and regular All-Star Paul George (£15m this season). Another of Adams's team-mates, André Roberson, re-signed with the Thunder on a three-year, £23m contract in the summer, taking his pay from £1.5m in 2016-17 to £7.1m this season.
That combination of events underpins how the only 'big' sports franchise in the state of Oklahoma went from being the major professional sporting attraction in their city to the best paid sports team the world has known.
.
Follow SPORTINGINTELLIGENCE on Twitter
YOUNG JOURNALISTS — Apply for project funding HERE
.
Coverage of GSSS 2017 on Forbes, The Guardian, The BBC, The Australian, ESPN, Aberdeen Evening Express,New Zealand Herald, PrimaOnline, Corriere Dello Sport, (and La Repubblica), Figaro, Mundo Deportivo, Tribal Football, Fotbollskanalen, Hufvudstadsbladet, AS (Spain), Newcastle Chronicle, Goal (Brazil), The Wire, Record (Portugal), Business Insider, The42, Daily Sabah, AS (US), Loughborough Echo, Aftonbladet, Dundee Courier, Origo (Hungary), The Glasgow Herald, Telegraf (Ukraine), The Scottish Sun, Sportbuzzbusines, France, Soccer Laduma, Globo, Aberdeen Express, Eldesmarque, Levante, The New News (Fr), and coverage in Poland, Hungary, Croatia, Greece, ESPN Brazil, Indonesia, Mirror, China (various), Korea, Vietnam. And assorted others.