By Steven Slayford
13 May 2013
In yet another trophy-less season for Arsenal, the biggest prize possible for Arsene Wenger's team is a top-four finish in the Premier League, with Wigan on Tuesday the next hurdle to clear.
Infamously, former Arsenal players who have left the club since Arsenal last won a trophy – the 2005 FA Cup, eight years ago – have won piles of silverware between them.
The latest player to join that growing band was the midfielder Alex Song at the weekend, as Barcelona sealed the 2012-13 La Liga title.
The 25-year-old Cameroonian became the 23rd former Arsenal player to win a major trophy since the Gunners last lifted silverware in 2005.
With Song's Barcelona team-mate Cesc Fabregas also picking up a winner's medal at the Camp Nou and Emmanuel Eboue winning a second league title in a row at Galatasaray following their 4-2 victory over Sivasspor last weekend, the total number of major trophies won by ex-Gunners since May 2005 now stands at 56.
A special survey for Sportingintelligence, detailed in the accompany graphic, below, counts only top-division league titles and 'major' (multi-match) cup competitions, and excludes 'one-off' trophies such as the Community Shield or any variation of a 'super cup'.
This season has also seen trophies added to the ex-Gunner success list by Robin van Persie at Manchester United (Premier League title), Kyle Bartley at Swansea City (League Cup), Anthony Stokes at Celtic (SPL title) and Eduardo at Shakhtar Donetsk (Ukrainian Premier League title).
With Celtic (Stokes) soon to play the Scottish Cup final and Shakhtar (Eduardo) still to play in the final of the Ukrainian Cup, that total could yet rise.
Article continues below
(Click on graphic to see full size)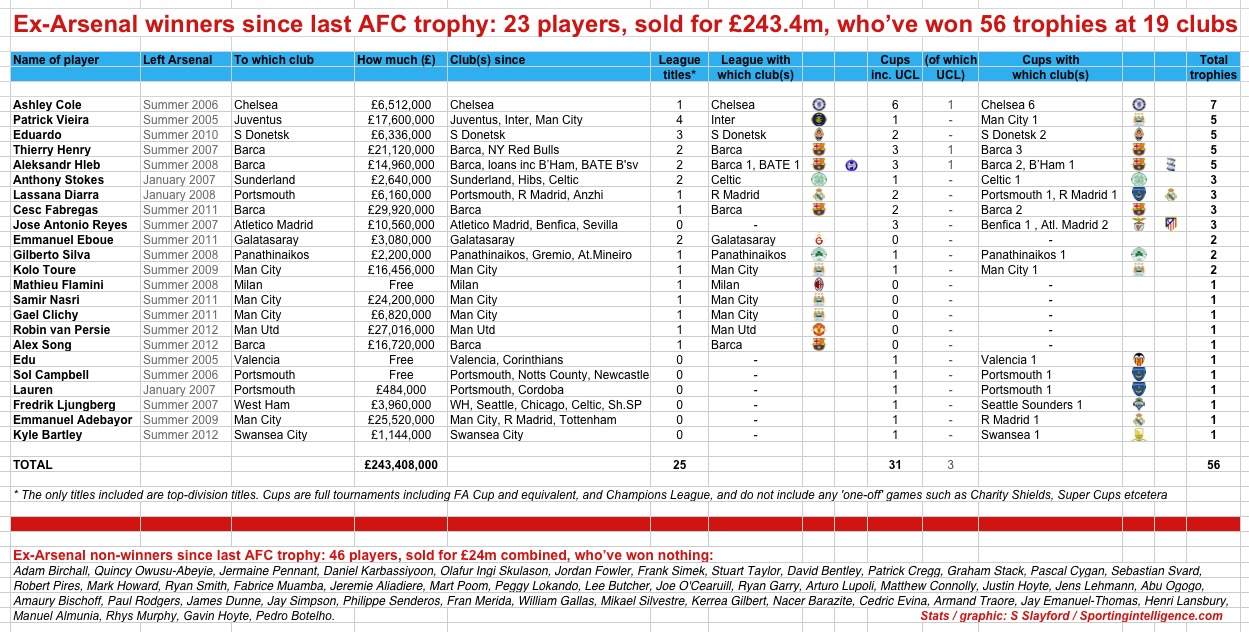 While Arsenal are set to complete their eighth straight season without silverware, and their former players are continuing to succeed in gathering medals away from the club, it is worth noting that far from all Arsenal's departees have been a success.
Only 33.3 per cent of the players that have left north London since the beginning of the 2005-06 season (23 of 69) have gone on to win a major trophy. That means 66 per cent (46 of 69) have won nothing.
And though many Arsenal supporters will complain long and loud about letting some stellar talents leave, the club has generally recouped good money for each 'successful' leaver. The 23 'winners' left for combined fees of £243.4m while the 46 'non-winners' went for a tenth of that sum between them.
Only three players (so far) have gone on to win the Champions League: Thierry Henry and Aleksandr Hleb with Barcelona in 2009 and Ashley Cole with Chelsea in 2012.
Five players have gone on to win the Premier League: Cole with Chelsea in 2010, Nasri, Clichy and Toure with Man City in 2012 and Van Persie with Man United in 2013.
Patrick Vieira, the man whose penalty kick secured the FA Cup for Arsenal in 2005, has won the most league titles after his time at Highbury than any other player, lifting a total of four; all four of those coming under the tutelage of Roberto Mancini and then Jose Mourinho at Inter Milan. Vieira's total could have been five had Juventus not been stripped of the 2005-06 title following the Calciopoli scandal.
Ashley Cole is the leading cup winner following his departure from Arsenal. The 101-cap England left-back has clinched one Champions League, four FA Cups and one League Cup at Stamford Bridge. His four FA Cup victories with Chelsea, added to his three at Arsenal, have seen Cole become the most decorated player in the tournament's history. His double cup success in the 2011-12 season also saw his trophy tally at Chelsea reach seven and surpass his total of five under Arsene Wenger.
Of the 46 players that have not gone on to win a major trophy, the majority are players released without making a first-team appearance; but there are a few high-profile names among the rest. Robert Pires, Pascal Cygan, Philippe Senderos and William Gallas all struggled to find success away from Islington.
Fabrice Muamba's £5.28m move to Birmingham City in the summer of 2007 represents the most expensive sale of a player that has failed to win anything after playing for Arsenal.
With trophies eluding Arsenal for some seasons now, the club have moved to promote their financial solvency as a sign of success. This prudence is obvious in the sale of later successful players.
The club have made a total profit of £138,124,000 on players sold that have gone on to win a major trophy, an average of £6,005,391 profit per player. The biggest of these profits came from the sale of Cesc Fabregas to Barcelona (who has won three trophies in his two seasons in Catalonia) with the club yielding a £29,920,000 return on an initial outlay of £2,816,000; a profit of £27,104,000.
While the club's balance sheet has certainly improved through player departures, it is only the trophy cabinet of other teams that has improved with it.
Arsenal will be looking to ensure that future cup success for their players to be found within the boundaries of the club rather than continuing to be found outside of them.
Steven Slayford blogs on football at footballsimple.wordpress.com and on basketball at http://highhoops.tumblr.com. You can follow Steven on Twitter at @sslayford
More on Arsenal (or search for anything else in box at top right)
Follow SPORTINGINTELLIGENCE on Twitter