By Nick Harris
SJA Internet Sports Writer of the Year
5 December 2011
Bill Nankeville is perched on the edge of his chair, explaining the 'austerity' tag routinely attached to the 1948 London Olympics, in which he ran for Britain in the 1,500 metres.
'We ate stodge, ran on grass that became mud, didn't do it for money – and went home on the bus when our races were done,' says the 86-year-old, once among the nation's best-known athletes and still contagiously enthusiastic.
.
The lighting of the flame at the 1948 London Olympics

.
Nankeville, who also ran in the 1952 Olympics in Helsinki, was national mile champion four times from 1948 to 1952.
The only person to break his streak, in 1951, was his friend and rival, Roger Bannister.
But while Bannister went on to earn enduring fame for breaking the four-minute mile barrier in 1954, Nankeville's sixth place at Wembley Stadium on the last occasion London hosted the Olympic Games is now little more than a footnote in British sporting history.
These days it is Nankeville's son – comedian, impressionist and former EastEnders star Bobby Davro – who bears the more familiar name.  (Pictured right, Bill and 'Bob' together last week).
And even he admits that he learned of his father's athletic prowess only by accident.
'I found boxes of medals, pictures and athletic shirts in a cupboard when I was five,' says Davro who, at 53, was born four years after his father hung up his spikes.
'And a crystal bowl he'd won for something or other. I had no idea of his sporting life before that and made my own little exhibition of it all as a game. And I broke the bowl. It was worth £500.'
His father interjects: 'And I'll tell you why I didn't mind. Because I'd been driving through Camberwell that day and had hit this fella who'd run out in front of me. And I was so relieved I hadn't killed him that I wasn't so worried about the bowl.'
Father and son, evidently close, dissolve into fits of laughter, and over three hours last week at Nankeville's Thames-side flat in Staines, Surrey, they took turns to share their memories of Bill's career, how Bobby might have become a golfer, as older brother David did, and how a father inspired his sons.
Nankeville would routinely drive Davro from gig to gig in his early years on the club circuit in the Seventies.
Even the name Davro comes from Nankeville's post-athletics wholesale business, Davro Trading, named after his sons, David and Robert.
Bill says the sporting world has changed almost beyond his recognition between 1948 and now, when the Olympic juggernaut will roll back into town after 64 years for London 2012.
'I remember the 1948 opening ceremony, nervously parading in front of 100,000 people,' says Nankeville.
'I walked around Wembley Stadium alongside the manager of the Great Britain football team, Matt Busby.'
.
The 1948 Olympics parade of nations
.
Bill continues: 'There was no Olympic village and our digs were Nissen huts at the RAF base in Uxbridge. The Games budget was £750,000 and I believe they made a profit of £30,000.
'There were no new venues built for the event and the temporary track at Wembley was laid from cinder and full of puddles. The water was reckoned to take two seconds a quarter mile off your time.'
He came second in his heat (pictured right) to qualify for the final, where he finished sixth in 3min 52.6sec, behind three Swedes (Henry Eriksson won in 3min 49.8sec), a Dutchman and a Czech. The world record at the time was 3min 43sec.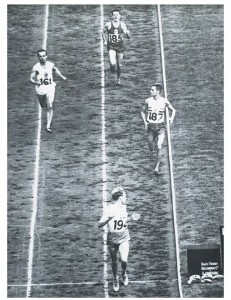 Nankeville does not recall the final well, only that: 'I didn't feel too confident, but I suffered from a lack of confidence anyway. I remember it was an afternoon final. And the training rooms at Wembley were palatial.'
The build-up had been exciting.
'We were fortunate as athletes in that we got preferential treatment in food rationing, which was still in place,' he says.
Ordinary civilians received food giving them about 2,500 calories per day, much of it carbohydrates.
As somebody designated a possible Olympic team member in 1947, Nankeville got about 4,500 calories per day.
'We had food parcels from Canada and Australia,' he adds. 'I remember the hams. My wife's cousin was a butcher, too, and when I was able, I'd get a pound of steak and eat it for breakfast!'
Nankeville's extraordinary life story began in 1925, when he was born into a poor family in Woking, Surrey, the son of a milkman, William, and a cleaner, Sally.
War broke out when he was 14 and, by 15, he was helping to build Wellington bombers at Vickers Armstrong in Weybridge.
'Then in 1942, when I was 17, we were dive-bombed and 82 were killed at the factory,' he says.
'I was moved to make parachute containers in Bisley, and at 19 got called on by the Army – on Hitler's 55th birthday, April 20, 1944.'
He spent several years in overseas postings, first in Brussels, where he rekindled a schoolboy talent for running, then in Hamburg and later at the concentration camp at Belsen, just after it was liberated in 1945.
'There was an awful smell about the place,' he recalls. 'And no birds flew there.'
Later he was posted to Antwerp, joined a running club in Brussels, and then came to prominence at the first major athletics meeting after the war.
Running for the Army at that 1946 event in Berlin, staged in front of 90,000 people, he put himself in contention for Britain, and found out in 1947 that he was on the Olympic team shortlist.
It was a momentous year: Within five months he also met and married Janet, his wife of 63 years until her death in 2010.
These days Bobby visits often, dropping in last week en route to rehearsals for the pantomime season in Aladdin in Northampton, while Bill's daughter, Jeanette, sees him most days.
Very few people besides those inside Wembley Stadium saw him run in his 1948 Olympics races.
The BBC did screen some events but hardly anyone owned television sets. (A BBC feature about their coverage is linked here).
Radio was more accessible but newspaper coverage, by today's standards, was minimal.
'It wasn't a time that we got that much media exposure,' says Nankeville.
'And if we did do interviews for TV or radio, we had to hand any fees over to the athletics association. I did get some cash under the table from time to time, but it was essentially amateur.'
Neither were the training methods complicated, or the diet sophisticated.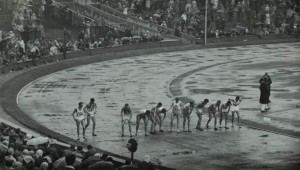 'I never trained more than an hour-and-a-half a day in my career,' he says.
'Two-mile warm-up, two-mile warm-down and some 300s in between. And we didn't go to training camps in Africa, unlike the British athletics team of today who have a training base in Kenya.'
As for diet, he says: 'If I needed building up a bit, my coach would give me a cup of sherry, egg and sugar, the old tonic. We never had drugs. We just had Horlicks … and the tonic.'
Davro says his father always drummed into his children how important it was to keep fit – and still does.
But his own closest brushes with competitive sport were as a contestant in Channel 4's The Games in 2003, and then in a boxing reality show that was never broadcast after being vetoed by the sport's authorities.
'Dad did teach me never to give up,' says Davro. 'And how to blag a freebie.'
And with that, Bill Nankeville launches into another anecdote, about gate-crashing an exhibition arranged by the story paper, Boy's Own, at Olympia, in London, in the Sixties, with Bobby.
Like something from an adventure comic, his own story rolls on.
Bill Nankeville on the 'scandal' of 2012 ticketing
'VIPs and sponsors are getting so many tickets while the small people, the fans, the lifeblood of athletics, are getting few or none.
'And those same VIPs and sponsors – and no doubt MPs, too – will also be getting right of way on the roads during the Olympics.
'The money has come into sport and the spirit of sport has gone. The ticket situation is awful, the worst example of money ruling, and all the people I still know who were at 1948 are disgusted.
'The BOA wrote to me and told me they'd allocated me one pair of free tickets to my event from 1948 for 2012, so that's the 1500m. They said I could have up to two more tickets if I paid £150 for them – but they couldn't guarantee what sport I'd get! 'I said I'd want athletics and they said they couldn't guarantee that so I said, "No extras for £150 then, thanks".
'Why am I going to pay £150 to end up with hockey or basketball? It's a disgrace. There's not many of us left from 1948. Surely we could have had a pass for the Games, just for athletics? Half the people in that stadium for the athletics won't ever have been to an athletics meeting in their lives before.'
Bill Nankeville on the waste of money in Olympic host bidding
'The Olympics should have a permanent home in Athens with money invested in the facilities and village over time instead of being wasted in expensive bidding processes.
'Of course, I'm pleased that London has the Games but what a lot of money to spend on a stadium with an uncertain future.'
'The Olympics have become a bit of a monster where a gold medal now means endorsements, not sporting pride.
'The phrase "It's not the winning but the taking part that matters" is a load of bull***t today.'
.
Follow SPORTINGINTELLIGENCE on Twitter
Sportingintelligence home page
A version of this feature appeared in yesterday's MoS (below)