*
By Sportingintelligence
31 May 2012
So Brendan Rodgers will succeed Kenny Dalglish as the manager of Liverpool, becoming the 19th different person to hold that job on a permanent basis since 1892.
He inherits the reigns at the club in English football with more 'major' trophies than any other club: 41 of them.
For full details, see table below, updated from previous feature.
For the purposes of this exercise we include top-division English titles, FA Cups, League Cups, the European Cup (and Champions League) and the other 'major' European trophies: Uefa Cup (and Europa League and Fairs Cup) and Cup-Winners' Cup.
Liverpool's 41 trophies are comprised of 18 league titles, seven FA Cups, eight League Cups, five European Cups and three Uefa Cups.
Manchester United have more English titles (19) but fewer trophies overall (38).
We do not include any trophies that are one-offs where participation comes as a result of winning a previous trophy (Community / Charity Shield, or Super Cup, or events that at some stage have been one-offs, such as the Club World Cup).
The table below includes every club that has won at least one English top-division title since 1888-89.
Rather than rank the clubs on a pure trophy count, we have weighted the trophies so the biggest honours (league title, European Cup) carry more weight than others.
The 'working out', scored on a points-per-trophy basis on the right side of the graph, is all self-explanatory, and while subjective to an extent, is defensible.
These weightings don't in any case change the order of the four most successful clubs: Liverpool, Manchester United, Arsenal, Aston Villa.
However Everton's nine league titles, of 15 trophies in all, do elevate them in this table above Chelsea and Tottenham; they have more trophies with less combined prestige when weighted.
This is all debatable, of course.
What the table shows quite clearly is the historic weight of expectation Rodgers inherits.
His managerial career to date includes just one club trophy, and not a 'major' one: the Football League Championship play-off in 2011. He was also Championship manager of the month in January 2011, and Premier League manager of the month in January 2012.
The big, big, big time beckons.
.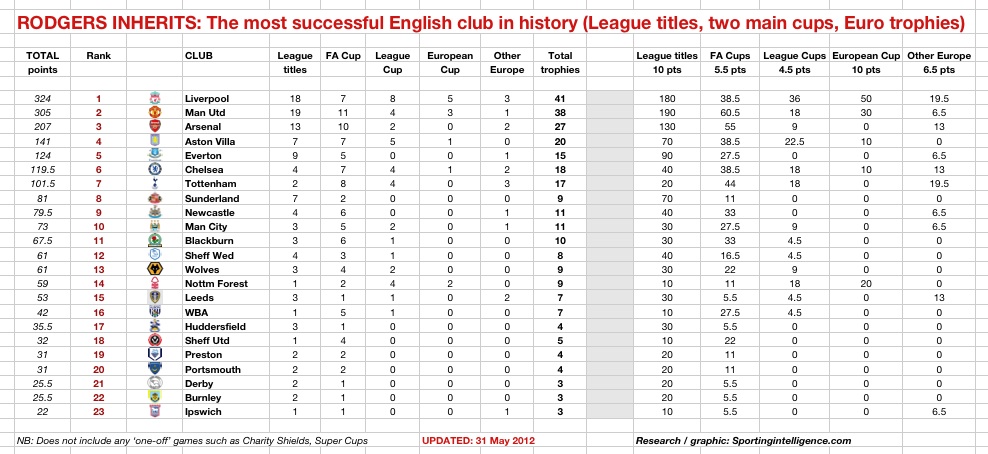 .
More stories mentioning Liverpool / United
Follow SPORTINGINTELLIGENCE on Twitter