By Nick Harris
19 June 2013
Football fans from across the country will march on the Premier League's headquarters in London today to protest at the cost of tickets to matches.
The demonstration has been co-ordinated by the Liverpool fans' union Spirit of Shankly (SoS) and is expected to involve hundreds from fans from different clubs. It has been arranged to coincide with the publication of the fixture list for the 2013-14 season.
SoS say the intention of the demo is for fans "to make their feelings known on the cost of going to the match and what they say is greed from the football cartel as ticket prices continue to rise despite increased revenues in football from TV and sponsorship deals."
The Premier League's new TV deals, for the three-year period 2013-16 inclusive, will collectively earn the clubs around £5.5bn, with most of that income going to the bottom line before a ticket is sold or commercial deal done.
Despite this new influx of cash, a number of clubs have increased their ticket prices for the coming season, as detailed here:
Article continues below
This is a summary overview. Every club has multiple price points, offers, discounts and so on. Season tickets contain different packages of matches; some include cup games and others do not. Some make cup games mandatory when applicable for extra cost, others do not. Spreadsheet downloadable here has links to each club's info: PL season tickets 13-14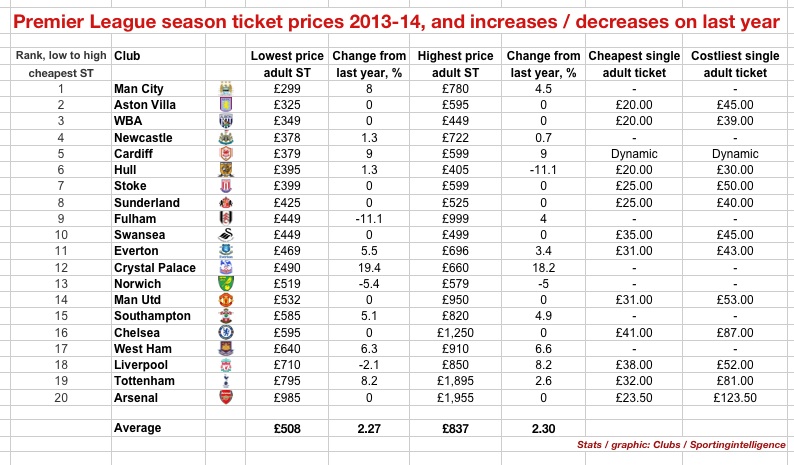 .
There is an enormous variation in ticket prices from club to club. Manchester City, despite price rises, still have the cheapest adult season ticket at £299, while at the other extreme Arsenal have the most expensive 'cheapest' adult season ticket at £985, and also, famously, the most expensive 'normal' (non-corporate) single match ticket, at £123.50.
That eye-watering sum for one game in the best 'normal' seat at The Emirates is more than fans at some clubs in the German Bundesliga pay for their season tickets.
On the flip side of Arsenal's £123.50-a-time larceny (voluntary, of course) is a new scheme from the north London club that aims to sell between 800 and 1000 tickets per game for £10 each to teenagers in the forthcoming season. Details here.
The huge variation in ticket prices demonstrates that it is the clubs, individually, who decide the pricing structure for their own fans. There is no central price-setting and nor can Premier League officials dictate what clubs charge. If Liverpool want to reduce the price of some tickets by 2% and rise others by 9% this coming season – as indeed they have done – then the Premier League as an institution is powerless to force them to do any different.
Across the Premier League as a whole, the cheapest season tickets at clubs average £508, or £27 per match, while the most expensive season tickets cost an average of £837, or £44 per match. (NB: there are differences in what each season ticket entitles the holder to attend; some include cup games, many don't).
The Premier League and their clubs argue that they have extremely high attendance rates. Protestors argue that just because clubs can charge a lot and sell out games does not mean it is fair.
A delegation of this afternoon's demonstrators are expected to attend a meeting inside the Premier League's HQ to discuss their concerns with the PL chief executive Richard Scudamore.
Jay McKenna, SoS's chairperson, says: "Football clubs now make more money than ever. This isn't about what Arsenal or Manchester United or Liverpool charge – it's about what all clubs charge because it's too much for any supporter of any club to pay.
"The new TV deal for the next three seasons is so valuable to football clubs that they could reduce the price of every single ticket by £51.30 and still have the same amount of money as they did last year. Ticket prices have increased by an average of 716% since 1989. In the same time supporters' wages have only gone up an average of 186%.
"It's unrealistic to think that supporters can keep on affording it. Yet the football clubs have an opportunity to reduce ticket prices, making them more affordable to more loyal supporters, but they don't. We want to change that. It's the right thing to do for loyal supporters. All the while, players wages have gone up over 1500%."
The Football Supporters' Federation backs today's protest, saying: "Today's protest highlights what fans have been saying for years – ticket prices are too high at too many clubs.
"The Football Supporters' Federation fully supports SoS's efforts to highlight this issue. Along with campaigns like the FSF's Twenty's Plenty, this demonstrates that fans can't be squeezed forever."
Supporters Direct say: "We support the demonstration organised today by Spirit of Shankly, one of our member supporters' trusts.
"We are not taking part in the demonstration, but we have been kept abreast of developments, and support their right to protest, and their view that ticket prices and the overall experience for the present-day football fan are issues that cannot simply be dismissed.
"Indeed we are keen to ensure that the growing anger, frustration and legitimate disenchantment being expressed through meetings, marches and other events, is harnessed to bring about lasting change in our national game. These actions are driven by a feeling that football is run increasingly for the benefit of a super-wealthy wealthy elite, and not the fans who are the game's lifeblood.
"We continue to press for change in the ownership and governance of football clubs so that the vital role that supporters play in the lives of their clubs is properly recognised.
"We call on all those concerned with the health of the sport to continue to back the Culture, Media and Sport Select Committee, the Government and the Opposition in their shared desire to see football reformed, or to introduce legislation to enforce  change. Increased supporter involvement and ownership at clubs will provide a better structure for the game and a fairer deal for fans."
REVEALED: The best paid teams in global sport
From £200m Messi to £20m Lukaku: Europe's 60 most valuable players this summer
Follow SPORTINGINTELLIGENCE on Twitter
Sportingintelligence home page