By Brian Sears
16 October 2014
When the Premier League resumes on Saturday after the international break it will do so at the Etihad Stadium as Manchester City hope to close the gap on leaders Chelsea. City will play in the only fixture of the weekend where two current top-10 sides meet each other, against Tottenham.
Aside from Chelsea and City, only other club remain unbeaten away this season so far in the league, and that's also Tottenham.
City and Spurs have played each other 34 times in the Premier League era and Spurs have a comfortable head-to-head lead in that period overall, with 20 wins to City's nine, and five draws. Spurs lead the H2H stats home and away, with 11 wins to three at White Hart Lane and nine against six in Manchester.
But there is a massive contrast in their recent meetings compared to the period as a whole, since City hit the jackpot of Sheikh Mansour's money. As the graphic below shows, six of Tottenham's nine defeats to City have come since the 'monied era' benefits of Mansour's oil wealth has turned City into trophy-winners again. (Or since 2010-11 in other words, when City won the FA Cup, their first trophy of any significance since the League Cup of 1976, some 35 years earlier).
City's turnaround against Tottenham culminated in 6-0 and 5-1 wins last season. Tottenham have a worse Premier League record against City since 2010 than they do against any other current Premier League team.
Article continues below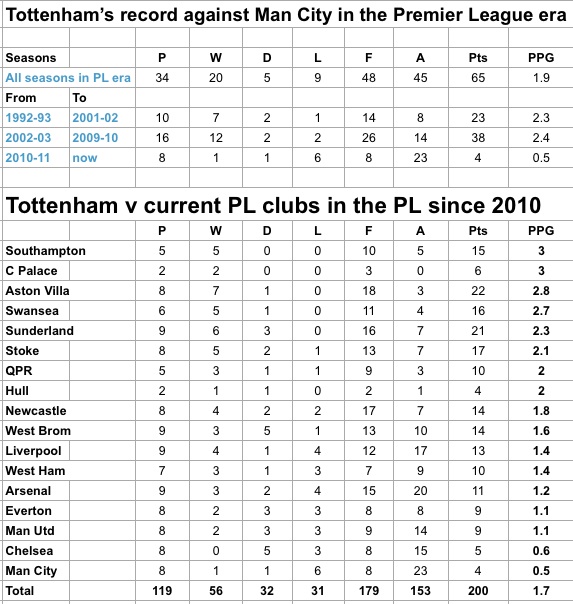 .
And another thing …
Neutral fans wondering what many Newcastle fans have been moaning about in regards to Alan Pardew perhaps need look no further than the calendar year table below. Five wins all year; an average on 0.77 points per game; relegation form as well as bad to watch.
At the other end, only Chelsea and Man City have set the pace in 2014 as a whole, with Liverpool on their heels, although that was largely down to their 2013-14 form, not the 2014-15 start.  Arsenal are nine points off third over the 26 games of the calendar year, with Tottenham next, then Southampton, ahead of Manchester United, in turn ahead of Everton only on goal difference.
More on City / Spurs / Arsenal / Chelsea (or search for anything else in box at top right)