By Brian Sears
20 August 2013
It may seen ill-timed after a weekend of Premier League matches where four of the 10 games finished 1-0 and none of them were won by a 2-1 margin, but there is an unmistakeable trend in England's top division that the 1-0 result has been overtaken by the 2-1 as the most common. A much wider range of high-scoring 'outlier' results are also being recorded.
Every single season in the Premier League between 1992-93 and 2008-09, for 17 straight years, the single most common score was 1-0 (or 0-1).
The graphic below shows how this changed from the 2009-10 season onwards, since when 2-1 (or 1-2) has been the most common score.
A related point worth noting here is that total scoring leapt between 2008-09, when 2.48 goals per game were scored, and 2009-10, when 2.77 goals per game were scored. This step-change, driven by Manchester City, Manchester United, Chelsea and Arsenal in particular, has been maintained over the past four seasons, which have had goals per game tallies of 2.77, 2.8, 2.81 and 2.8.
Over the completed 21 seasons of the PL, five score lines have dominated PL football to the extent that they have accounted for two out of every three results (66.5%) between them. Those five score lines are  1-0 (or 0-1), 2-1 (or 1-2), 2-0 (or 0-2), 1-1 and 0-0.
Note too how until 2008-09, those five results together accounted for as many as 68 per cent of all results. But since then, those five have plummeted collectively to account for closer to 62 per cent. That means 38 per cent, or almost four in every 10 games, sees at least one side score at least three goals.
If you look at the scores for the 2009-10 season here, or for 2010-11 here, or 2011-12 here, or 2012-13 here, you will see the reality of the 'rampant era'. Look especially at the records of the Manchester clubs, Chelsea and Arsenal, and see fewer nils, ones and twos and an increasing amount of threes, fours, fives, sixes, sevens, even the odd eight and nine.
Article continues below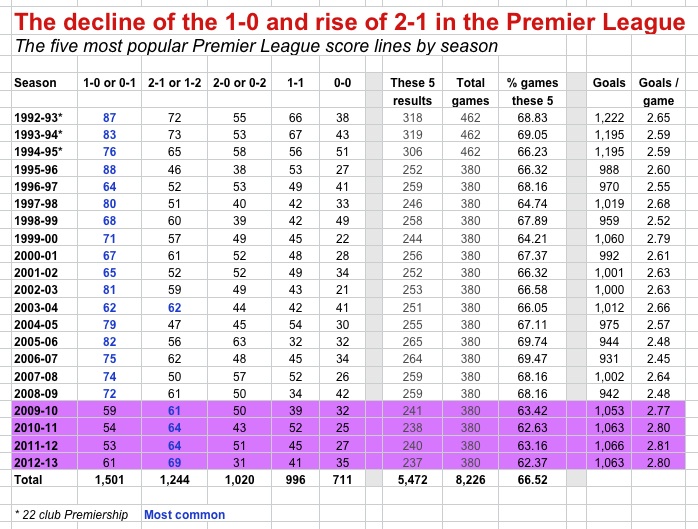 In 1995-96 when the Premier League had just been pruned to 20 clubs 88 of the 380 games ended 1-0 or 0-1.  That's 23 per cent. The season before last only 14 per cent ended that way.
In that 1995-96 season only 46 of the 380 games ended 2-1 or 1-2.  That's 12 per cent. But last season that share was up to 18 per cent.
More on Chelsea / Man Utd / Arsenal (or search for anything else in box at top right)
Follow SPORTINGINTELLIGENCE on Twitter