By Brian Sears and Nick Harris
9 August 2011
Arsenal are famously the only club in England who have enjoyed an unbroken stretch in England's top football division since the Second World War. Indeed the Gunners have been in the top flight non-stop since 1919.
The new season will be Arsenal's 66th consecutive top-division season since WWII. The next longest unbroken runs are Everton (2011-12 will be their 58th straight season in the top division), Liverpool (50th), Manchester United (37th), Tottenham (34th), Aston Villa (24th), Chelsea (23rd), Blackburn (11th), Bolton (11th), Fulham (11th) and Manchester City (10th).
No other club in the Premier League in the coming season has been there as long as a decade non-stop.
Our first table summarises how many post-war years each of the 20 clubs for 2011-12 has spent outside the top division, from none for Arsenal down to 63 years for Swansea. Manchester United have spent just one season outside the elite in that time, and Everton three, with Tottenham on five and Liverpool on eight.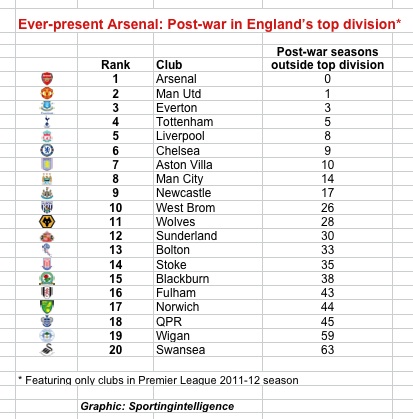 .
But which club has been the most consistent in terms of their league placement since the Second World War?
As our second table shows, that is Manchester United, who despite that one season outside the elite have still managed an average league placing of just below 5th for the 65 completed seasons between the war and 2010-11.
This is better than Arsenal's average placing (6th) in the same period, and better than Liverpool's (7th), and better than the other member of the post-war 'Big Four' … Tottenham (just above 10th).
Everton, Chelsea, Aston Villa and Manchester City fill out the top eight places in post-war average placing in the league pyramid, as the summary below shows.
This table also breaks down the average league placing of each of the 20 clubs for the last 10 years, during the Premier League era (19 years), and since 1980, since 1970, since 1960, since 1950 and since WWII, as well as summarising each club's high points and low points in the post-war period.
Link to year by year records and decade summaries 
At a glance you can see that United are the most consistent club, as well as the most successful in terms of titles in that period (17 titles), and have never finished lower than 23rd in that time (which was top of the Second Division as it was then called, in 1974-75).
You can also see that United'a average league finish in the Premier League era has been 1.53, which is astonishing.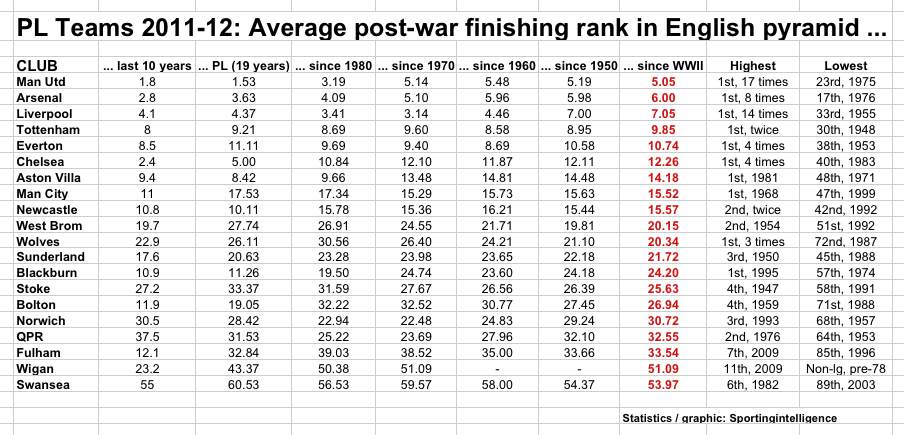 .
How things change … and how things stay the same
The second table helps to illustrate two essential truths of English football: that the biggest and most successful clubs have been big and successful for decades; but that within relatively short periods of time, environmental factors – such as money, managers, freakishly good or bad generations of players, luck – can lead to huge swings of fortunes for individual clubs. (Season by season records are in detail elsewhere on this site).
Look at the eight teams who have amassed the best eight average finishes in the post-war period: United, Arsenal, Liverpool, Tottenham, Everton, Chelsea, Villa and Manchester City. Is it inconceivable that these eight teams will finish in the top eight in the coming season? No. It's entirely conceivable, albeit they won't finish in that order. Chelsea and City will expect to be inside the top five whereas Tottenham and Everton perhaps wouldn't have such confidence in doing so.
Now look at the bottom eight. Is it conceivable that, in some order, Swansea, Wigan, Fulham, QPR, Norwich, Bolton, Stoke and Blackburn will finish in the bottom eight? Of course. Not that they will, necessarily, but they will all be trying to avoid relegation for much longer than they'll be chasing the title in 2011-12.
And yet within the long-term cycle of dominance and struggle, there are some major ups and downs to note in relatively recent times.
Swansea, in 2003, finished 89th in the league pyramid, or four spots off the bottom of the fourth tier (League Two). That means Hereford United (89th in 2011), can aspire to be a Premier League club by 2019.
Fulham finished 85th in 1996 and were in the Premier League five years later. That means Cheltenham Town (85th in 2011) can aspire to the Premier League by 2016.
Bolton finished 71st in 1988 and were in the Premier League by 1995. That means Wycombe Wanderers can aspire to be in the Premier League by 2018.
Shrewsbury, Yeovil and Huddersfield can similarly look to Wolves, Stoke and Manchester City and see that the places they finished last season (72nd, 58th, 47th) were also the post-war low points of those now elite clubs, not many years afterwards.
So stranger things have happened than smaller clubs hitting highs. The first Premier League season finished with a top six of Manchester United, Aston Villa, Norwich, Blackburn, QPR and Liverpool, in that order.
Of the current Premier League clubs, only Wigan have risen from the non-league to the top division in the post-war period. But they are one of five clubs have spent years in the basement division of the Football League: Swansea have spent 18 post-war seasons at that level, Wigan eight, Fulham three, Wolves two and Bolton one.
.