By Brian Sears
20 February 2015
Aston Villa are enduring another horrible season, one from which new manager Tim Sherwood is expected to salvage Premier League survival. Villa remain for now one of just seven 'ever present' Premier League clubs, constant members of England's top division since it revamped and rebranded from the 1992-1993 season. The other six are Manchester United, Arsenal, Chelsea, Liverpool, Tottenham and Everton.
So just how poor are Villa? How long have they been this poor? And can Sherwood lead them to safety?
In one sense, the scoring sense, Villa are on course to be as poor as any team in Premier League history. It goes without saying things can still change. But as of now, Villa have scored just 12 goals in 25 Premier League matches at a rate of 0.48 goals per game. Derby County hold the record for the fewest goals scored in any Premier League season: that was 20 in 38 games (0.53 per game) in the season they were relegated seven years ago. And after 25 games, Derby had 13 goals, or one more than Villa now.
So Villa are record-breakingly terrible at scoring this season.
In fact as the first graphic below shows, no other team among the  368 clubs in the 16 divisions in the top eight levels of the English pyramid system have scored as few goals per game as Aston Villa in the 2014-15 season. Only Bashley FC of the Southern Football League Division One South & West come close to Villa's woefulness. And even Bashley's 15 goals in 31 games represents a slightly better record in GPG terms than Villa's 12 in 25.
And looking at other top divisions in leagues around the world to see which team has the worst GPG record this season, Villa are worse than pretty much everyone, aside from Niki Volos of the Greek Superleague. Niki Volos's record of seven goals in 24 league games is worse than Villa's. But then Niki Volos have had such a turbulent season because of financial crisis that were on the brink of extinction and expulsion from the start, and have effectively now folded.
(As statistician Constantinos Chappas points out, Niki's GPG rate before ceasing was 0.5 goals per game, so actually not even as bad as Villa's. Subsequent games have counted as 'played' while not having been so, reducing the rate in the table below).
So yes, Villa are bad, certainly in terms of scoring goals. But not as bad as they've ever been in terms of points, as we'll see.
Article continues below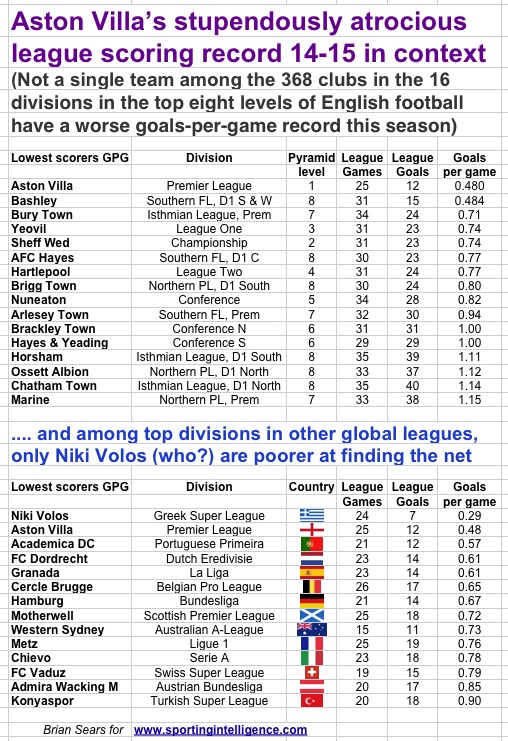 .
The second graphic considers Aston Villa's record at this stage – after 25 games – for every season of the Premier League era, ranking the seasons from the best returns from 25 games in each of those seasons, to the worst.
Their best ever season after 25 games was in 2008-09 when they had 51 points or 2.04 per game, and went on to finish sixth after that form dropped off in the final part of the season. Their best-ever finish, of second place in 1992-93, came after their second-best start after 25 games, of 47 points or 1.88 per game.
One thing of note in this table is that Villa were actually worse off than now at this stage just two seasons ago, with just 21 points from 25 games, ie a point less than now. And two seasons ago they rallied to collect 20 points from their last 13 games for a total of 41 points, good enough for a 15th-place finish, five points clear of a drop zone eventually filled by Wigan, Reading and QPR. So it is certainly possible for Sherwood to turn things around and there is even a recent precedent at Villa.
But before we look at their remaining games it is also worth noting that Villa's five worst seasons of the Premier League era, at this stage at least, have been the last five seasons, ie this current season and the four before it. The five seasons since Martin O'Neill left in summer 2010 in other words, after a hat-trick of seasons finishing 6th, 6th and 6th.
As we all know now, O'Neill wanted to push on above that, and Randy Lerner, probably knowing full well that the marginal cost of getting higher than 6th would be a cost he could not afford (background here and more here), saw his manager walk away. How ultimately costly that might be remains to be seen.
Article continues below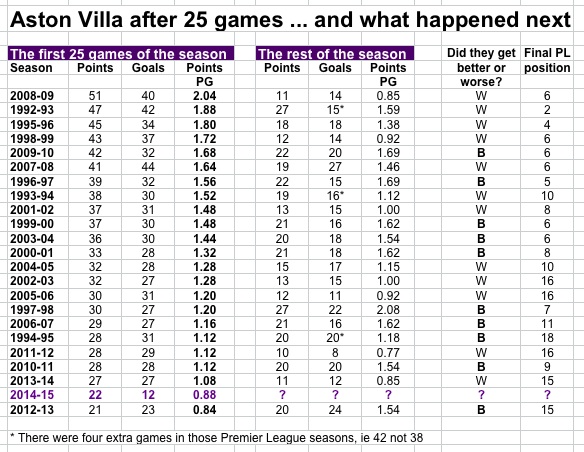 .
So onto this weekend – and the rest of the season, comprising 13 league games where Sherwood needs to work his magic to keep Villa up.
Goals will be key. Elusive goals. Villa have failed to score in 15 of their 25 league games this season, more than any other team.
Their first league match with Sherwood in charge sees them play Stoke, against whom they won the reverse fixture 1-0. They then face 12 other opponents against whom they have only drawn or lost this season.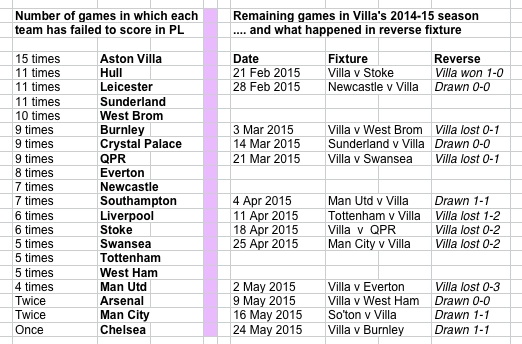 ..
More on Liverpool / Man Utd / Arsenal (or search for anything else in box at top right)
Follow SPORTINGINTELLIGENCE on Twitter