By Brian Sears
30 December 2011
Tottenham will soon become the first club in the Premier League era to have conceded 1,000 goals in Premier League matches.
To date, they have conceded 998 in 751 Premier League games at a rate of 1.33 per game.
One might reasonably expect two more at some point in forthcoming fixtures including at Swansea (on Saturday), against West Brom (3 Jan), Everton (11 Jan), Wolves (14 Jan), at Manchester City (22 Jan) or against Wigan (31 Jan). Soon enough, anyway.
The fact that Spurs will reach the 1,000-goal tally first is testament to the fact they are one of only seven clubs to have played in enough Premier League seasons (all 20 of them) to get close to that tally.
The other six ever-presents and their tallies to date are Everton (959 conceded), Aston Villa (893), Liverpool (727), Chelsea (716), Arsenal (694) and Manchester United (641).
Only four clubs in Premier League history have conceded fewer goals than one per game on average: United, Arsenal, Chelsea and Liverpool.
Tottenham should not despair at reaching 1,000 first.
As our graphic below shows, of the 45 clubs ever to have played in the Premier League, 32 of them would have beaten Spurs to be the first to 1,000 if only they'd spent every season in the Premier League conceding at the rate they conceded when they were in the League.
Swindon, for example, who conceded 100 goals in their one season at a rate of 2.38 goals per game, would have shipped 1,786 goals by now.
Aside from the other ever-present clubs, only Swansea (in their debut season), Leeds, Newcastle, Blackburn, Manchester City and Fulham have conceded fewer goals per game in their spells in the Premier League than Tottenham.
.
More on Tottenham / Man Utd / Man City /Arsenal / Liverpool / Chelsea (or search for anything else in box at top right)
Follow SPORTINGINTELLIGENCE on Twitter
Sportingintelligence home page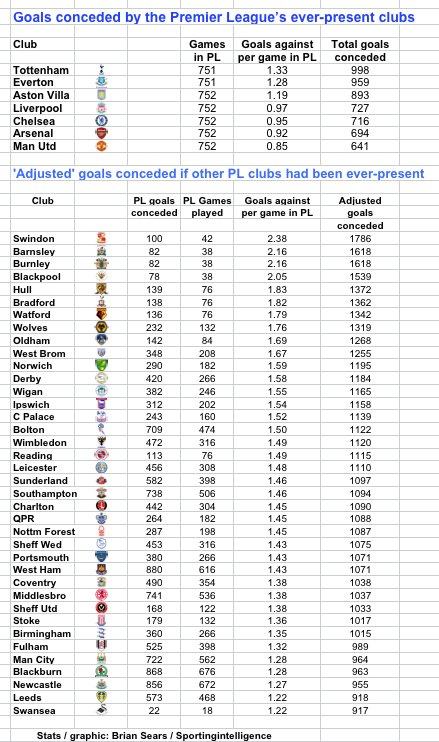 .