By Nick Harris
2 August 2010
Take a sample of the world's population and ask them to nominate their favourite sports team and many experts would expect to find football's Barcelona or Manchester United, or baseball's New York Yankees or basketball's LA Lakers at the top.
Yet take a global sample of an enormous magnitude, like 500 million people, and make a judgement not on a survey question but on people asserting their affiliation by joining a fans' group, and you get a different and surprising answer.
To coincide with Facebook registering its 500 millionth active user, sportingintelligence has researched the most popular athletes and sports teams in the world in terms of how many fans they have on their official Facebook pages. And the No1 team in the world of sport is Galatasaray, from Turkey's top division in football, with 4.1m fans of their Facebook page.
For the most up-to-date data on Facebook trends in sport, see our most recent articles on the subject (things can change quickly)
Social networking is increasingly important in the promotion and marketing of sports stars and teams. Thus Facebook, now the No1 social networking site in history by some margin, is one key democratic barometer of popularity and / or the extent of marketing success.
As we'd expect, and as our graphic shows below, those other big names also feature. Barca are at No2, with 3.4m fans, and Manchester United at No10, with 1.26m, and the Lakers (2.3m) and the Yankees (1.8m) come in between. But whether through the passion of Turkish sports fans or the efforts of their leading football clubs, or – who knows? – because Turkish football teams truly have a massive global following hitherto unacknowledged, three teams from Turkey make the top 10.
Aside from Galatasaray at No1, there is Fenerbehce at No3 and Besiktas at No8.
The top 20 most popular individual athletes in the world are detailed elsewhere on this site today.
In our team survey, football sides dominate the top 20, with 12 of 20 teams from the world's No1 sport. The top English team is Liverpool in sixth place with 1.9m Facebook fans. Baseball has three teams in the top 20, with the Boston Red Sox (No9) and the Chicago Cubs (No19) joining the Yanks.
Joining the Lakers from basketball are the Boston Celtics (No11), while the NFL has three teams in the top 20 – the Cowboys, Steelers and Saints.
The global population now stands at 6.9 billion people, therefore one one in nine of all adults across a broad range of ages and nationalities are active Facebook users, making it a reasonable barometer of global public opinion.
Facebook fan pages can be created by anyone, for anything, be it for a pop star, musician, film or TV show, game, sport, food item, consumer product, political or social or other movement, or even for a phrase or an activity.
Facebook has its own popularity rankings linked here but be warned – for some reason, certain individuals and teams aren't picked up in their categories in Facebook's rankings. Our research trawled thousands of the most popular sites on Facebook to ensure all relevant people and teams were included.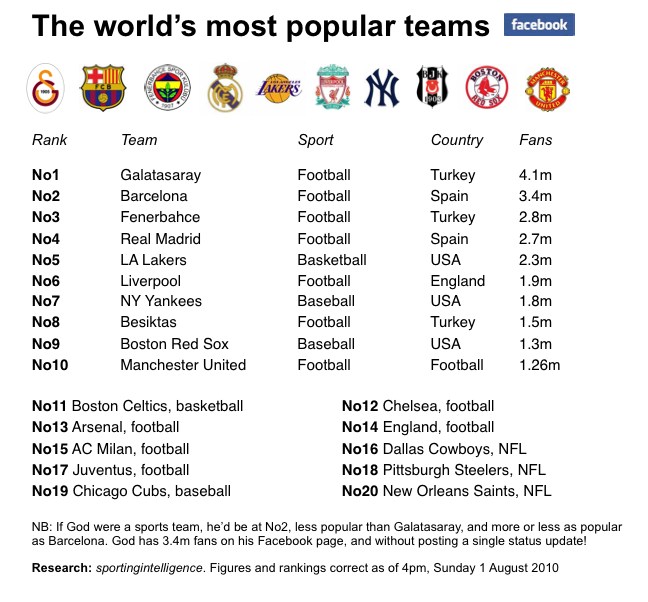 .
Sportingintelligence home page
.
Want to comment on this story?
The subscription and comments policies of sportingintelligence have recently changed. Any user can comment on any story, however, by emailing using this link and including the story topic in the subject box. Your comments will then be manually posted by an administrator.
.
To WIN a copy of sportingintelligence's global sports salaries report, worth £195, CLICK HERE; the report tells you the REAL average pay of the world's biggest sports team, AND we'll also give you a free subscription for a year to our unique sports salaries database