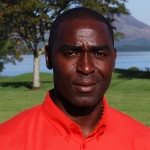 By Andy Cole
14 January 2010
I'm not surprised that a contract for Sol Campbell at Arsenal is imminent because Arsène Wenger knows better than anyone that Sol still has something to offer in the Premier League.
Wenger will be aware what shape Sol is in because he has been training there for a few months, with the manager watching closely. The Frenchman will not be making sentimental decisions, neither will he be under false illusions of what Sol can offer, aged 35.
Everyone slows at that age. Sol won't be expecting to play every week. But partnered with a younger player, he'll use his head and his experience as well as his undoubted class to give Wenger options.
Let me state my interest in this: Sol is a good friend of mine. We've been mates for the best part of 20 years. I played against him from the early 1990s. I was in the same England set-up.
When we last spoke at length, a couple of weeks ago, we had a chat about the opportunity at Manchester United that never was. There had been a suggestion that with United's defensive injuries, Sir Alex Ferguson wanted Sol as cover. In fact, United and Sol never spoke on the subject at all. Sol would probably have jumped at the chance but it did not come up and so it wasn't an issue.
I'll be glad to see Sol back playing because I know he wants to go on for a while, not least after the Notts County "project", the one built on sand, fell apart when the sand slipped away.
In the world of football where friendships are transient and you make relatively few enduring close ties, Sol has long been a good mate, genuine, someone who it's always good to spend time with. And I'm proud, for example, that I've been invited to his wedding, this summer, not that I'll be giving away any dates and places here!
Nor, on the same theme, was it my business to pry into what was happening with Sol around the time that he left Arsenal as a player, towards the end of the 2005-06 season, when his game was obviously being effected. By that I don't mean I didn't care, or wouldn't have been on hand to help if asked, but being good mates is also about knowing when not to intrude on someone's life unasked.
Sol was obviously not having a good time then. You'll probably remember the home match in February 2006 when he was subbed at half-time against West Ham, and then left the stadium, and though he stayed with Arsenal for a while longer, he did not really depart the club on the high that he would have wished. That's another reason why a spell back at Arsenal might be attractive to him, so he can leave behind memories purely of the football.
He's a good guy to have in any dressing room, as I know from the only time apart from England when I played with him. That was at Portsmouth, in 2006-07, when in fact he helped me get a deal there, although Pompey worked out better for him in the end (he captained their FA Cup winning team in 2008) than for me, who stayed just one season, part of it on loan at Birmingham City.
One player I am slightly surprised to see Wenger decline the option of re-signing was Patrick Vieira, but then Wenger's got such good midfield options that Vieira perhaps wasn't going to add anything new. I am not surprised Pat is back. He loved England. It also makes me smile to hear so many pundits already predicting that at 33 he's over the hill and not worth the contract and blah blah blah.
He's got the type of ability that you don't just lose, and I'll enjoy watching him – and Sol – do their best to prove any doubters wrong.
Bus attack would have had me going straight back home
The armed ambush in Angola last Friday of the Togo team coach on its way to the Africa Cup of Nations was horrific, and that people should have died is unbelievable. I am incredibly fortunate in that I cannot think of a single incident in a 20-year career in football – in which I travelled with lots of different teams, and England, all over the world – when I felt seriously threatened in any way. If I'd been a Togo player on that bus, I would certainly have wanted to go home, and stay there.
To be honest I'm surprised the tournament has gone ahead. You can't give in to terrorists, of course. But the fact that anyone thought it sensible to be playing matches in Cabinda in the first place is an indictment of the event's organisation. As for security: how do you explain it was in place to grieving widows and children, exactly?
The fee for Andy Cole's column is donated to Alder Hey hospital and sickle cell anaemia research. He works on charitable projects with the sport and media team at law firm Thomas Eggar.
This column has also appeared in The Independent.