By Nick Harris
2 August 2010
Cristiano Ronaldo is the world's most popular athlete in all of global sport according to new research by sportingintelligence to coincide with Facebook reaching the landmark of 500m active users.
Social networking is increasingly important in the promotion and marketing of sports stars and teams. Thus Facebook, now the No1 social networking site in history by some margin, is one key democratic barometer of popularity and / or the extent of marketing success.
And Portugal's Ronaldo, 25, the winger who shot to fame with Manchester United and who now plays for Real Madrid, is the most popular athlete on Facebook, with more than 9.3m fans of his official Facebook page, by far the most of any sports star, past or present.
The top 20 most popular athletes are detailed in a graphic below.
We have also looked at the most popular sports teams, and the surprising findings of that survey are here.
Back with our individual's list, at No2 is another footballer, Barcelona's Lionel Messi (4.2m fans), with the former world No1 tennis player Roger Federer at No3 (4.1m fans) and Kobe Bryant of the NBA's LA Lakers at No4 (with 3.6m fans).
That quartet all have more fans than God's Facebook page, which has 3.4m fans at the time of writing, despite God having posted no recent updates, or any updates at all in fact.
With the global population now standing at some 6.9 billion people, more than one in 14 of all people on earth (men, women children and babies) are active Facebook users, as are one in nine of all adults across a broad range of ages and nationalities. On that basis, Facebook is not a bad barometer of global public opinion.
Facebook fan pages can be created by anyone, for anything, be it for a pop star, musician, film or TV show, game, sport, food item, consumer product, political or social or other movement, or even for a phrase or an activity.
Facebook has its own popularity rankings linked here but be warned – for some reason, certain individuals and teams aren't picked up in their categories in Facebook's rankings. Our research trawled thousands of the most popular sites on Facebook to ensure all relevant people and teams were included.
As our chart below shows, football (as in soccer) is confirmed as the world's most popular sport with seven footballers in our top 20 most popular athletes, followed by basketball with four players. Federer is one of two male tennis players, with Rafael Nadal the other, at No7, which is only just behind LA Galaxy's David Beckham, credited by many as the planet's most famous sportsman. Perhaps he actually isn't any more.
There isn't a single NFL player, MLB baseball player or NHL ice hockey player inside the top 20, despite those leagues being among the most popular leagues in the world in terms of live attendance and media attention.
Michael Phelps at No8 and Usain Bolt at No13 in the list speak for the power of solo excellence in the two major Olympic disciplines, swimming and track & field, while Valentino Rossi represents the world's petrol heads (on two wheels at least, there are no racing car drivers).
Golf, cycling and snowboarding have one representative apiece in Tiger Woods, Lance Armstrong and Shaun White.
Maria Sharapova is the only woman in the top 20; the former world No1 tennis player makes it into the top 10, with 2.5m fans on Facebook.
The world's five most popular things / people / phenomena on Facebook at the time of writing are Texas Hold'em poker (almost 22m fans), followed by Michael Jackson, Facebook itself, Lady GaGa and the TV show Family Guy.
Cristiano Ronaldo, at No16 in the overall rankings of the most popular things in the world, is only slightly less popular than South Park, and slightly more popular than music.
Messi is slightly less popular than Jackie Chan, and slightly more popular than basketball.
Federer is slightly less popular than the Turkish football team Galatasaray, and slightly more popular than CSI.
Bryant is slightly less popular than the iPod, and slightly more popular than the Jonas Brothers.
Michael Jordan is slightly less popular than dancing, and slightly more popular than Starburst (formerly Opal Fruits).
Beckham is slightly less popular than Starburst, and slightly more popular than the character Alan from the movie The Hangover.
Nadal is slightly less popular than Johnny Depp, and slightly more popular than MTV.
Phelps is slightly less popular than Radiohead, and slightly more popular than Enrique Iglesias.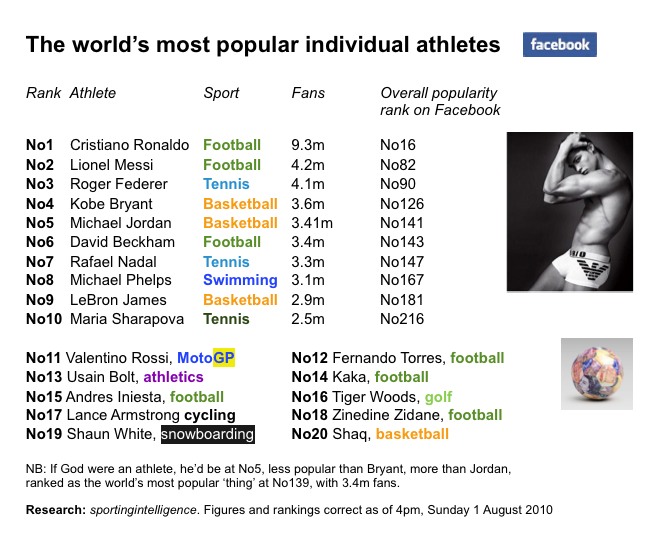 .
Sportingintelligence home page
.
Want to comment on this story?
The subscription and comments policies of sportingintelligence have recently changed. Any user can comment on any story, however, by emailing using this link and including the story topic in the subject box. Your comments will then be manually posted by an administrator.
.
To WIN a copy of sportingintelligence's global sports salaries report, worth £195, CLICK HERE; the report tells you the REAL average pay of the world's biggest sports team, AND we'll also give you a free subscription for a year to our unique sports salaries database