By Alex Miller
21 August 2013
The strength and popularity of the Championship has been highlighted in new research that shows England's second-tier clubs combined sell more shirts per season than all the German, Italian, Spanish and French second-tier teams put together.
According to findings released to Sportingintelligence by veteran analyst Dr Peter Rohlmann and his team at the consulting bureau, PR Marketing, the 24 Championship clubs sold 243,000 shirts during the 2011-12 season – the most recent period for which full information is available across all leagues – while teams in the next four biggest leagues in Europe combined sold a combined total of 235,100 shirts.
On average, Championship teams sell 10,125 shirts each per season (with naturally big variations between clubs), followed by an average of 8,900 shirts per club per year in Germany's  Bundesliga 2,  down to around 1,400 shirts per team in Spain's second division, and a measly 727 sales on average generated by Italian second-tier sides.
SEE the biggest shirt-sellers in world football; click on this link
The Championship remains the strongest league within Europe's second tier of football by average attendance and average income per club, as this first graphic details. Championship clubs had income of £21m on average in the season under review (or €590m / £503m combined), compared to average second-tier incomes per club of £17m in Germany, £10.7m in Italy, £9m in France and £7.8m in Spain.
Article continues below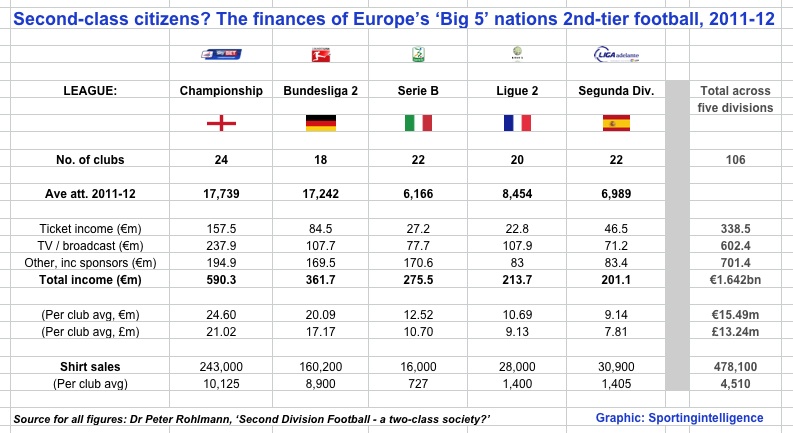 .
As a result of relatively strong sales of shirts in England and Germany's second tiers,  most clubs in the Championship and the German Bundesliga 2 are able to command substantial amounts for their kit sponsorship deals. Sides in the Championship are able to command an average of £554,000 a year for selling their kit sponsorships.
Conversely, French clubs in Ligue 2 generate an average of just £42,500 for their kit deals, while many in rival European second divisions are content to find a kit supplier to provide equipment free of charge for relevant advertising benefits.
Article continues below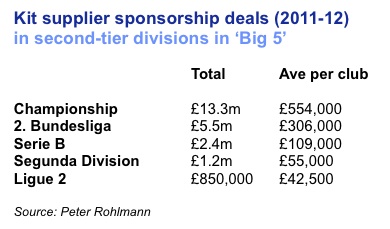 .
Dr Rohlmann has complied an extensive  report (right) which compares the second-tier divisions in England, Germany, Italy, Spain and France
on a wide range of metrics from attendance to income to sponsorship and financial performance. Anyone wanting more details or information about how to get the full report should contact Dr Rohlmann via this link.
During the 2011-12 season Championship clubs drew 17,700 fans per home game, while each club sold on average 12,000 season tickets (68 per cent of supporters spend considerable sums of money with their clubs very early in the season.
The composition of receipts in the English second division shows 40 per cent of income comes from broadcasting rights and up to 27 per cent from match day revenues. Commercial sponsorship and advertising bring in16 per cent of club revenues, while a further six per cent comes from merchandising. The remaining 11 per cent comes from 'other' sources.
.
More on Chelsea / Man Utd / Arsenal (or search for anything else in box at top right)