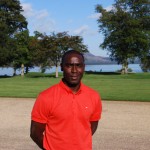 By Andy Cole
7 May 2010
Peter Crouch capped a fantastic season for Tottenham on Wednesday with the goal that takes Spurs into the Champions League for the first time. We can assume Crouch is a certainty for Fabio Capello's England squad for the World Cup, a subject to which we'll return shortly.
First, though, congratulations to Spurs; they deserved to win on the night. They created more chances. A final score of 2-0 would not have flattered them. Spurs have earned their place at Europe's top table. City fell short.
They won't fall short for much longer. Even as a diehard Manchester United supporter, I freely acknowledge City, with their Middle Eastern resources, will finish inside the top four more often than not from now on.
That might not be a bad thing. United will remain a "big four" club, obviously, and Chelsea too as long as Roman Abramovich bankrolls them. City will be there, which in my view means Arsenal and Liverpool will be vying to complete the top-four line-up next season, while Spurs and Aston Villa will also be pushing.
What a turn-up that clubs as big as Arsenal and Liverpool are scrapping to stay in the top four, even this season. Depending on results this weekend, Arsenal could finish as low as fourth when even a few weeks ago many people (me included), considered their run-in the simplest of the big teams, and thought they'd push for the title.
What a topsy-turvy season, but the reality is healthy future competition for top-four placings, which can only be good. As for this season's title, I can't go back on what I wrote last week: the Liverpool-Chelsea settled it, effectively. If Chelsea don't win it now, then… well let's just say I agree with my dad's view of sportsmen (cricketers mainly) who don't take golden opportunities. I remember as a boy, when Dad watched West Indies, he'd say: "If this lot lose it now, they deserve to be shot!" (Obviously as a United fan, I'll be supporting Wigan on Sunday, however forlornly).
Huge credit is due to Harry Redknapp for what he's done at Spurs, perhaps especially in acknowledging errors and sorting them out. Quite early on, it seemed Harry really didn't wanted to keep Heurelho Gomes, but he did keep him, and it transpires that those early wobbles were adjustment to England after years at PSV. The Brazilian 'keeper has turned out to be very important, not least on Wednesday.
Then there's Gareth Bale, another player who not so long ago appeared to be out of favour with Harry. Now Bale is a contender for the best left-sided footballer in Britain. If he were English, he'd be in Capello's squad without question.
I wouldn't dream of telling Capello who he should select, and I don't envy him some key decisions. But an early name on my list would be Ledley King. His problems with injury are well-known, as are the limitations on his training, but he is a magnificent footballer.
He's comfortable on the ball, he's got pace that's rare in a defender. You only had to look at what a great job he did against City on Wednesday to see his value. So I'd have him in.
There's been talk about Rio Ferdinand's fitness. Rio is a mate of mine and I was chatting to him the other day and he was telling me how excited he is about playing at the World Cup. Of course he doesn't know yet for sure whether Capello will pick him, but he's certainly raring to go, and doesn't believe his groin will be an issue.
Elsewhere in defence, John Terry must be in the squad, while Ashley Cole is the stand-out (only) option at left-back. Gary Neville has been rolling back the years at United with a shot at right-back in mind. I'd take him.
Three goalkeepers will go and I'd think the most likely and deserving are David James, Robert Green and Joe Hart. Hart has had a brilliant season and deserves his opportunity. Ben Foster has an outside chance.
Stevie Gerrard, Frank Lampard and James Milner are certainties in midfield: I'd endorse them all. If you're taking four strikers then it's Wayne Rooney, Crouch, Emile Heskey and Jermain Defoe (Darren Bent if it's five). Bent has done everything possible at an unfashionable club to put himself into contention.
Walcott still wanting
Nobody doubts that Theo Walcott was a talented youngster who merited Arsenal spending millions to sign him as a teenager from Southampton. But any notions back then that he could be compared to Thierry Henry were laughable, and they remain so now. Walcott is a decent player, and on his day a good one who can influence matches and score goals and make things happen. And on his off days he's pretty ordinary; it's chalk and cheese with Theo so far, in my humble view.
"Chalk and cheese" players are not really the kind you pick for an England squad, because you need people who are going to perform for you on the day you need it. Look at Wayne Rooney and you see a model of consistency for years and years now. I look at Theo and still see someone in development, with no defined position that he can call his own, and still a good way short of having Henry's sublime gifts, which demanded he be in the team wherever the manager could find a place to put him, either on the wing or up front.
It's not Theo Walcott's fault Sven took him to the 2006 World Cup as a kid and then didn't play him for a moment. Fabio Capello won't be taking passengers, that's for sure. Theo will have to rest his hopes on being flexible enough to do different jobs.
.
The fee for Andy Cole's column is donated to Alder Hey hospital and sickle cell anaemia research. He works on charitable projects with the sport and media team at law firm Thomas Eggar. An abbreviated version of this column appears in The Independent.
.