By Brian Sears
8 January 2009
English football crowds are on course for a 50-year high if ticket sales in the current season are maintained across the nation's four professional divisions. An initial forecast by sportingintelligence is that total gates in 2009-10 will be in the region of 30.4m people. That would be higher than at any time since the 1959-60 season, when 32,538,611 fans streamed through the turnstiles.
Burnley won the top division that year (then the First Division), while the runners-up, Wolverhampton Wanderers, lifted the FA Cup. Aston Villa won the Second Division (now the Championship), while Southampton won the Third Division (now League One, where the Saints again reside). Walsall won the Fourth Division.
Between then and now, only one season in English football has seen total crowds go above 30 million, and that was in 1967-68, when 30,107,298 people paid to see Football League matches. That total should be topped this season, even though not all England's divisions are on the up.
The Premier League's average attendances are down year-on-year in this period of recession, although that is partly due to the absence  of the crowd-pulling Newcastle United. Average Premier League gates so far are 34,102 people per game, or 2.5 per cent down on the same time last season. League Two crowds are also down, 7.9 per cent.
The good news comes in the Championship, where gates are up 9.9 per cent on last year, and the great news comes in League One, where the number of paying fans has risen a whopping 18.3 per cent so far.

When we take only the current Football League clubs into consideration – in the three divisions below the Premier League – then sportingintelligence forecasts that combined gates will top 17m for the first time since that 1959-60 season. That will be another positive dot on the Football League's post-war roller coaster of popularity, illustrated below. Football was a massive attraction especially in the decade after the second world war but by the mid-80s, blighted by hooliganism, crowds in the three divisions outside the top flight fell as low of 7.5m combined.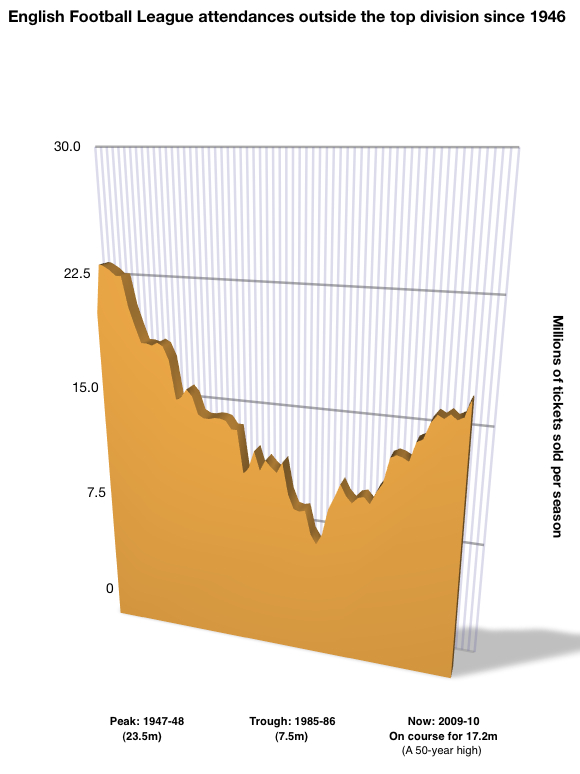 .
.
Readers interested in related crowd-arama might be interested in this and this.
.
.