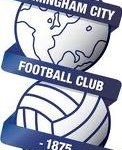 By Brian Sears
8 January 2009
The statistical omens look exceptionally promising for Birmingham's survival in the Premier League this season, and they also suggest that all three of the sides promoted last May – Burnley and Wolves being the others – can avoid the drop.
No promoted club that has amassed as many as Birmingham's current 32 points at this same stage of a season (20 games) has ever subsequently been relegated.
In fact the worst performance by a team with that many points was Ipswich in 1992-93, who still finished 16th. All the other sides with as many points as 32 finished in the top 12, and a couple of those teams – Nottingham Forest in 1995 and Newcastle the year before – finished third.
As things stand today, Birmingham (32pts), Burnley (20) and Wolverhampton Wanderers (19) have a combined tally of 71 points. The last time a promoted trio had 71 points combined at this stage was in 2000-01, when Fulham, Blackburn and Bolton had amassed that figure collectively. They all stayed up, and have all stayed up since.
That 2000-01 season was the only time in the Premier League's history when all the promoted clubs stayed up.